Become A Preferred Contractor
Join 322 of Your Peers Already Receiving Job Leads & Booking More Paying Customers!
Contractor Sign Up Form
Why Do You Need My Credit Card?
Credit cards are a compulsory form
of backup payment and are only
used if a bill is not paid in the
specified time period.

Your Information is 100% Secure With Us And Will Never Be Shared.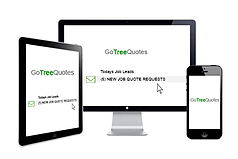 GoTreeQuotes Promise
Satisfaction
We guarantee total satisfaction of service including all job leads sent. You are protected by our lead rejection policy.
Privacy
We do not share your information with third parties. All information is stored in a secure manner.