Fake Arborists working in Knoxfield
Yes, you read that right. There are a tonne of fly by night companies and unskilled labourers trying to cash in on the tree service industry.
The problem is they have no idea what they are doing and often leave trees hacked apart, property damaged get themselves badly insured or in some cases killed.
Most people don't know that more people die removing and pruning trees each year than mining and construction combined!
It's a dangerous industry, so you need to make sure you are getting the right credentials before they start.
Litigation
Not getting a qualified arborist to prune or remove your tree can leave you wide open to litigation. If they were to injure themselves on your property and they don't have the correct insurance, then you can be liable.
Below we outline 3 Questions you must ask arborist before you hire. Read them carefully.
Safety standards for Arboriculture Industry
Australian standards state that all Certified tree arborist are trained to carry out their work to the high quality and safety as outline in the below Australia standards.
An arborist holding a Certificate II or Certificate III in arboriculture will have training in all of the below standards, so you can rest assured that they will carry out the task in a safe and efficient manner.
AS 4373:2007 – Pruning of amenity trees
AS 4970-2009 – Protection of trees on development sites
AS 4970-2009- AMDT 1 Protection of trees on development sites
AS 2303:2015 Tree Stock for landscape use
AS 2727 – 1997 – Chainsaws Guide to safe working practices
TRC2005A - Fell Small Trees
AS 2726.1 – 2004 Chainsaws – Safety requirements – Chainsaws for general use
AS 2726.2 – 2004 Chainsaws – Safety requirements – Chainsaws for tree service
AS 2550.10 – 1994 Cranes – Safe use – Elevating work platforms
AS 1418.10 (Int) – 2004 Cranes, hoists and winches – Elevating work platforms
AS/NZS 1891. 1: 2007 Industrial fall-arrest systems and devices – Harnesses and ancillary equipment
AS/NZS 1891:1997 Occupational protective helmets
AS/NZS 1270:2002 Acoustics – Hearing protectors
AS/NZS 1337:1992 Eye protectors for industrial applications
AS/NZS 2210. 1:1994 Occupational protective footwear – Guide to selection, care and use
AS/NZS 4453.3: 1997 Protective clothing for users of hand-held chainsaws – Protective legwear
AS/NZS 4602:1999 High visibility safety garments
Qualifications Held by Certified arborists
All local tree services you are matched with and send a quote for your tree job, as are certified professionals in arboriculture Operations. They are all more than capable of carrying out any tree related task.
The list below encompasses all qualifications that can be held by tree surgeons working in conjunction with Go Tree Quotes, however the list may vary contractor to contractor.
We have highlighted the minimum certification held by all tree surgeons who will be quoting your tree job.
Certificate I – Horticulture (Arboriculture), WH&S, First Aid
Certificate II – Horticulture (Arboriculture)
Certificate III – Horticulture (Arboriculture)
Diploma Level V – Horticulture (Arboriculture)
Qualified Tree Risk Assessment
Level I – Chainsaw Operation/Woodchipper Operation
Level II – Chainsaw Operation/Woodchipper Operation
Chainsaw Operators Ticket
Construction White Card
ACDC Licence Chemical Application
Traffic Control & Placement of Road Signs
Elevated Work Platform Ticket
Elevated Work Platform Rescue
Electrical Awareness
First Aid Resuscitation
Aerial Rescue
Bobcat Ticket
Loader/Excavator
HR/MR Truck License
Wood Chipper Operation
Why some arborists charge 300% more than others
When you do an internet search on yellow pages, Google or Truelocal. A lot of people in this fast paced society just go with the first 3 companies they come across.
Rookie error!
Why? Because they reason they are the first companies you came across is they are paying a premium for you to see them first.
Questions you must ask your arborist
As mentioned above the tree service industry is highly unregulated you could land yourself in hot water fast by hiring the wrong 'expert". This is what you need to ask for.
As they are not doing things by the book, they convince customers it's fine to remove a tree when you actually need approval (fines are $10,000). They do damage to property, hack trees or even worse can injure themselves on your property.
You must ask for the following to protect yourself.
1. Do you have Qualifications in Arboriculture?
Arboriculture is what arborist study to work in the field. Please make sure you ask each contractor that turns up for their certificate. They won't mind giving it to you as they also don't like the industry cowboys and won't prove they are legitimate and trustworthy.
3. How much experience do you have?
You can easily check this out yourself. Just get their company name or ABN and do a search here https://abr.business.gov.au/
It will show you when they registered the business and you can also see if there has been any name changes, insolvency notices or anything else dodgy.
We recommend never hiring anyone with less than 3 years industry experience. The last thing you want is a rookies practicing on your tree.
Online arborist reviews in Knoxfield
This is one way to go about selecting a company. The only thing they miss is price.
Go online and check the company reviews from different sources. Some reviews can be faked, but you can't fake 40+ 5 star reviews. That is a real business with real reviews.
It is important though to read the comments. Some customers can be fickle in they will give a 1 star review for a business who forgot to phone them back.
It's a little harsh when you consider this is their livelihood. People forget things, especially these days where there is so much distraction and so many things to do.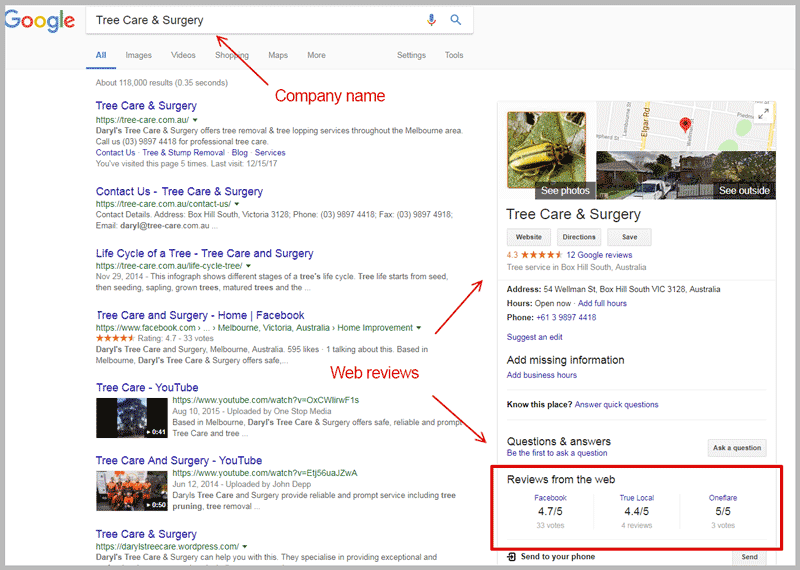 Leave a review
Most of the time customers don't leave reviews (unless they had a bad experience). So the fact that any company has positive reviews let alone 20 + reviews is a miracle in itself.
If you had a good experience, do them a favour and leave an online review.