When looking for an Arborist on the Central Coast, there are a few small things that can save you big money.
Hiring the right business at the right time is going to save you hundreds, no doubt about it.
But, hiring a weekend wonder who is not a qualified and insured arborist, will also save you hundreds off your quote, but can sting you for "extras" while onsite, or do damage to your property.
It's a gamble you don't need to take if you follow the below simple checklist below.
In most cases, the expensive companies are at the top of Google search.
The same is true for Yellow Pages, True Local, Yelp and any other directory that charges to place you at the top of the pile.
Why?
Because all businesses have different marketing styles, the ones at the top throw a lot of money at it, which nets them a lot of calls and quotes, but they need to pass on those expenses to the customer, you!
Pro Tip: Avoid the first page of directories or even page one of Google results. They have all paid quite a lot to be there, so you will pay more.
Just a quick word on reviews…. they can't be trusted. Most local small businesses just get a bunch of friends to give them a good review.
Numerous studies have found that more than half of all online reviews for small businesses are fake. That includes Central Coast Arborists.
Asking the right questions in the quotation process is going to sort the cream from the cheese. (See the next step)
Now that we have filtered some of the more expensive companies out, we still need to make sure you are getting a quality job done.
Reliable and reputable operators are fully qualified arborists and have 5 million + in public liability insurance. I'll show you how to check this.
Firstly, once they are standing in front of your note:
Their attire: Are they presented well?
Professionalism: Are they swearing, talking down to you, or just rude in general?
Quotation medium: Do they hand you a written quote or give you a price on the back of a card?
Qualifications: Do they hand you their qualifications and insurance without asking?
A Central Coast arborist worth their salt will carry around copies of their insurance details and be able to prove they are qualified.
If they are grubby, not very well-spoken, and try to give you a verbal quote, I would move on.
How we can save you 43% +
If they are grubby, not very well-spoken, and try to give you a verbal quote, I would move on.
We actually take things one step further.
GoTreeQuotes is a FREE service that matches customers with the best-priced Arborists on the Central Coast NSW.
How do we know they are best priced?
Because hundreds of previous customers have voted on them being best priced.
Plus we only work with qualified, and dedicated professionals with a 100% customer satisfaction record. If we get a complaint we dump them.
Why they are better priced
I'll give you a big inside tip about tree removal services, they charge depending on how much work they have on at any one time.
If a company is busy and booked out 6 weeks in advance, they will begin to hand out more expensive quotes to slow the work down.
The same is true when they have very little on… Simple supply and demand.
We have a large list of tree services we work with on the Central Coast, but most of the time it's only when they are quiet, that they ask us to match them with local customers.
It's a win for them because they get to help customers, and a win for you because you know they are short on work and will be trying their best to win you over.
Go to the top of the page and enter your postcode. Then give us a few more details about your tree job.
We then forward those details onto the 3 best-priced tree arborists local to you.
They will contact you to arrange a time to view the job and give you a firm price.
You pick the best one, but there is no obligation to hire.
No hard sales, just friendly advice, and great prices.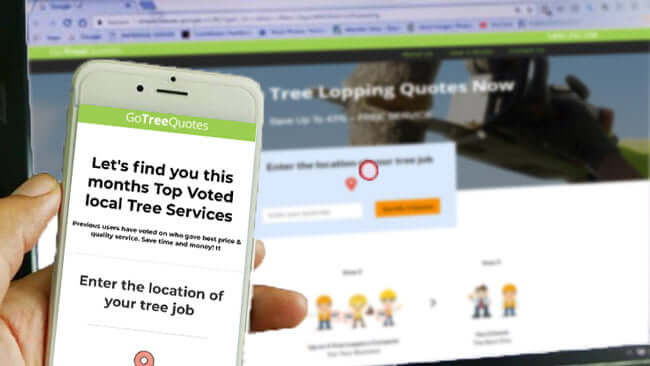 Cost Calculator for Tree Lopping
Finding consulting arborists on the Central Coast to write you an arborist report can be tricky. I have put together a post on finding a local consulting arborist here.
I suggest you go there to find one close to you.
There is also a tonne of information on cost and the different types of tree inspections and reports available.
Central Coast Council laws for trees
With the amalgamation of Gosford and Wyong councils into the Central Coast Council, there has been a big shakeup with rules and regulations regarding the removal of trees.
Check: Central Coast Council Tree Removal Regulations
I have covered this in detail including what trees are exempt and what trees can be moved without applying for a permit.
If you fall outside those rules, there is a link to apply for a tree removal permit.
GoTreeQuotes Will have you saying things like:
"Fast, friendly and well priced"
Well priced and friendly local companies. Got the job done at a good price. Very happy

"A fantastic service, love it"
Very happy with recommended tree services Canberra. They were prompt and trustworthy. Got a good price as well

"I'm Impressed with my clean yard"
Better service than I was expecting really. Need a price on a tree removal melbourne. It was a 50 year old pine tree. By far the best prices were from this service!

Results like these aren't accidental. We've spent almost 5 year developing a better review system based on previous users testimonials. GoTreeQuotes was born out of passion for helping home owners like you.