In an industry that isn't regulated, it can be tough to find a trusted and qualified arborist in Brisbane. That's why we created Go Tree Quotes.
How it works is previous users vote on the best local arborists based on price and quality of service. You fill in a quick form with details about you're job and we send those details to the best local arborists in Brisbane as voted by previous users.
Scroll up and enter your Postcode
Answer a few simple questions about your tree job
Up to 4 local arborists compete with quotes for your business
If you are happy you can choose one to do your job
This service is free to all customers and there is no obligation to hire.
Arborists specialise in tree care and are trained in cultivation, pest and disease diagnosis and general maintenance such as tree pruning, plus tree and stump removal in Brisbane.
They do not only work with homeowners but also with local councils, providing reports on the health and vigour of specimens and give recommendations on actions required.
For the most part though, their role is to prune and/or remove trees. Working in residential areas and wider community spaces, arborists in Brisbane know how to best manage or remove trees from areas, with minimal damage being made to the surrounding environment.
They are trained and equipped with the proper skills, tools and knowledge to approach every job in a safe and professional manner.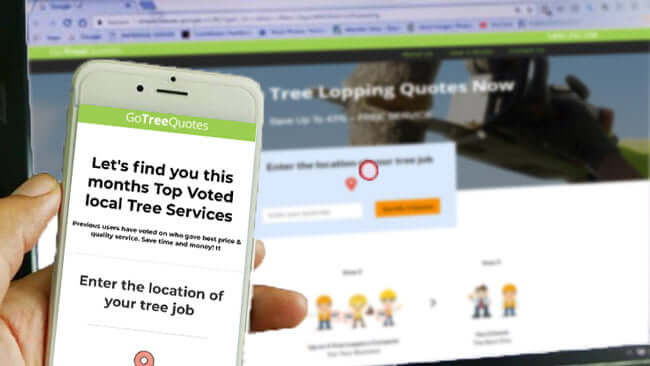 Check your tree regulations for your local council
If you are after a local arborist in your area, you can search arborist by suburb in Queensland. These are free services which give you information on specific
Brisbane tree pruning
and removal regulations for your local council and also allow you to see the best priced local contractors.
Go Tree Quotes have curated a list of qualified pro arborists near you. Based on the reviews and recommendations of previous homeowners who have used their service, we only service you the most affordable and reliable contractors.
This ensures you get the highest quality service at the most reasonable rates. The first step of the process is informing us of the job type, the approximate size of the tree and a short description of the work that needs to be carried out.
From there, we will forward your job details onto the three best tree surgeons in Brisbane, they will then contact you with a price for your particular job. You choose the best one based on your budget and needs.
There is no obligation to hire.
We pride ourselves in providing you with helpful information that will get you with the right tree services professional. To find out more or get in touch with our team, feel free to call us on 1800 25 22 08.
Cost Calculator for Tree Lopping
GoTreeQuotes Will have you saying things like:
"Fast, friendly and well priced"
Fast, friendly and great priced contractors. What a simple way to get a tree removed in Melbourne at the right price.

"A fantastic service, love it"
Very happy with what the contractors recommended for tree lopping in Perth. Great prices, great quality of work.

"I'm Impressed with my clean yard"
Lovely contractors to deal with. They were fast, reliable and did a great job. I highly recommend this service for tree lopping in Brisbane!

Results like these aren't accidental. We've spent almost 5 year developing a better review system based on previous users testimonials. GoTreeQuotes was born out of passion for helping home owners like you.