There are a couple of big things to consider when removing a tree in Queanbeyan which are local laws i.e. will you need a permit, and how much tree removal will cost.
Many trees in Queanbeyan are protected under the ACT Tree Protection Act 2005. Some trees however can be removed without approval such as dead trees and trees within 3m of the foundation of your home.
The cost of tree removal varies depending on the size of the tree and the difficulty of access, but the average price paid so far this year is $1,219 for the complete removal of a medium-sized tree.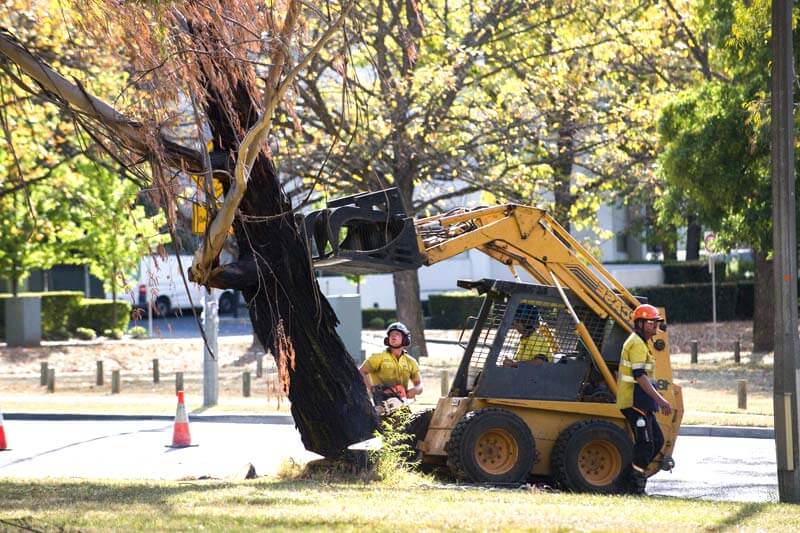 In a lot of cases, you will need a permit to remove a tree in Canberra or Queanbeyan. Although there are cases when the tree may be exempted from requesting a permit, for the most part, you will need to see a permit for large trees.
Removing a tree that is protected before first seeking approval from the council can result in heavy fines, so it is best to get your facts straight before you begin.
Before you remove a tree, do any major pruning, or take any action on the ground near a registered or regulated tree, you should check whether you need approval. Regulated and Registered trees in the ACT are protected by the Tree Protection Act. Tree loppers can advise homeowners regarding tree removal and pruning. Some of them can seek approval from City Services on your behalf.
Cost of tree removal in the Queanbeyan
The cost of tree removal in Queanbeyan ACT varies depending on the tree size of the tree and the difficulty of removal.
The average cost for tree removal in the ACT is $1,219. The real range of prices for all tree removal can be as low as $559 and can go right up to $3,800 depending on a lot of factors.
| Tree type | Size | Cost |
| --- | --- | --- |
| Small tree | 1 - 1.5 stories | $559 - $1,429 |
| Medium tree | 2 stories + | $1,429 - $2,850 |
| Large tree | 3 Stories + | $2,529 - $4,650 |
| Extra large tree | 4 Stories + | $4,250 - $9,500 |
There are several things that will affect the cost of tree removal in Queanbeyan. Some of these factors can not be controlled such as the size and location of the tree, but others can such as time of year, access, and company used.
Tree removal is seasonal. Opting to have your tree removed in the dead of winter is going to save you hundreds as you will be catching the industry in its offseason. That means less work going around but the same number of tree services. This is a great mix for snagging a good deal.
Imagine you had two identical trees. One in the front yard with clear access for machinery and the other in your backyard behind a shed with the only access being a small side fence.
Obviously, the tree in the backyard is going to cost a lot more than the same size tree in the front yard. If you are able to remove panels of fencing or get access via a neighbor's yard, it is worth doing so to save some money on removal.
How do you find a cheap tree removal service? The answer is, going for tree services that are NOT at the top of search results on Google, Yellow Pages, or any other platform. These companies are spending big on marketing and will pass the costs onto you. Go for companies in on pages 2, 3, or 4 of Google for a better price at the same level of service.
This is a no-brainer. The larger the tree and trunk, the more it is going to cost to remove. You can mitigate some of these costs by removing the green waste yourself or even selling the firewood on eBay.
What trees are exempted from requesting a permit?
In most cases, the trees listed below will not need a permit for removal:
Dead trees
Fallen trees
A tree within 3m of the foundations of your home
Trees smaller than 3m in height
Invasive species
Can I cut down a tree on my property Queanbeyan ACT?
Many ACT trees are protected and it does not matter whether they are on your property or the city land. Trees on your private property may not require a permit if it falls into one of the following categories:
If the tree's height is less than 12 meters or has a canopy smaller than 12 metres in diameter.
If the trunk circumference of the tree is not greater than 1.5 metres when measured one metre above ground level.
Dead, fallen or rotten trees on your property will also not require a permit before removal. If the tree on your property does not fall under any of the categories mentioned above, then you should reach out to the council to request a permit before you proceed.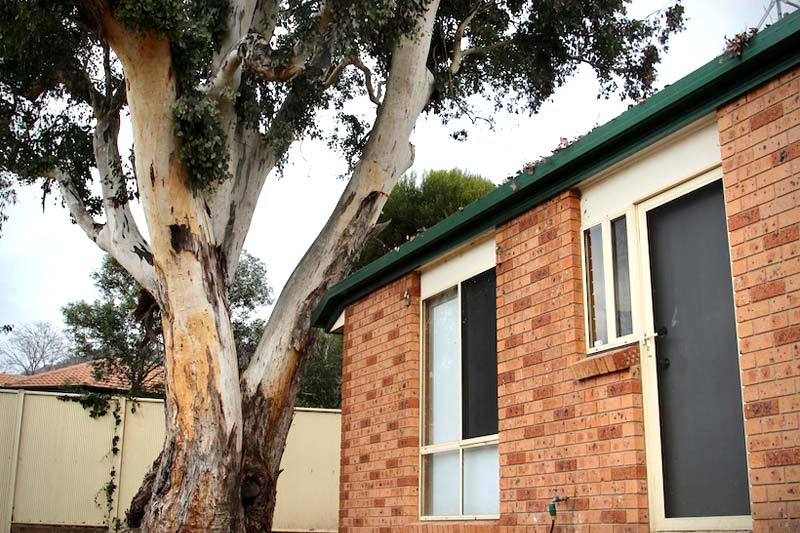 What is the fine for removing a tree in Queanbeyan ACT
If you deliberately remove a registered or protected tree in Queanbeyan ACT, contrary to the State Environmental Planning Policy (Vegetation in Non-Rural Areas) 2017, you will be liable for prosecution. The applicable fines are:
On-the-spot fines: This is a form of penalty infringement notice where there is a breach of development consent which includes tree removal without consent. Fines up to $3,000 for individuals and $6,000 for corporations may be issued.
Court proceedings for unauthorized damage: This covers intentional damage or removal of a protected tree or vegetation. Penalties of up to 10,000 penalty units may apply if dealt with in the Land and Environment Court or up to 1,000 penalty units if dealt with in the Local Court. The 2017 value of a penalty unit is $110.
What another circumstances will a permit not be required?
There are some circumstances when you may not need a permit before removing or pruning a protected tree in the ACT.
When trees are cut down in connection with a Forestry Commission grant scheme, or where the Commission has granted a felling licence
Cutting down or pruning an hazardous tree that presents an imminent and serious safety risk. In this case, you must give about five days' written notice of the proposed work as soon as practicable after the work becomes necessary. Also, you must be able to show proof that the tree was dead or dangerous. It is mostly required that you include photographic evidence of the tree(s) in question.
Approval is not required to prune fruit trees for fruit production. In most other cases you will need to get approval to prune a Registered Tree.
Minor pruning is permitted on a regulated tree following the standard for Pruning Amenity Tree. Major pruning on protected trees requires approval from the Conservator.
Cutting down or pruning a tree that has been approved as part of detailed planning permission.
Cutting down or pruning a tree in a commercial orchard or the pruning of fruit trees that are cultivated for fruit production does not require a permit. Pruning must be undertaken following a good horticultural practice.
Cutting down or pruning a tree to prevent or control a legal nuisance may not require a permit.
Cutting down or pruning a tree in line with a statutory obligation under an Act of Parliament.
Removing dead branches from a living tree.
In cases where you are required to inform the council about proposed work, you should get professional advice from a qualified arborist before sending over the notification. In some cases, you may need to plant replacement trees.
Tree removal services near me
The fastest and easiest way to remove your tree in the ACT is to get 3 Estimates from the most affordable tree services near you by using this FREE service.
GoTreeQuotes.com quickly matches you with the 3 tree surgeons voted #1 by previous users in your area.
Scroll up to the top of the page and enter your ZIP Code in the blue form at the top of the page.
Give us a few details about your tree trimming or removal job plus some contact information.
Your tree details are forwarded on to the closest three tree services all voted best priced who will also price your tree job.