Finding professional Melbourne arborists at decent prices can be challenging. To ensure the job is done professionally, you must hire the right company and to get a reasonable price, it's best to know what to expect.
Before getting quotes from qualified arborists in Melbourne, familiarise yourself with prices and see the types of questions you need to ask before you commit.
Arborists in Melbourne VIC do various tasks in the tree services and tree management scope of work. These include:
Tree removals
Tree pruning
Arborist services & reports
Stump removal
Tree removal – The cost of tree removal in Melbourne will depend on several factors such as tree size, the spread of branches, and access to the tree. Large trees are going to cost more than smaller trees to remove.
The average price of tree removal in Melbourne is $1,271. The low end of the range is about $350 for a small tree and can go up to $4,500 for a monster gum removal.
Tree trimming – The cost to trim a tree in Melbourne ranges from $250 to $2,150. For example, a large Oak tree or a fig tree will cost a lot more than a palm tree.
Arborist report – An arborist report for a single tree will cost about $500. If there are several trees and a more in-depth report is required, it might cost closer to $850.
Stump removals – Stump removal is sometimes included with tree removal in Melbourne, but separately you can expect to pay between $120 and $500. It's always cheaper to get tree and stump removal done at the same time.
| Task | Average Cost |
| --- | --- |
| Tree Removal | $1,271 |
| Tree Pruning | $750 |
| Arborist Reports | $550 |
| Stump Removal | $250 |
Factors that contribute to cost
Several things add to the cost of removing or trimming a tree. One of the main ones is the size of the tree. The bigger it is, the more expensive, but the location and access are also important.
Imagine you had two identical trees, one in your front yard with clear access and the other in your back yard, behind a shed with no rear access. The one in the back would most likely cost double simply due to access and the time taken to remove.
But other factors do add to the price, such as:
Location on property
Access to the tree
Obstacles around the tree
Trunk diameter
Number of branches
Complexity of removal
Time of year
The company doing the job
Where in the city you live – For example, tree removal in Melbourne's Eastern suburbs (like Mornington) is more expensive than the Western suburbs (such as Footscray).
Going into detail on all of the above is beyond the scope of this post. But you can get more detailed information on the actual cost of tree removal.
Why are arborist so expensive?
Tree surgery, as it is known, is expensive simply because of how highly specialized it is and the business's running cost. Most tree services need to make $1,500 per day before they turn a profit. This will cover wages, fuel, insurance (public liability cover is a huge expense), and equipment maintenance.
The team they arrive with is highly professional, fully insured, and fully qualified in all aspects of tree services.
You could try to go cheaper, but you won't be using qualified arborists, you will be using a local handyman with no training and no insurance cover.
It costs more for professional arborists, but keeping you and your property safe is worth the expense.
Cost Calculator for Tree Lopping
The fastest and easiest way to get 3 Estimates from the most affordable tree services near you would be by using this FREE service.
GoTreeQuotes helps to match you with the three local tree arborists who have been voted previous users in your area as being quality acts.
Scroll up to the top of the page and enter your Zip code.
Fill out the quick 23-second form with details about your tree job.
Your tree details are forwarded on to the closest three tree services who will bid on your job at a great price.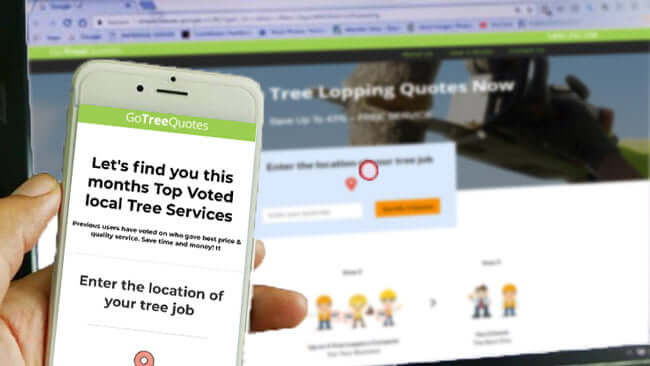 Check this paperwork of arborist
Below have outlined a list of paperwork you need to ask for when selecting a tree company to carry out arbor works on your property.
A qualified arborist will have this paperwork on hand and be happy to provide it. This includes:
Certificate in Arboriculture
Public liability insurance
Min. 5 years of industry experience
Certificate in Arboriculture
The most basic training is a Certificate II in Arboriculture and is required for them to be onsite and working. It is preferred that the Climber has a minimum of Cert. III in Arboriculture.
After that, you have a Diploma which is the highest grade or level. A diploma qualification means they can carry out tree surveys and an arborist report on trees around Melbourne.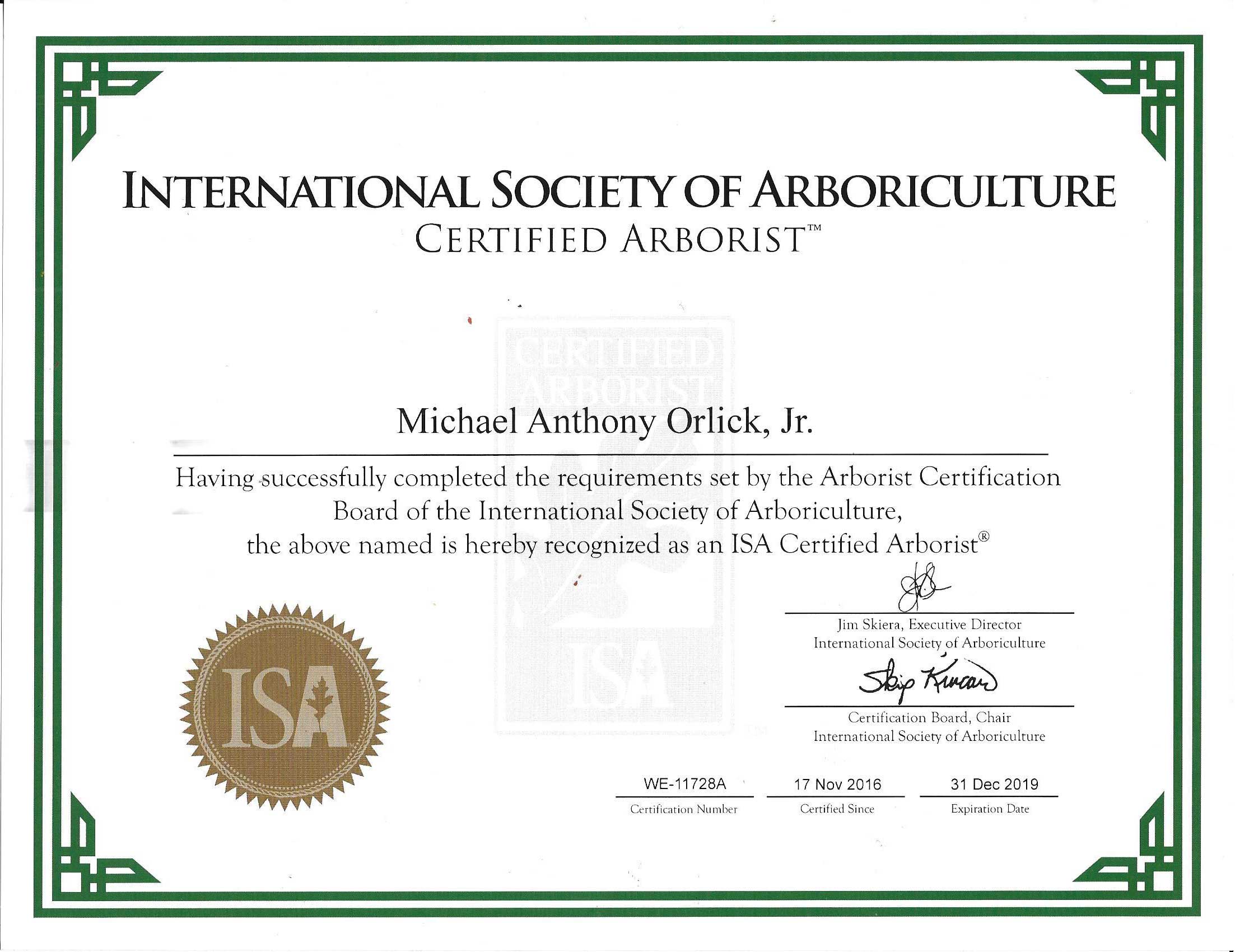 Public liability insurance
This should be provided without you even asking for it. As mentioned above the tree care industry is full of unqualified labours, so if they can not provide a certificate of currency for public liability insurance, then move on.
They are not a serious company and may not even be qualified.
Public liability insurance will cover the company and yourself if any damage to property or persons happens while they are on your property. This is not their insurance policy but YOURS.
The industry standard is 10 million public liability insurance, but 5 million will suffice in most cases. Let's not forget tree lopping is the most dangerous industry ahead of mining and construction when measured per capita. As the tree industry is not yet regulated, making these checks is essential to ensure you and your property survive the experience.
You can check yourself by going to ABN Lookup. This government-run site allows you to enter a company's name or ABN number and see details about their company.
Firstly if they are who they say they are, and secondly, how long they have been in operation. 5 years in business would be a bare minimum for larger tree removal in Melbourne easter suburbs but can be a little less if it's just a small prune or stump removal job.
The biggest factor when it comes to saving money on tree work is getting the right company to quote your job.
What do I mean by the right company?
One that is going to charge you less for the same job. You see, the price of cutting down a tree is very discretionary. One company might see a $1,500 job, the other might see $2,200 worth of work. Both will do it the same, but one probably has more considerable overheads than the other.
There are two primary levels with arborists. A level 3 certification in Arboriculture is the most common. This is for the "working arborist" who carries out the day-to-day removal and trimming tasks. A level 5 Diploma in Arboriculture is more for consulting arborists. They specialize in arborist reports for council, tree inspections and tree safety audits.
They are both essentially the same trade. Another common name used more in the UK than in Australia is a tree surgeon. All are arborists, but the name varies depending on your country. An arborist is a universal name given to a professional studying Arboriculture.
Not really. Each local council in Melbourne has a set of rules relating to tree removal. If you have a tree protected under those rules but still want it removed, your council can ask you to get a tree report from an independent arborist. This is a second opinion.
The arborist will give a detailed report on the tree's health and their recommendations. This does not mean that the council will agree if they recommend it be removed.