Arborist
An arborist is a professional in the field of arboriculture which is the study for the caring of trees shrubs and perennial plants. In real terms an arborist or tree surgeons maintain the urban forest which involves pruning and removal of trees in confined spaces (suburbia).
The arbor industry has come a long way over the last 20 years and has seen rapid interest and growth due to its' "green factor" with public awareness about the importance of trees in the urban landscape.
The industry has been slowly splitting into two main fields, the consulting arborist, who is a professional dealing solely with reports and recommendations. The other is a certified arborist who carries out any tree work such as tree pruning or removal as required.
Want Arborist Prices?: Go to our Arborist Cost Guide
This split has come about due to in increased awareness by local councils of the importance of maintaining the urban forest and the amenity value of single trees to their surrounds. All Australian councils have a Tree Preservation Order (TPO) which outlines rules for the removal of trees. These rules generally include a maximum height or spread of trees what can be pruned or removed without council approval.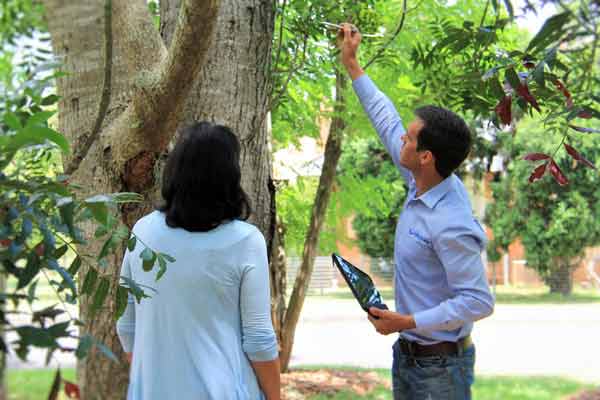 Arborist reports
These are normally requested by council when a tree of significance in the urban environment is marked for removal. They require a AQL Cert. III arborist or greater to provide recommendations on the retention or removal of said tree.
Australian Qualifications Framework for Arboriculture
In Australia we have an Australian Qualifications Framework (AQF) which outlines the skills required to be taught for arboriculture in each state. One of the main issues with the arbor industry is the lack of regulation and the ability of anyone who owns a chainsaw to advertise themselves as an arborist and begin removing or pruning trees.
Although there are courses and it is said you should have a minimum or Certificate III in arboriculture, there is no regulation in Australia that requires a licence number to operate. By comparison other trades such as plumbing, electrical or building all require a licence.
New South Wales (NSW)
In NSW qualifications for arboriculture can be gained from TAFE. You can get a certificate or a diploma which varies from 2 – 5 years of part time study.
Councils in New South Wales who have in the past only required a Certificate III to submit arborist reports for recommendations on trees, but are now more and more asking for a consulting arborist with a Diploma. This is where the industry is starting to divide with some arborist in Sydney choosing to specialise in arborist reports and others the grunt work of pruning or removing trees.
You should always check to see if council approval is needed before you removal a tree as fines can be quite substantial.
The arborists on the Central Coast of NSW which is an hour North of Sydney also seem to be going down the same route. And because there are just so many trees up that way, the demand for tree services and consulting arborist is very high and growing.
Newcastle arborists could also be grouped with central coast, with a growing population and houses forever encroaching on the surrounding bushland, the demand for DA approval including trees to be taken down has seen an explosion over the past decades. Although not as numerous as other cities, arborist Newcastle are certainly just as highly skilled and competent.
Victoria (VIC)
The main hub for education for arboriculture is in Melbourne through the Holmesglen or SWTafe. Again you have the choice to go government or private when getting your traning. There are other places for Melburnians for consideration such as Arbortrim.
Other options include:
Melbourne Poly Technic
University of Melbourne
Sherbrook Tree Service
Tree Tech
South Australia (SA)
We of course have plenty of tree experts in the jewel of the south, the great city of Adelaide. Although arborists Adelaide mostly got their training in the city, there are some institutions in regional areas. The main government institution is TAFESA. But being an in demand industry and course there are a host of other places that provide training.
More arborist training facilities in Adelaide:
ARO Education
South Metropolitan (TAFE)
Trees Net
Sasa Trees
Western Australia (WA)
As the city of Perth has expanded over the years, the need for trees to be cleared that are encroaching on housing or that are in danger of being a fire hazard. Like most of Australia there are plenty of places for arborists in Perth to get training such as The Trees Guild of WA, North Metro TAFE and or Arbor Trim which is a private training facility.
Queensland (QLD)
Being a topical state, Queensland has its' fair share of storms and cyclones. So work for tree surgeons in Brisbane can be feast and famine at times. Because of high winds the arborist all over the North East including tree arborists Sunshine Coast and the Gold Coast need to be extra vigilant when assessing trees for potential faults.
Small weaknesses in large branch unions can be life and death during cyclones, so it is better to be safe than sorry when it comes to public safety.
Training is the same across all 3 cities, although there are more courses in Brisbane so Gold Coast arboriculture students tend to travel north for their studies. Government institutions being the most popular through TAFE, but there are also a host of other private places where you can obtain certification as an arborist in Queensland.
Arboriculture training facilities in QLD:
Arboriculture Organisation
Training for Trees
Arbor Trim
Interlink

Australia Capital Territory (ACT)
Most arborist in the ACT are pretty used to traveling for work. It comes with the territory. They will travel from 50 – 80km for a decent size job, so if you are in Canberra or the surrounds like Yass. Luckly there are several training institutions within Canberra for Arboriculture.
List of private and public education facilities:
Canberra Institute of Technology CIT
Skilled Capital
Arbortrim
Recognition of prior learning
As courses for Arboriculture is fairly new in the grand scheme of things, there are plenty of tree surgeons who have been operating for 20 + years without any formal training. As these are now veterans of the industry, there is no need to go through the training at an official institution like TAFE. You can actually get recognised for your acquired skills by passing some fundamental testing by private institutions such as Arboriculture Australia Recognition of Prior Learning certificates.
Arborist Skill Base
One of the main focuses of the training and study an arborist undergoes is Occupational Health and Safety OHS. This includes everything from
– Safe use of chainsaws
– Prepare and apply chemicals
– Transport and store chemicals
– Recognising hazards on site
– Writing hazard reports before starting a job
– First aid training to provide cardiopulmonary resuscitation
– Ground based rigging
– Single rope technique for scaling trees
– Aerial rigging
– Dismantle trees
– Undertake arial rescue
– Removal of trees in confined spaces
– Working safely near live electrical apparatus as a non-electrical worker
– Working with poisonous trees
As you can see this is just some of the things that all need high attention to details when looking to remove or prune trees in a confined space such as in a backyard or anywhere humans live, work or frequent foot traffic.