Palm Tree Removal Cost Guide 2018
Ben McInerney – Last updated

18 Jan, 2018

We have put together this guide so you can easily estimate how much it costs to removal a palm tree from your yard. The prices are based on what a local tree service company is likely to charge..
Below we cover specific palm species and their costs including Canary Island date palms, alexander palms and cotton palm trees.
Cost to remove palm trees by size
The below price by size estimates are based on the most common palm trees being removed from Australian gardens and yards these days, which is the Cocos palm. This palm has a trunk between 30-40cm in diameter and a height of 5 – 8m.
They were very trendy in the 70's and 80's, but since then peoples styles have changed so the Cocos palms have got to go!
Small Small palm removal cost – 1 story high (5m or 15ft) high.
Like all tree removals the location of the tree is going to govern price. If the palm is in your front yard and there is plenty of space to fell the tree, it will be a quick job and should cost you around $150 – $200.
If the tree is out the back next to a pool for example, the palm tree will need to be climbed and taken down piece by price, then carried by hand to the truck on the street.
Something like this will cost closer to $300.
Medium Medium Palm removal cost – 1-2 stories high (5-8m or 15-24ft)
Without going into too much detail about access and how it affects the price, something with easy access and plenty of room to move will cost $250 -$350.
Something in a tighter spot and little room to work, will be closer to $450.
Large Large palm tree removal cost – 2-3 stories high (8–12m or 24–36ft)
For a Cocas palm 8 – 12m is quite large, so it is more likely you have either a cotton palm of a canary island date palm. They are priced a little different to Cocos palms, but there is a specific section below.
If it is a plan with a truck about 30cm in diameter and the height of 2-3 stories you at look at $500 – $600.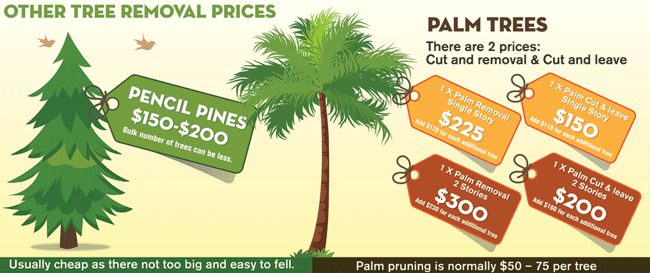 Learn how to save an average of 40% off the price of palm removal
The above prices include removal. We have put together a special guide on ways to save on palm tree removal. You can see a summary of that guide below.
Palm tree removal prices by type/ species
Cocos Palm Removal Cost (Queen palm)
Botanical name: Syagrus romanzoffiana
We actually used the Cocos palm in the above break down of palm removal prices by size. Scroll to the top to see prices. This palm was used as it is the most common one removed these days.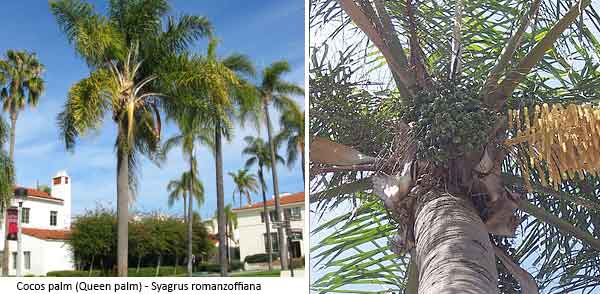 Australian Cotton palm tree removal cost
Botanical name: Washingtonia filifera
This can be quite a beautiful tree when it is pruned on a regular basis. For an arborist though, they are a nightmare to prune or remove. The reason is the razor sharp spines that are all over each frons.
It's hard to price as again it will depend on how accessible it is, but you can expect to pay from $600 – $1200.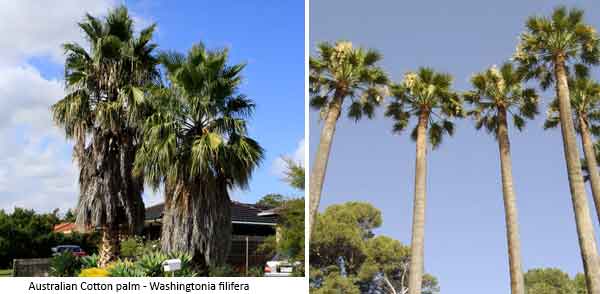 Canary island date palm/ Phoenix palm removal
Botanical name: Phoenix canariensis
This is the biggest and most expensive palm to have removed. The trunk can get up to 1.5 meters wide and can have up to 50 frons, all with 12 inch needles with venom coated tips. In short they are not fun to remove or prune, so you will be charged a hefty price.
Something 1 story high (5m) will set you back $1200 – $2400. Double the height will not necessarily mean double the cost. It will probably increase it by a factor of 1.5.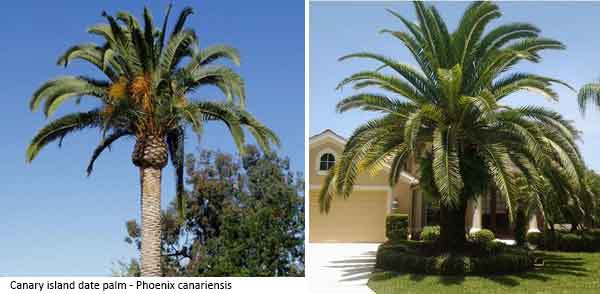 Australian Cabbage palm (Sabal palm) removal
Botanical name: Sabal palmetto
The cabbage palm although not as large as the Canary Island Date palm, it is loathed just as much by arborists to prune or remove. This is thanks to the razor sharp teeth on every frond. This is not so much heavy work as it is delicate and slow going to avoid being stabbed by the thorns.
In some cases when the tree has some age to it, the trunks are smooth in which case a cabbage palm removal is quite easy. It will cost between $500 – $900. But if they are covered in thorny spines, expect to pay more.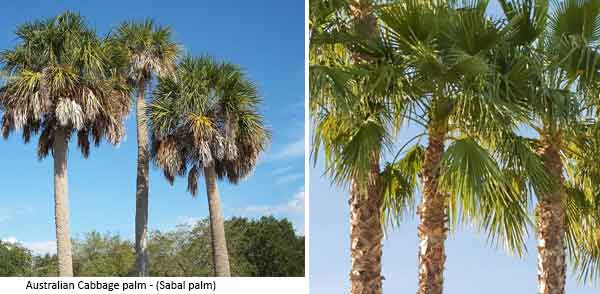 Compare Tree Removal Quotes Now
It's a faster, easier and smarter way to compare quotes from top local pro's.
Cost calculator for palm removal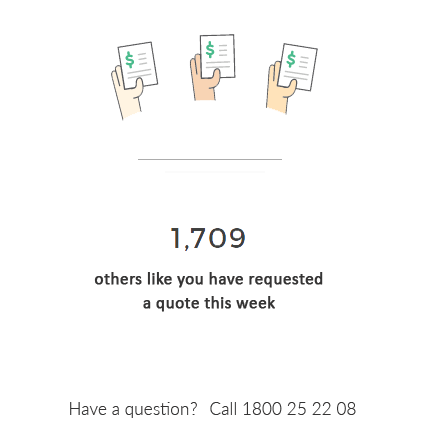 Alexandra palm tree removal
Botanical name: Archontophoenix alexandrae
This is a great palm to work on. It's also dirt cheap. The trunks are generally quite thin (but do taper a little larger at the bottom). The removal of an Alexander palm around 1 story should cost you about $150. Two stories high, around $300.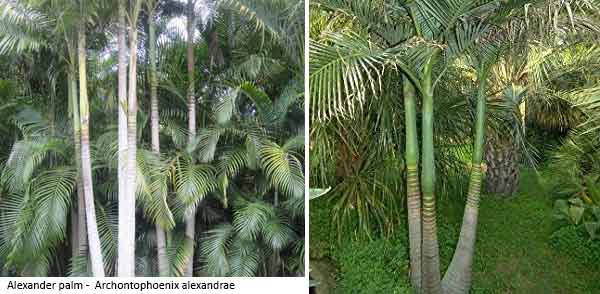 Palm removal cost factors
Size of the palm

Obviously this is one of the main factors. Height is actually easy to deal with, it's the girth of the trunk that will cost you money. You will notice with the above palms, the larger the trunk, the exponentially more expensive the palm is to remove.
Accessibility & location

Access is a big factor when determining cost to remove a palm tree. Having your palm in the front yard as opposed to be situated at the rear can actually save you 50%. The reason is it take a lot more time and man power to more the tree by hand to the truck out the front. If you have great rear access then this should not be a problem.
If the tree is in a garden with lots of space around to fell the tree and cut it up, it's a faster job and will be much cheaper. If it is in a hard to get to spot like in a pool area and the tree must be climbed and blocked down piece by piece,, then it will cost you more.
Number of trees
With each extra tree, it is not as simple as just multiplying the above figures. They become a lot cheaper in bulk. This is something you are best getting a quote on and is a little hard to calculate due to the above factors. You can try the tree removal calculator above which will give you a fairly accurate quote.
Stump removal
The above prices do not include the stump. Palms are quote soft through, so it is not going to cost you much to get the stump removed. About $50 each should cover it. (This is for a stump 30-40cm) for larger stumps, please see our stump removal cost guide.
For more details on pricing for removing stumps check out our stump removal cost guide here.
Dumping fees
Roughly half the cost of palm tree removal cost is tied up in dumping fees. Waste disposal sites charge a fortune for rubbish to be dumped and it's no different for green waste. With regular trees your arborist can put them through their mulching machine and generate mulch that they can usually dump for free. Palm trees are different. They have a sap that is extremely acidic. So even if they were put through the mulching machine, the by product would be useless to place on anyone's garden as it would kill your plants.
If you can avoid dumping fees by disposing of the palm trees yourself, you will save hundreds. Below we have outlined how to go about that.
How to save on palm tree removal
We actually put together a more comprehensive guide on how to save on palm tree removal which not only mentions palm trees but other general ways.
Save on dumping fees
As mentioned above, dumping fees is the biggest cost when removing palm trees. With most waste disposal places charging upwards of $200 per tonne, it's not difficult save money by removing the waste yourself.
Where to dispose of for free
To take advantage cheap or even free disposal, I suggest you get two prices from your tree services company when they come out to quote your job. Get one price for the complete removal of the palms, and another price to fell them and cut them up into manageable sized pieces. That way you have a guide on how much you can potentially save by removing of the waste yourself.
Let's look at the cheap method first, then the free ones.
Hire a skip bin or dumpster
If you have 5 pam trees or more to be removed (or one larger canary island date palm or phoenix palm) then you might be better off getting a skip bin delivered and having the tree service company dump in there rather than letting them dispose of the waste.
The reason is they would be paying retail prices to dump, and you would be paying wholesale through the skip hire place. They always have massive discounts on dumping fees at waste disposal places. In most cases it will be cheaper to get them to haul away your green waste rather than your tree service company paying/ charging retail.
Again you will need to get two prices from the arborist to make sure it is going to be worthwhile.
Green waste bin
Everyone has a green waste bin that they can fill to the brim each collection and it gets hauled away for free. There is no real trick or mystery to this one, just get them to fell the trees and cut them into manageable size pieces for you to dispose on in your green waste bin over time. The amount you save will be worth the effort.
As palm trees are full of water, once cut down, they dry out extremely quickly reducing the weight of the tree by 1/3. This is going to make light work of the disposal process.
To get rid of it even quicker, why not speak to your neighbours and fill and free spaces in their bins also.
Council collections
I have saved the best for last. All local councils and counties have a scheduled date that allows residents to dump unwanted waste out the front of their homes to be collected free of charge by the council. This includes green waste.
To take full advantage of this, plan your palm remove a week before the clean-up and have the tree services company pile the waste on the front sidewalk for collection.
You will note I said 1 week and not 2 days. This will allow you a bit of a buffer just in case the tree company gets held up because of workload or weather.
Hire in the off season
When getting any tree trimming work done by a professional arborist, it is worth remembering that the high season is spring and summer. If you contract a tree surgeon in these months you are bound to be paying up to double what you would in the off season. Tradesmen quote jobs depending on how much work they have on. If they are going through a lean period, they are likely to give you a cheaper price to win the work and get them through the winter.



Compare Tree Removal Quotes Here
– Local Tree Services
– Fast Response
– Save up to 43%
– Obligation FREE service