The cost of clearing your lot or land of trees will depend on the square acres or meters of land being cleared. It will also depend on how large the trees are, the number and the density. Access is also a factor. Steep blocks are always more difficult and more costly to clear.
Your land clearing job is going to cost you on average $3,450 per acre. At the low end for 1 acre you can pay $1,520 for small shrubs and a few small trees, right up to $7,850 for thicker coverage.
It will also largely depend on the type of companies you get in to do the work.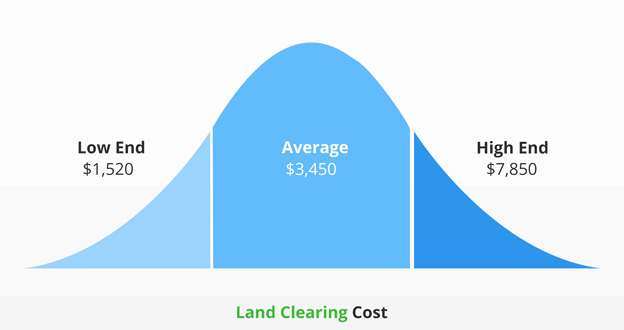 The size of the job will need to determine the amount the type of company and the size of the company you will need to use to save money.
A small to medium-sized tree service will be perfect for a residential lot that needs tree clearing. It will have the equipment to clear 2 or 3 large trees and undergrowth at the right price.
If you have a lot with 20 or 30 large trees, a demolition company might be the way to go. A larger company will have excavators that can remove the trees with ease and take them away. This will be a lot quicker than a tree service who will have to cut them down and grind stumps etc.
If you are unsure I do suggest you get quotes from both types of companies.
Why get quotes through GoTreeQUotes?
We are actually a FREE local service that matches customers with the best-priced local contractors for tree removal and land clearing services local to you.
How it works is we get scores of quote requests daily which we forward onto the 3 closest tree services. Customers then vote on who was best priced and who they went with.
We use those results to put you in touch with the best-priced local expert.
Try it yourself now!
Scroll to the top and place your postcode in the blue box and hit the orange button.