Before you remove your tree in Canberra, know what you might be charged for and be aware of the rules for removing trees on private land.
That way, you don't get ripped off from a tree cutting service or get a fine from the council.
The average cost for tree removal in Canberra is $1,640. This includes prices for tree removal in Queanbyean. The range is between $750 and $3,860 for large trees. It will depend on the size of your tree and the difficulty to access and remove.
Trees come in all shapes and sizes, and the above price ranges gives you an accurate insight into the price you can expect to pay for a small to medium tree removal in the ACT.
Trees that are larger, dead, near power lines or have difficult accessibility
| Task | Low | High |
| --- | --- | --- |
| Small | $450 | $950 |
| Medium | $750 | $2,250 |
| Large | $2,100 | $4,550 |
| Extra Large | $4,245 | $15,000 |
Rules for Tree Lopping Canberra
Before you rush out and get a quote for tree lopping Canberra ACT, there are a few basic rules that need to be followed.
Firstly, even though a tree is on your property, doesn't mean it actually belongs to you. The government considers the tree to be public property and belongs to everyone in the community as everyone benefits from it.
Cleaner air
More birdlife
Reduced temperatures during summer
Reduced soil erosion
Canberra city has come up with a set of rules and guidelines to protect the cities trees to maintain the urban forest and its natural ecosystem.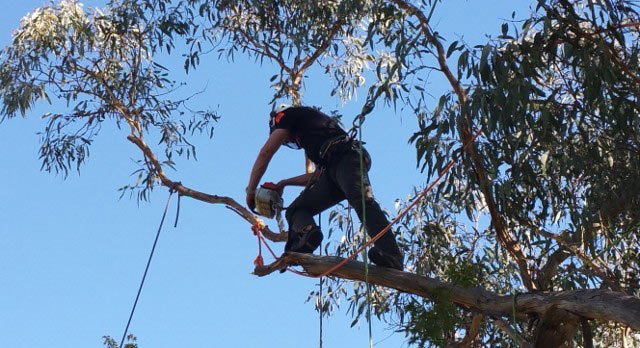 If you remove a tree that is covered by the ACT tree preservation order, the fines can range in the tens of thousands of dollars.
The rules and regulations are outlined in Canberra's Tree Preservation Order (TPO). It is very specific about the exact tree height, canopy breadth and trunk diameter of what is considered a "significant tree".
Any tree classified as significant can only be removed if you obtain a permit from the council. Anyone found guilty of significant tree removal Canberra without a permit, could face heavy fines.
Let's get some facts straight for you.
ACT Tree Protection – Removal of trees on private property
Tree removal Canberra on private property is allowed without Canberra City Council approval if;
The tree's height is less than 12 or has a canopy smaller than 12 meters in diameter.
Or if the trunk circumference is not greater than 1.5 metres, when measured one metre above ground level.
If the tree has two or more trunks, the total combined circumference cannot exceed 1.5m when measured 1 metre from the ground.
If your tree falls outside the above exemptions, you will need to fill out an application form and request approval prior to any works being done.
Once the application has been submitted and the application fee paid, you can expect to see a council officer come out and inspect the tree within 2 weeks.
All trees that are found on the NSW noxious weed act, are considered a pest in the region and you will not need the approval to remove such a tree.
A list of such trees can be found here: NSW Noxious Weed List
Councils Approvals for Tree Removal
Councils will not give the approval to remove a tree if it's filling your gutters with leaves for example. That is a minor annoyance and the council sees far greater value in retaining trees then appeasing your leaf issues.
Issues like it lifting or cracking house foundations is a major issue and in most cases, they would approve it on the spot.
Occasionally they will as for a second opinion, which means an arborist will need to be contracted to draw up a report to be submitted to give his or her personal recommendations on whether or not it should be removed.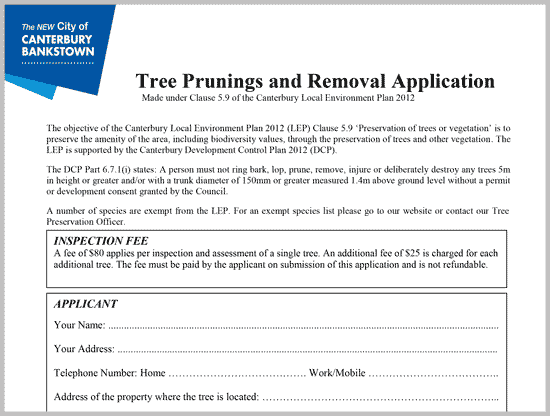 The above applies to trees on private property. What about the tree on the nature strip?
Am I not in charge of maintaining the nature strip?
As a rule of thumb, you should never touch a tree on council land. There are very few councils around the country that allow it and Canberra is no different.
If the tree on the nature strip needs removal it will be addressed by the city.
Pruning of a Neighbour's Tree
You are well within your rights to prune a neighbour's tree that is overhanging your property.
We do, however, highly recommend letting your neighbour know before going ahead with the pruning work. They should not have an issue with it, but it is always best to pay them the courtesy and let them know first.
If you have any issue with your neighbour when looking to prune their tree overhanging your property you can go through the disputes centre.
Disputes centre website:
https://www.accesscanberra.act.gov.au/app/ask/c/3784
Council contact number:
132281
There is a big push in Canberra for the adoption of solar panels. They are very lenient on residents wanting to prune or in some cases remove trees that are blocking sunlight.
Firstly make sure your tree does not fall outside to above exemptions for tree removal or pruning. If it is too large, you will need to apply to the council.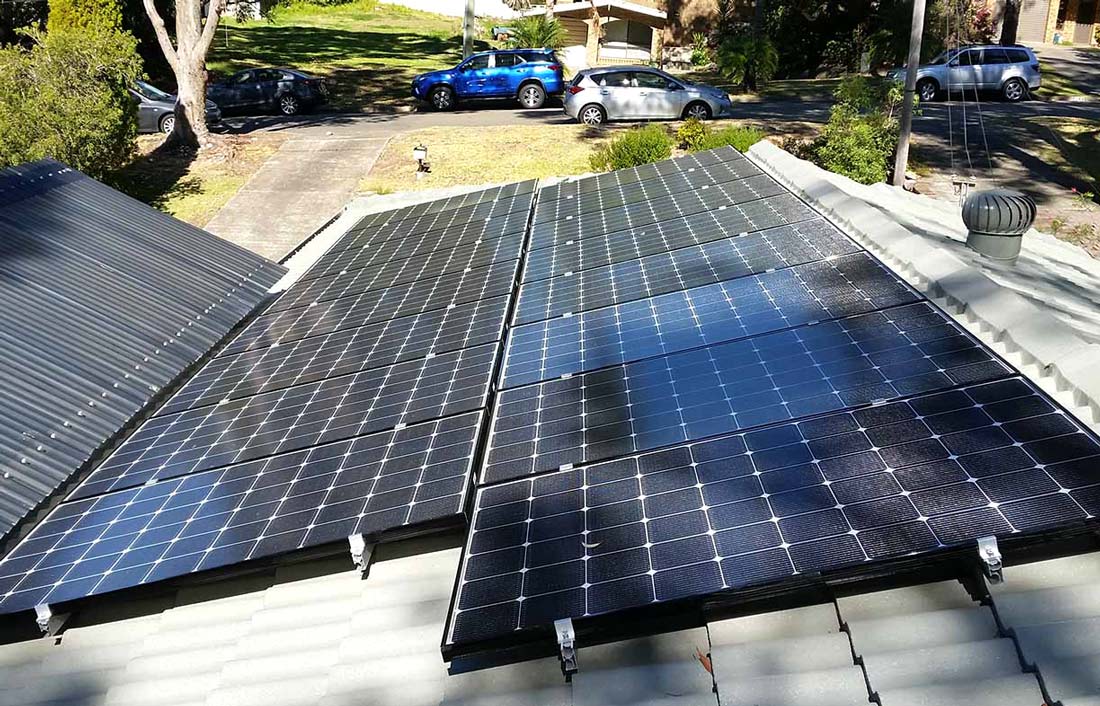 Hiring the Right Tree Services
Avoid the risk by going through our curated service.
Go Tree Quotes is the place for those in Canberra looking for qualified tree removal specialists.
We have put together a large list of knowledgeable and insured experts who are qualified, insured and have a minimum of 5 years' experience in the industry.
This is all but guarantee the job is done right.
Is your Tree a Safety Hazard?
An arborist should be able to assess the quality of your tree, the structural integrity, and the best way to tackle its removal or pruning so that it isn't detrimental to the surrounding environment or passers-by.
With their knowledge, they will be able to determine whether the health and integrity is jeopardized to the point that it could be a risk to lives, and as such require complete removal.
They will have the correct equipment, skills and knowledge to be able to either lop the tree or in some cases remove it completely.
Finding a Tree Surgeon in Canberra
Ensure that you hire the right person for the job by going through our curated service at Go Tree Quotes.
We have put together a list of qualified arborists in Canberra, meaning that you can get a knowledgeable, skilled expert for the job.
You can do this by filling out our online form with all relevant information about the tree, including size and location. From there, we will match you with three contractors in your area who are best suited to do the job.
You can then choose the right one for you based on past customer reviews and the quoted price.