The cost of tree removal varies depending on several factors, from tree height, the type of tree, the number of tree branches, trunk diameter, and location of the tree/ access to the tree.
The average cost to remove a tree $1,340. The real price range for tree removal is $650 for small trees, right up to $7,500 for larger trees.
Take a shortcut to get a great price for tree removal
Scroll up and enter your Postcode
Fill in the 2-minute form about your tree
Three top voted tree services will quote your job
You pick the best one (no obligation)
| Tree | Size | Low | High |
| --- | --- | --- | --- |
| Small trees | 5 - 6m | $250 | $950 |
| Medium trees | 6 - 9m | $650 | $1,500 |
| Large trees | 9 - 20m | $1,000 | $3,500 |
| Extra-large trees | 20 - 50m | $2,500 | $10,000 |
As all trees are different and everyone's property access varies, it's hard to give an average cost for removing a tree.
The price range you can expect to pay for tree removal lies between $650 and $2,600. That's a pretty big range!
The average price for homeowners to remove a tree is $1,340, but many cost factors must be considered.
Tree Removal Prices by Tree Size
Small tree removal for something like a Bottle Brush or a Lilly Pilly trees normally doesn't grow any bigger than a single-story house or 5 – 6m high. These will cost you $250 – $950. Add another $100 if you want the stump removed.
Medium tree removal for a Silky oak, Casuarina, Liquidambars, and trees of a similar maximum height of 6 – 9m. These are generally priced $650 – $1,500. Again there are a few factors to consider, but as a rough guide, that's what you would expect to spend.
Tree removal cost for a skinny gum tree, little foliage, and 3 stories high would be about $1,000. A more mature specimen of the same height, but with a bigger trunk and branch spread would cost closer to $2,500.
If you are unlucky enough to be removing a very large tree, be prepared to pay a hefty price ranging right up to $10,000. I would get as many free quotes as you can from the best operators in town.
Median tree removal cost country wide = $1,340
The city with the highest cost of tree removal in Sydney, with the price being 9.06% higher than the countrywide average of $1,349 for tree removal.
The best price in the country for tree removal in Adelaide, with a cost of – 6.72% off the mean at $1,072.
Other city prices include:
The above prices to get a tree removed may vary depending on the company you go with. Additional tree services such as stump removal and mulch spreading can add to cost. 
Cost of Removing Trees by Tree Type
Eucalyptus trees are one of the more expensive tree removals. Eucalyptus trees cost $1,200 to $7,000 to remove. The final tree removal cost will depend on the size of the tree and its location/access.
Liquidambers are medium-size tree and very easy to cut down and remove. The average cost is $1,250 not including the stump. Smaller Liquidamber tree removals can cost you less if they are easy to access and have few obstacles.
London plane tree removal cost can grow just as big as Gum trees, so their price can grow just as high. The average cost to remove a London Plane tree is $3,450, with the range being between $2,100 and $7500.
These trees do not grow too large and a super easy to work with. They can get a bit messy to clean up but all in all, they are a fairly cheap tree to remove. Customers pay between $1,310 and $2,400 for Jacaranda tree removals in Australia.
Conifers tree removal cost vary greatly in size and have a fairly large family of trees. Conifer trees come in many shapes and sizes, from thin pencil pines to whopping hedges. The average cost of Conifer removal is $950, but you can pay as much as $2,000 for bigger specimens.
Lilli pilli trees are a joy to work on. Although they do grow large and dense, they generally grow in a ball shape which means is less work for the climber to access the whole tree for removal. Small to medium Lilli pilli trees will cost about $1,500 to remove, while larger fully grown ones can cost up to $2,700 for complete removal.
Silky oaks are another tree that is fairly easy to work on. They general grow straight up with either a single or multiple trunks, and the foliage is fairly sparse. The cost to cut down and remove a silky oak tree ranges from $1,250 to $3,100. Silky Oak tree removal can be more expensive for properties with poor access.
Radiata pines can be a bit of a pain to work on. They generally grow in awkward shapes which makes them time-consuming and labour intensive to climb and remove radiata pines as you need to lower them piece by piece. They also have a very thick and messy bark and litres of sticky sap. A Radiata pine will cost between $1,450 to $4,200 to complete tree removal. For this price they will also remove the stump.for
Norfolk Island pine trees are true monsters. They are one of the tallest growing trees in Australia and can get over 50m tall (150 feet). In many cases, a crane will be needed to remove these trees safely hence the large price tag. A small juvenile Norfolk Island pine will cost around $2,500, while the 100-year-old monsters can cost up to $12,000 for complete tree removal.
| Tree | Size | Low | High |
| --- | --- | --- | --- |
| Eucalyptus tree | 15 - 40m | $1,200 | $7,000 |
| Liquidamber tree | 10 - 14m | $1,400 | $2,500 |
| London Plane tree | 9 - 20m | $2,100 | $7,500 |
| Jacaranda tree | 9 - 12m | $1,300 | $2,400 |
| Conifer tree | 9 - 15m | $950 | $2,000 |
| Lilli pilli | 9 - 15m | $1,500 | $2,700 |
| Silky Oak | 8 - 18m | $1,250 | $3,100 |
| Radiata pine | 10 - 20m | $1,450 | $4,200 |
| Norfolk Island pine | 15 - 50m | $2,500 | $12,000 |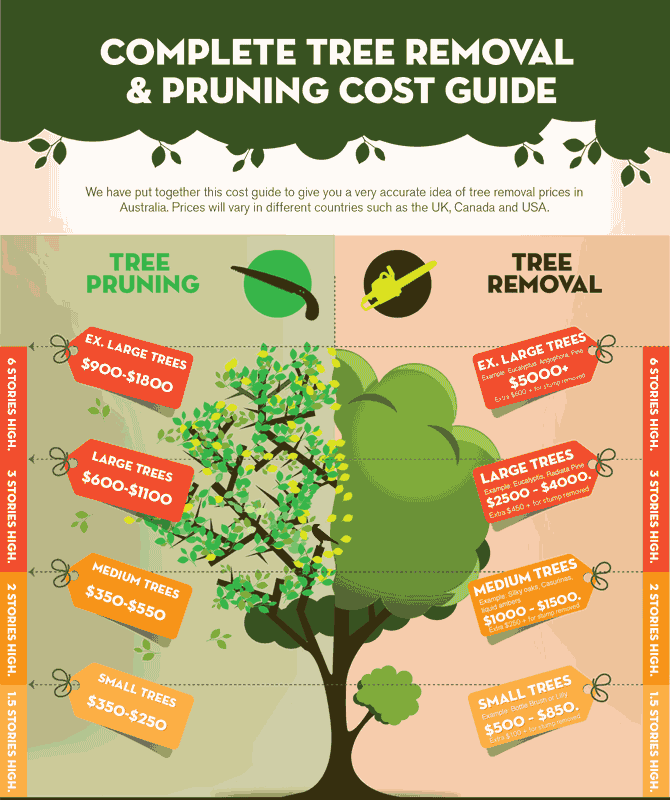 Cost Calculator for Tree Lopping
Tree Cutting Cost - Case Study
Customer Name: Kate Moussa
Location: Picnic Point, NSW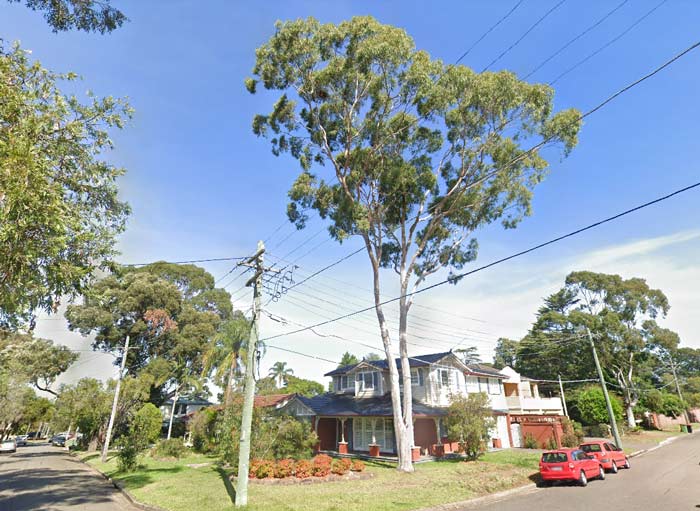 Job Description: Large-sized Eucalyptus tree in the front yard to be removed.
Cost: The tree was completely removed for $2,430 including the stump grinding. There was good access to the tree for heavy equipment
Note: Tree lopping is a very general term given to either removal or the pruning of a tree. In this guide, we will refer to either specifically removing the whole tree or the pruning of branches.
If you are here researching tree lopping cost, you can get all the information on the removal or you can go to our tree pruning cost guide page for trimming cost info.
Pencil Pines and Conifers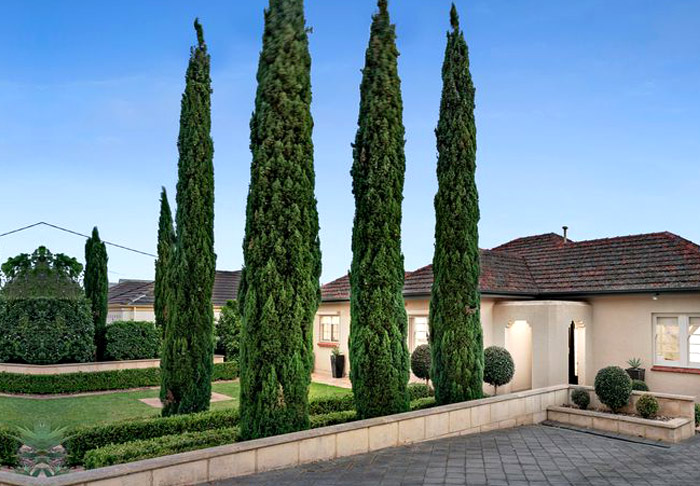 Pencil pines are usually pretty cheap as they don't grow too big and they normally line driveways so they are easy to access and fell. Between $100 – $150 each. The bulk number of trees can be less.
Conifers are normally a lone tree and are a lot bigger. As discussed above they will cost $950 on average to remove but are also cheaper in bulk.
| | 3M | 5M | 7M | 9M | 12M |
| --- | --- | --- | --- | --- | --- |
| 1 tree | $100 | $280 | $400 | $600 | $750 |
| 2 tree | $170 | $450 | $680 | $750 | $1250 |
| 3 tree | $250 | $650 | $790 | $1200 | $1600 |
| 4 tree | $340 | $850 | $1200 | $1650 | $2000 |
| 5 tree | $420 | $950 | $1400 | $2100 | $2400 |
| 6 tree | $500 | $1200 | $1750 | $2350 | $2800 |
When weighing up palm lopping prices, there are 2 things to take into consideration. One price to cut it down and another to haul it away.
Because of the cost of dumping green waste, you are best getting them to leave it on-site and put it in your green bin or council clean up.
1 x palm removal 5m high = $250 (includes tipping fees). Add $170 for each additional tree.
1 x palm removal, 8m high = $350 (including tipping fees). Add $280 for each additional tree.
Palm pruning is normally $50 – 75 per tree
Note: we have put together a palm removal cost guide for specific species based on the size of the tree also.
These are by far the easiest jobs for an arborist. The hard part of tree removal is felling the tree. As it has already fallen on its own (and hopefully not cause too much damage), it won't cost you nearly as much to get it cut up and taken away.
Fallen trees:
The 10m tree will cost $600.
15 – 20m will be closer to $1,000, but again you need to consider access.
Note: Tree felling is a specialized skill and should only be trusted to an arborist.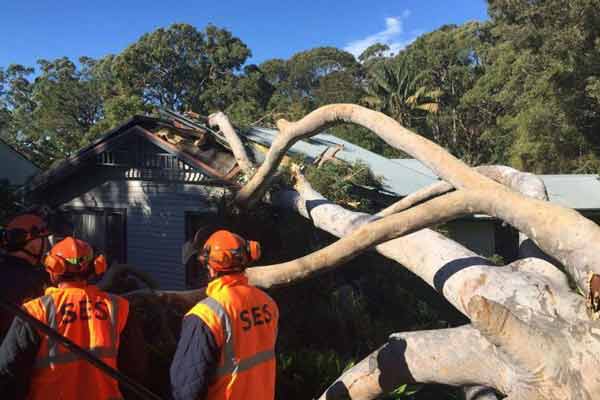 Dead tree removal is always more expensive than a live tree. The reason being a dead tree is a lot more difficult to work with and may require special equipment such as a cherry picker or crane.
As a general rule of thumb, you can add 20% – 40% to the tree removal price listed above.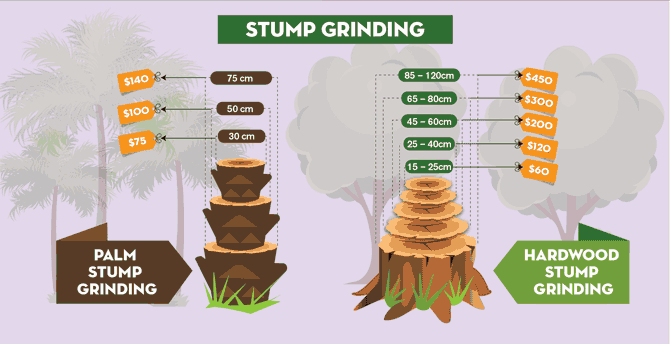 Tree Stump removal is the easiest of all tree services to prices. It all depends on the diameter, but there are categories. Hardwood stumps and softer palm stumps. You can expect to pay $40 to $550, for softwood tree stump removal and $250 to $1,200 for hardwood tree stump removal.
| Size | Regular | Palm |
| --- | --- | --- |
| 15 - 25cm | $60 | $40 |
| 25 - 40cm | $120 | $90 |
| 45 - 60cm | $200 | $150 |
| 65 - 80cm | $300 | $210 |
| 85 - 120cm | $550 | $320 |
Land clearing varies quite a bit depending on the number of trees, the size of the tree, and most importantly the block of the land gradient.
Obviously, a steep block is going to be a lot harder to work on than a flat block. It affects access to the machinery and the time taken to complete the tasks.
Tree Trimming/Pruning and Cutting Cost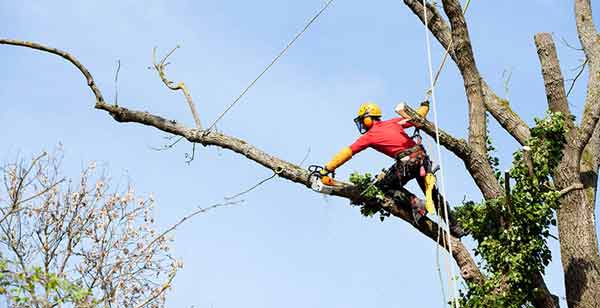 The average cost of tree trimming is $435 which would include trimming 15% of the foliage of an 8m tree.
The size of the tree and the number of branches you need to remove are the two biggest factors in the price of tree pruning. Obstacles such as power lines and sheds will add to the time take to prune as tree, which will also add to cost.
Please refer to our tree pruning cost guide for more information on specific pruning costs or see below for summaries.
Other factors that add to price
This is a big one. The closer the tree contractor can get his truck and equipment to the tree, the cheaper it will be. If they have to drag the tree piece by piece from the back to the front it will cost you more
This ties into the first, but if you have rear access with a drive or your neighbour does and you can remove a panel of fencing, then this will reduce the cost.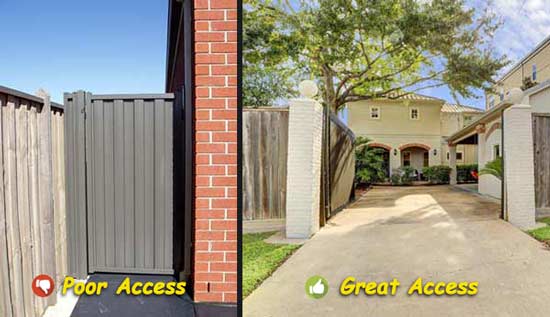 Some trees are just harder to work on than others. A Liquid amber is very easy as the branches are normally small and with little spread. A tree of the same height can have a dense canopy and this adds to it.
The weight of the timber is also a factor. Gum trees are hard on the equipment and the workers. Expect to pay more.
This is a pretty big factor and literally doubles the cost of removal when you double the size of the trunk. It adds to the overall scale of the job, and the amount of wood chip mulch, and therefore adds to the price.
Please see below for cost estimates for tree removal based on trunk diameter.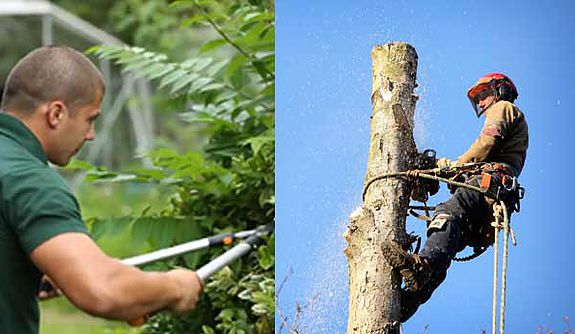 How much does it cost for emergency tree removal?
The biggest spike in calls for emergency tree removal comes after a storm has hit. Removal becomes a lot more expensive when dealing with emergency tree removal. As a general rule of thumb, you can expect to pay double for emergency tree removal.