Requests for arborist reports are becoming a lot more common as cities and councils slowly increase their awareness of tree safety and retention in suburbia.
In most cases, a tree report is prepared by a Cert. 5 arborists. The cost varies, but the national average price for an Arborist report is $525. 
To be successful in getting an arborist report to swing in your favor, you need to be aware of the reasons that are acceptable for removing a tree.
| National Average | $450 |
| --- | --- |
| High Estimate | $560 |
| Low Estimate | $370 |
| Real average range | $370 - $650 |
The cost will vary from city to city and also depending on how many trees are involved.
But on average, the cost of an arborist report is $300 – $450 for a single tree. If you had 4-5 trees then you could pay closer to $700.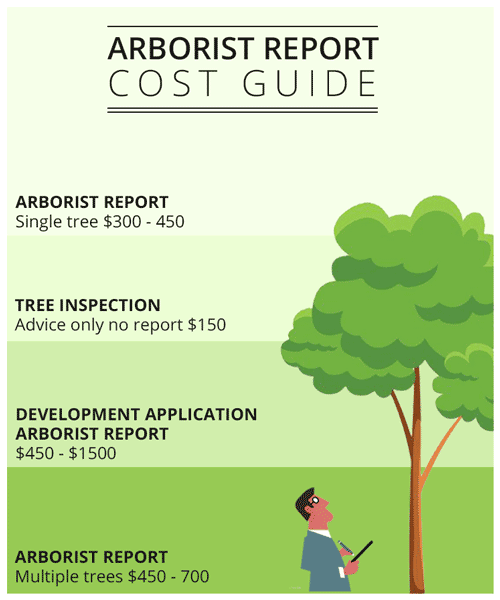 What is an arborist report?
An arborist report is a document that needs to be presented to your local council about the health, vigour, amenity value, and Safe Useful Life Expectancy of the tree.
Most of the time, these are done as part of an application for removal. Most councils have an in-house arborist, but they ask for a second opinion from a 3rd party arborist depending on the job.
When do you need an arborist report?
Most of the time when you put in an application to remove a tree and the council asks for a report about the tree's health before making a decision.
Reasons for removal vary but are critical for removal. Telling your council that "it's dropping too many leaves" with the result is a chuckle from your council and a firm rejection of your bid to remove the tree.
If you don't have a reason for removal, check out our article on How to successfully apply for council removal and win for some great reasons to remove your tree.
Arborist reports for tree removal
Arborist reports for tree removal have an aim to confirm the viability of the tree(s) in question in relation to their overall health, vigour, and immediate risk or future risks to persons or property.
First, the arborist will not the significance of the tree in the location. Do you live in a green area? Is this tree a dime a dozen or is it a significant specimen or landmark with several blocks? What is the age of the tree, does it support native wildlife?
These are some of the initial notes an arborist will comment on in their report.
Resource: Cost of arborist services such as tree removal and pruning.
Assessment of the trees is usually from ground level by eye, using visual tree assessment (VTA) techniques developed by Claus Mattheck, in The Body Language of Trees (1994). Assessment includes:
Trees current condition & likely future health.
Species tolerance to root disturbance and/or development
Likely future hazard potential to persons & property
Trees amenity value, such as significance, screening & habitat.
Observation, discussion and recommendations
This is the meat of the report. It will first observe the site, the number of trees on or near, the type of soil, sunlight available to the tree, and any other non-factual discretionary information about the specimen(s) in question.
The report will then move on to a discussion about the trees and the arborist's thoughts on their condition. These will also be factual points with some interpretation of these points by the arborist.
Lastly, the arborist will recommend whether the tree should be retained or removed. In most cases, if the arborist recommends removing a tree, they will also ensure that the tree is replaced with a native specimen within two months of removal. View more cost guides and tree maintenance articles by going to our homepage and finding the article that best answers your questions.
Arborist report for development applications (DA)
If you are submitting an application for development to build a garage, pool, or an entire house, then you might pay a little more for an arborist report, but not too much.
The words "development application" to arborists, is a little like "wedding" to photographers and florists, they always tend to charge more, but in the cases of the arborist, it is actually a little more work.
Usually, building plans have to be interpreted, recommendations of Tree Protection Zones (TPZ) around trees need to be established for trees being retained. This takes more time. They will also need to give specific recommendations for use of heavy equipment around trees to prevent soil compaction and mechanical damage.
Cost Calculator for Tree Lopping
Tree arborist report examples
Below are links to three different arborist reports to give you an idea of what they look like and what is discussed. Note, that the findings of arborist reports vary depending on your specific tree.
What is a Certificate 5 Arborist?
There are a few different skill levels when training to be an arborist. As the primary role of an arborist is the removal and pruning of trees in suburbia, the Certificate II course starts off with basic climbing skills (Single Rope Technique), safety training, and the use of a chainsaw.
Certificate III then takes it to the next level with more advanced climbing skills, aerial rescue, and the use of climbing and lowering aids. There is also a lot more theory in Certificate III Arboriculture including the study of soils, pests, and disease.
Certificate IV and V are all about being a "consulting arborist" It is mostly theory and is based on giving arborist reports.
In most cases, you will be asked to get an arborist report from a Certificate V (5) arborist.
What is the difference between a tree report and an arborist report?
They are basically the same thing. An arborist is a professional who conducts tree inspections and provides reports on the tree. They are also referred to as arborist reports depending on the council.
Can I get a tree inspection from an arborist?
Tree inspections are a pretty loose term and when I have been asked to do one, most of the time the customer expects it for free. It's a bit like asking a plumber out to inspect your sower to make sure everything is fine and not expecting a bill.
Most of the time customers will be pretty firm in their requirements. They will either want the tree removed or trimmed, so there is no need for an inspection.
Your local arborist will give the tree a once over when they are inspecting the tree for trimming and give other recommendations if needed.
Tree inspections for schools
Tree inspections should be carried out on a regular basis in schools and public spaces. Unhealthy trees can be deadly, especially around children.
Annual inspections by qualified arborists are essential to make sure the tree is maintained in peak condition to minimize the risk of failure.
Most arborists will do tree inspections for free if there is a good chance it is going to lead to a job. They certainly don't like their time being wasted, so please, only ask for one if you are fairly certain you need some work done.
What else does and arborist do?
Arborist perform a large number of tasks other than reports and inspections, but their main duties are:
Tree removals
Tree trimming
Stump removal
The number of tasks an arborist can perform will largely depend on their training. All arborists are trained to perform tree removals, trimming and stumps. Not all will do arborist reports, so you will need to look for a consulting arborist who has a Certificate V in Arboriculture.