Tree removal on the Central Coast varies depending on the tree size, tree type, location on your property, and access to the tree.
The average cost of tree removal on the Coast so far this year is $1,239. Prices can start from as little as $342 and go up to $4,300.
It will cost extra for a stump to be removed, but removing it at the same time as the tree is more cost-effective.
| Task cost central coast | Low | High | Average |
| --- | --- | --- | --- |
| Tree Removal | $342 | $3,950 | $1,239 |
| Tree Trimming | $75 | $1,200 | $423 |
| Arborist Reports | $350 | $550 | $450 |
| Stump Removal | $50 | $550 | $175 |
| Palm Trimming | $50 | $375 | $95 |
| Palm Removal | $250 | $2,400 | $390 |
Palm trees start at $250 for a 4 – 6m Cocos palm removal and can go up to $2,400 for a massive Canary Island date palm.
For a more detailed look at tree removal prices, check out our Palm Tree Removal Cost Guide.
As every job is different, for a spot-on price, you will need to get a quote from a few local contractors on the cost of Central Coast tree removal.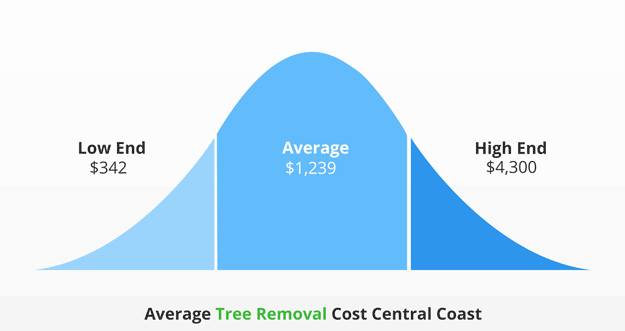 Before we get into it, I need to point out that the best way to save money is avoiding fines for unlawful tree removal in Central Coast NSW.
You need to make sure you are removing a tree within the local council guidelines. At the bottom of the page, we have outlined the rules for each of the Central Coast councils.
Tree Loppers & Cowboys on the Central Coast
Most think that if you look in the local paper or search Google for "tree removal services Central Coast", you will be presented with companies who are all certified arborists, experienced and insured.
You can certainly expect that with plumbing or electrical, but unfortunately not with tree removal Central Coast.
There is a dark underbelly of shonky tradesmen on the coast, passing themselves off as qualified professional arborists and hacking down trees.
What you MUST know before hiring
There have been some horror stories of late with local cowboys falling from large trees, dropping trees onto homes and everything in between.
The biggest risk is not actually to your house from mechanical damage, but the liability you take on when employing someone who is not fully insured.
True arborists on the Central Coast come with a minimum of 10 million in public liability insurance (industry standard) to protect you and the workers in case something goes wrong.
You are literally 100 x less likely to have issues with a qualified arborist than you are with a local cowboy with a chainsaw.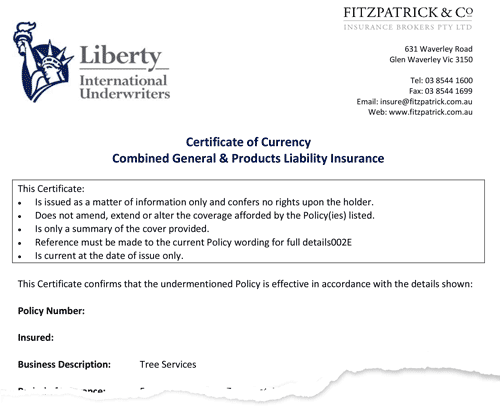 The 5 minute background check
The best way to go about this is to do the following check.
Go to ABN Lookup and make sure they are a real company. Just search for their company name or ABN number and you will see when they were registered (which gives you insight into their experience) and if they have ever closed up shop in the past or had a name change.
This is going to be easy to spot. Arborist study for years at TAFE and love to show off their knowledge of trees. When they arrive, they should be able to rattle off the type of tree you have (in some cases the Latin name) and any structural faults you may have.
They will also know exactly how they will take the tree/ branches down and be happy to explain it.
Note: If that this point they start mentioning ladders then that's a red flag. Move on!
The last thing you want from a tree service on the Central Coast is one that is fresh out of TAFE and is looking to "practice" on your tree.
Do a quick background check on their business and make sure they have been operating longer than 5 years.
You can do this by searching for their company name in ANB lookup.
When a company comes out of the quote, they should give you 2 things without you even having to ask. They are their qualifications and their public liability insurance.
If they cannot produce it on the spot, or email it when they send through the quote, then that is another big red flag. Keep looking.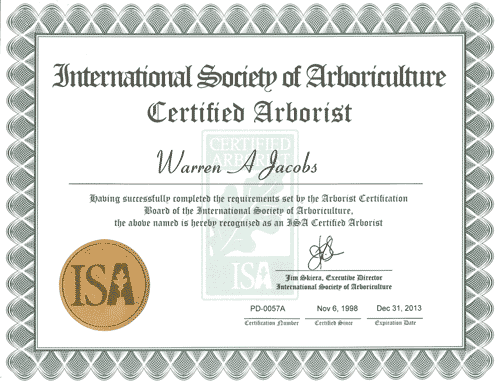 5 Ways to save Hundreds on Tree Removal
I have put together a detailed article on 5 tricks to save money on tree removal that is well worth a read. Or you can watch the video here:
Trick to saving BIG money
If you have watched the above video you will have learnt some actionable steps to take before and during and after your tree removal on the Central Coast, that will save and or recoup hundreds of dollars.
But the biggest tip is to get the best and cheapest local companies to quote the job in the first place.
When you think about it, if you are just getting the 3 first companies you see in the paper or online to quote your job, you are taking a stab in the dark at whether they are well priced or not.
If you found them first, well that.s not by accident, they are probably paying a LOT of money to appear at the top of Google results in the local paper.
The get a better idea of the price, please visit our tree removal cost guide.
Find an expert with Go Tree Quotes
At GoTreeQuotes we specialize in connecting homeowners with local qualified and insured arborists.
This is a FREE service with no obligation to hire. All we offer is top Central Coast tree removalists at the best prices.
How do we know they are the best?
We have a unique voting and review system. Hundreds of previous users have voted for the best companies based on price and quality of service.
The same companies are always at the top of the list so we save you time, money and the hassle of going in alone.
All you need to do is request a quote here and tells us a little about the job and leave your contact details.
We forward those details to the top voted companies and they contact you with a price.
If you want to go with one of them, then go for it. Or you can opt to get someone else it; The choice is entirely yours.
We have helped thousands of homeowners on the Central Coast get a better deal on tree removal services.
Get an expert today with Go Tree Quotes.
Do I need a permit to remove a tree?
The central coast council have a long list of rules and regulations when it comes to tree maintenance, tree pruning, land clearing or any other tree services on the central coast.
You will first need to make sure it is legal to remove or prune a tree before you go ahead.
Some tree services are exempt from needing a permit such as dead tree removal and stump grinding. Any works on healthy trees will most likely need a permit.
Central Coast arborists all provide free quotes. If you come across a company that wants to charge a call-out fee just to view the job, you need to cancel the appointment and keep looking.
What tasks can a certified arborist provide?
Tree removal services a.k.a "tree loppers" provide a long list of tree services including:
Tree removals
Tree pruning
Palm tree removal
Stump grinding
Tree stump removal
Tree maintenance and management
Is stump removal included in the price of tree removal?
Central coast tree services all have their own way of pricing jobs. In most cases, stump removal is quoted as a separate job, but you can ask for it to be included in the price of removal. The whole process is a little different and requires the team to use a specialised machine and grinds the stump below ground.
When hiring tree services on the central coast to carry out work in your yard or garden, you need to be careful with who you hire. Some companies have different ethics when it comes to the environment.
You want Central Coast tree services to take great care with your job, doing everything in an efficient way with the yard and garden left clean and tidy.
Whether it is a large tree needing crane work, a palm tree needing pruning or stump grinding, any tree service on the central coast worth thor salt would be able to arrive on time to the quote, provide a detailed quote along with their arboriculture certificate and insurance papers. They should also be able to explain in great detail how they plan on doing the job.