If this is your first time hiring a Newcastle arborist, then there are a few things you should know. Firstly not all tree services are arborists. In fact, there is an alarming number who are not even qualified.
So how do they get away with it?
The arborist industry in Australia is largely unregulated. In the USA, for example, you get an issue with a licence number once you have studied arboriculture at TAFE. Kind of like an electrician or a plumber, you would display that number, and your credentials can be easily checked.
In Australia, you can just go out and buy a chainsaw, call yourself an arborist in Newcastle, and away you go.
There are several methods to finding great tree services in Newcastle, but very few don't take a tonne of time checking to see whether they are a legitimate business and are qualified/ insured tradesmen.
Not to mention well priced.
GoTreeQuotes is a free service where you can compare the prices of top-voted local arborists. Previous users tell us which companies have the best price-to-quality balance, and we rank them.
Scroll to the top and enter your Postcode
Next answer a few questions about your tree job
Local arborist will be in touch to give you a free quote
You choose the best one (Obligation free of course)
Cost Calculator for Tree Lopping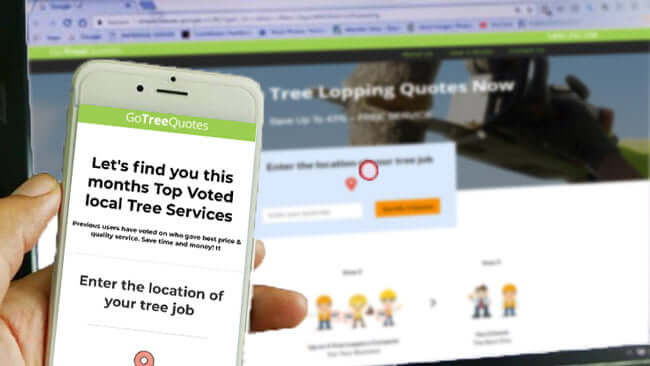 Why some tree arborists charge 300% more than others
You want a tree removed in Newcastle, so you get 3 quotes. All three are above $4000. You go with the cheapest one of the 3 as you will be "saving" over $400 from the next cheapest quote.
Winning right?…. well no.
When searching for tradesmen, there are a few that jump out at you, or you think, I know this company, I've heard of them. Well, the reason is, they, like lots of companies, spend a lot of money each month aon advertising and brand awareness.
And guess who picks up the bill? Because they have larger overheads due to their marketing spend the charge much higher prices than the industry standard.
On the other hand, you have highly skilled small business owners, who are local and charge reasonable prices. These are the ones you want.
Conducting your own work on trees, including cutting back trees or removing them completely, can be dangerous and challenging. Paired with the use of heavy machinery, it can lead to injury. This is where arborists can help you, given that they are qualified and trained in the way to properly handle large and difficult trees in confined spaces.
This means that any work they do is safe, and done with minimal risk. Nobody would ever attempt electrical work on their own, yet I am still amazed by the number of homeowners willing to risk life and limb to save a few hundred dollars. It's just not worth it.
To ensure that you hire an expert for your job. We have curated lists of arborists in many locations, including Newcastle, Maitland, Cessnock, The Hunter Valley and Lake Macquarie.
Visit our main arborist page to get more information on credentials needed by your local arborist to operate in a safe and legal way.
Consulting arborists in Newcastle
A consulting arborist differs from a regular tree service in that they do not actually do the physical work themselves. They specialise in writing arborist reports for the council.
If you need to removal a tree in Newcastle and the council has asked for an arborist report on the tree, you will need to contact a consulting arborist in Newcastle to come out, assess the tree and write up a report on their findings.
They will normally charge between $300 and $450 for a report on a single tree.