Biggest reasons for tree removal in Adelaide
Published 9 December 2019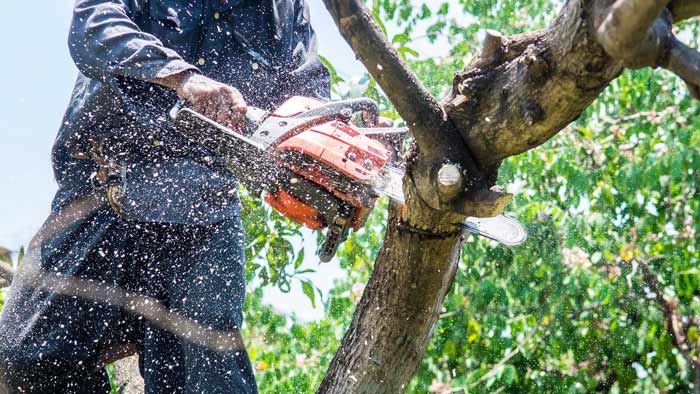 There are many reasons Adelaide residents have for removing trees from their property. At the end of the day, unless the tree is protected you don't really need an "excuse" to remove a tree.
If the tree is regulated or significant, however, you will need to let the council know the reason for removal when you submit your application for a permit.
Below are the most common reasons Adelaide residents remove their trees.
Tree is dead
Dead branches on a tree are dangerous and should be routinely removed before they fall naturally. They can come down with a lot of force and can do some serious damage to persons and property.
Dead trees are worse. Once a tree dies the roots that keep it anchored to the ground and upright begin to die and rot away. After a couple of years, you have a 1 – 3-ton tree that is only being held upright by a few inches of the trunk in the ground. A stiff wind or prolonged periods of rain can shift the tree and cause it to fall over.
It is recommended you remove a dead tree ASAP.
Your tree is in the fire hazard zone
Like all Australia states, South Australia has bush fire zones that allow residents to remove any tree significant or otherwise from within 20m of their home. This helps protect homes in bush fire zones from incinerating.
You will need to make sure you live within a medium or high bushfire area. Please check the local laws here.
Tree has pasts it's Safe & Useful Life Expectancy
Once a tree reaches the end of its Safe and Useful Life Expectancy (SULE), it is a good idea to have it pruned or removed. You will need to seek professional advice from a local Adelaide arborist to know the state of your particular tree, but basically, a tree that is no longer adding any value visually or practically and is becoming a danger to persons and property, it should be removed.
If the tree can be saved, however, it is advisable to do so for the sake of native wildlife, but at the end of the day, human life and safety does come first.
Trees in schools, daycare centers, and anywhere children play need to be risk assessed every 12 months by a certified arborist for the danger of failure. Measures then need to be taken to rectify any trees with mild to severe structural integrity issues.
Roots blocking drains
If you have a significant tree on your property and are looking to submit an application to Adelaide council to have it removed, roots blocking your drains are not a compelling enough excuse for the council to approve your request. They will expect you to fork out every year to have a plumber out to unblock your drains. They will prefer to save the tree.
If you are unsure of what constitutes a valid reason for tree removal, I suggest you read our article on How to Win Council Approval on Tree Removal.
Filling gutters with leaves
This is a common problem that needs addressing especially in the fire zone as your home becomes the fuel for a fire. Cutters catching on fire and quickly spread to the roof and burn down your home in no time.
Leaving leaves in cutters for extended periods will also cause your cutters to rust out. When organic matter builds up and holds moisture for extended periods, it will quickly eat through cutters which will soon require replacement.
Be sure to prune overhanging branches or consider removing your tree altogether.
Blocking sun from solar panels
You have invested $5000 + on a solar system only to find it is not working during peak times because your system is partly shaded by a tree.
The way a solar system is strung together in a circuit, you need the sun to be hitting all panels all the time for it to generate electricity. Breaking that circuit with a panel or two being shaded will knock the whole system offline.
Consider pruning your tree or remove it entirely if it cannot be avoided. Your solar panels do not work in the shade and require full sun.
Need to erect fence or other structure
Sometimes there is just no avoiding removing a tree that is in the way of a planned pool, fence or new dwelling. Normally approval for tree removal is "baked" into the DA approval to build. If it is something like a fence, make sure you check to see whether approval is required before you proceed.
Will I need a permit?
Adelaide has fairly relaxed laws when it comes to tree removal. If the tree is not a regulated or significant tree (trees with trunk circumference 2.0m or more when measured 1.0m above ground level) you can remove it.
If the tree is regulated you will need to apply for a permit.