Firstly how big is a "large tree". By most people's standards a large tree would be defined as anything greater than a two-story house, so let's start from there.
The removal of a large tree will cost you anywhere from $1,650 – $2,900. The final cost will depend on size, location, and a variety of factors.
The price varies depending on:
The number of branches
Girth of the trunk
Type of timber (hard/ soft)
As you know large trees do get bigger than just two stories high, so realistically the cost of large tree removal would be anywhere up to $4,500.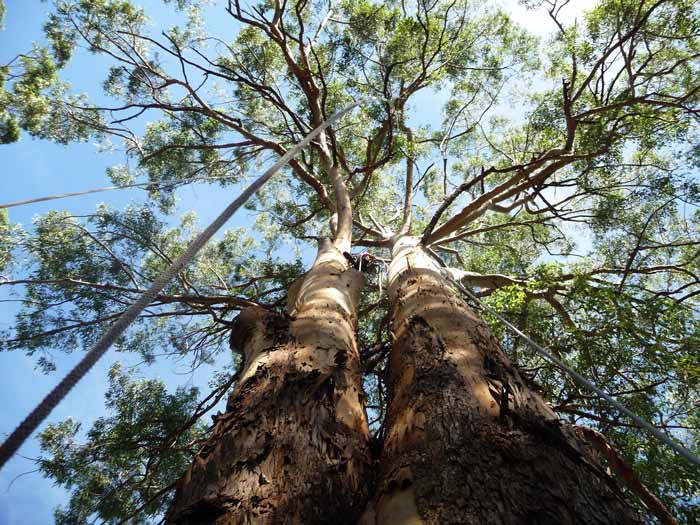 The average cost of large tree removal so far this year is $2,731. But to be more accurate, let's look at this by size as a large tree is very broad.
Here is a quick breakdown of the average price by large tree size.
2 stories high: $1,350
3 stories high: $2,180
4 stories high: $2,750
5 stories high: $3,600
6 stories plus: $4,200 or more
For more detailed information on the cost of tree removal for trees of all sizes check out our Tree Removal Cost Guide.
Is it cheaper to do it myself?
As previously mentioned the removal of any tree is dangerous. Endeavoring to remove any tree that is larger than a 1 story house is not advisable. If you do have the skills and know-how, then yes removing the tree yourself is going to be cheaper.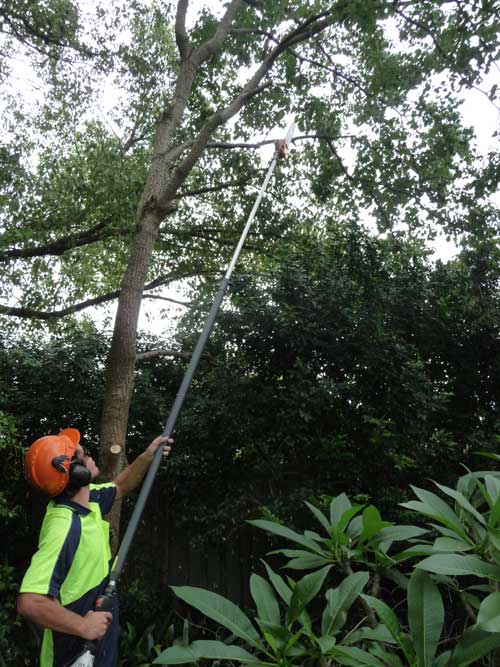 Can I use a gardener or a handyman instead?
There are many ways to save on tree removal, but getting someone who is not qualified is not the best way to go about it. There are plenty of companies out there who are willing to remove trees at discounted prices. The problem is the removal doesn't always go right and when damage is done, these fly-by-night companies just pack up and walk away leaving you with one hell of a mess to clean up.
Make sure you are employing a qualified arborist who is insured. It just takes 2 minutes to check and will save you thousands in damages.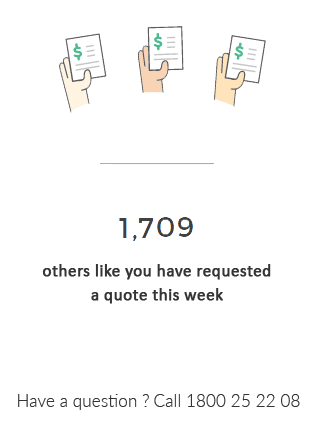 How do I get rid of the tree now it's down on the ground?
When a tree service gives you a price to remove a large tree, this will include the removal of all waste.
A novel way to save money on large tree removal though is by asking the tree surgeon to cut down the large tree, then leave it on-site for you to remove. Whether this saves you money will depend on the size of the tree and how you propose to get rid of the waste.
If you were thinking of taking it to the tip, you will find the dumping costs, even for green waste is way too high.
Leaving it out the front for a council cleanup is the best way. Also leaving the logs on the nature strip for residents to pick up as free firewood is also a great idea.
If it is a large tree with a lot of timber, taking a photo of it and posting an auction on eBay can actually net you quite a few hundred dollars as people bid for their winter batch of firewood.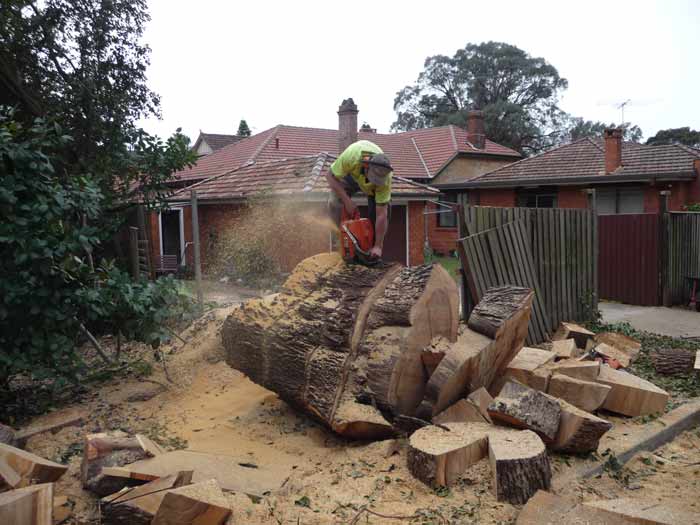 How do I find a well-priced company remove a large from my property?
Obviously, the first place to start for this is an online search. Looking for a company online is a lot better than doing it in a local paper or the yellow pages because you are able to see reviews from previous customers.
I would avoid all companies listed on page 1 of Google or yellow pages, as they have all paid a hefty price to be there and will pass those costs onto you the customer.
Go straight to page 2 and call 3 companies and get them out for a quote. Make sure they will have good access to the tree so they will see it as an "easy job" and be more inclined to charge you less.
If you can wait for the cooler months like autumn or winter you will also save an additional 20-30%. Tree companies are quieter during these months and are willing to drop their prices to win some work to see them through to next spring.

How does GoTreeQuotes save me money?
We are a FREE service that finds you the best-priced tree services in your area for large tree removal.
How does it work?
Previous users vote on who was the best price, the best service, and who they chose and why. Based on those votes we get an accurate picture of who are the best-priced local contractors.
To make sure we get it right, we send you to the top 3 picks. And to cover all bases we make sure they are qualified and insured so you can be assured you will not only get an affordable price on your large tree removal but a quality service too.
How to prune limbs over a house from a large tree?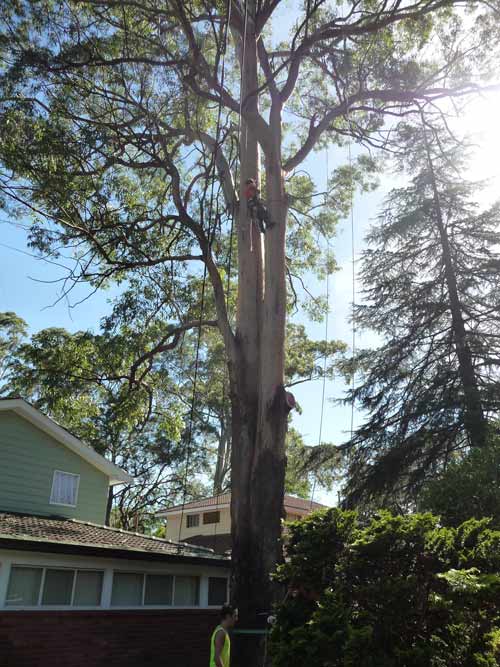 Pruning very large limbs overhanging home can be quite tricky. This is something you cannot trust anyone except a qualified and experienced tree surgeon. So much can go wrong and if the rigging is not done right, it can end in disaster.
Rest assured that your local professional arborist has the tools and experience to carry out a prune on a large tree with ease.
They start by climbing the tree and setting up what is known as a "high point", which is basically a rope going over a high branch in which they are able to hang off with their harness. This will allow them to access the whole tree safely and with ease. No chance of falling.
Then they will also run a larger rope called a "lowering rope" which is then tied to the branch that you desire to remove. When the branch is cut, the crew on the ground can slowly lower it to the ground.
The branch can be removed in several sections depending on the size of it and swung out into your driveway and lowered safely. This is done in a controlled way using a third rope which is referred to as a "tagline". So you have one rope holding the weight of the branch and another rope which will guide the branch exactly what you want. Two men/ women are on the groundwork together to both lower and guide the branch into a safe position.
Again trying to attempt something like this is really not advisable for the novice. You really do need to get the expertise of a fully qualified arborist.
When would you recommend I hire a gardener?
Lawn maintenance and gardening companies are a lot cheaper than arborists as they have a lot fewer overheads and running costs. That being said they cannot do the work a tree doctor can. I do not recommend them for large tree removal.
For any tree trim or removal that is smaller than 5m, I would recommend using a gardener though. They have the tools and expertise to do the job with ease, and they will charge you 50% less than an arborist.
Arborists do much prefer larger tree jobs anyway. They do not generally trim fruit trees and the smallest thing they will work on is a palm tree. That being said calling them out to trim a single palm tree is going to be a lot more expensive than getting a gardener in.
As a general rule of thumb, if it is smaller than a 1 story house, get a gardener and save 50% or more on the trimming or removal cost of a large tree.