If you have some palm trees that need removal in Brisbane, I'm here to tell you there are a few cheap alternatives to just calling your local tree service and asking for removal.
The average cost of palm tree removal in Brisbane is $350. The real range is $240 right up to $1,500 depending on the size and species of the palm. Date palms can be even more expensive.
But, there are ways to save < 50% off the price of palm removal in Brisbane and even get them removed for free.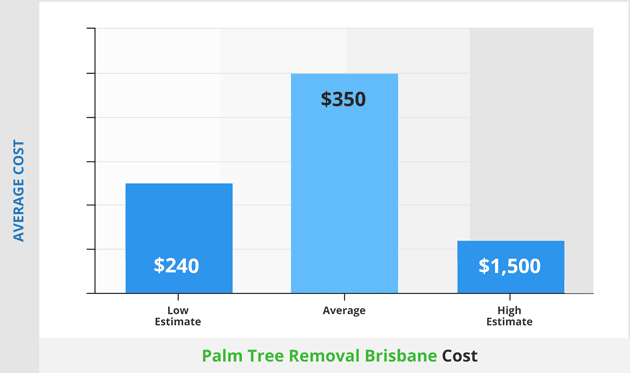 Before we get into ways to save, let's take a quick look at how much palm trees cost to remove.
| | Low | High |
| --- | --- | --- |
| Small 4m | $150 | $320 |
| Medium 7m | $225 | $450 |
| Large 7m - 15m | $380 | $1,250 |
| Extra Large 15m - 40m | $1,100 | $2,500 |
Note: For more prices on removing other types of trees in Brisbane, visit our "Cheap Tree Removal in Brisbane" page here.
Free palm tree removal in Brisbane
Yes, your eyes do not deceive you, it is possible to get a palm tree removed for free in Brisbane.
Mature Palm trees are actually very desirable for nurseries and landscapers who can sell them for a profit. The catch is it has to be a desirable species. Date palms are a great one to sell, but there are others.
Note: Just because you have a desirable palm doesn't mean you will sell it. Other factors like the nursery's stock levels, the location of the palm on your property, and other factors all play a role.
Desirable palm species:
Date palm
Phoneix palm
Cabbage palm
Fan palm
Companies to call about buying your palm tree
are just a few, but there are plenty more. I would try a Google search "we buy palm trees + your suburb" and see who pops up.
You might be in luck depending on stock levels and the type of palm.
Save < 50% on palm tree removal in Brisbane
Now, this is something I can guarantee will work. The secret of palm trees is they are not a real trees. They are more closely related to grass than trees, and they are useless for mulch or ground coverings once put through a mulching machine. Their trunks are full of acid and need to be disposed of as general waste.
Because the cost of waste disposal is so high, 50% of the price you pay to remove a palm tree will go towards the disposal. So the best way to save is to take the disposal out of the equation for the tree service.
Green bin or council cleanup
When getting a quote to remove palm trees, try to line it up with your council clean-up or speak to your neighbors and see if you can borrow their green bin (or part thereof).
When getting quotes, ask for one quote to completely remove the palm trees, and another to leave the palms chopped up and out the front on the nature strip for council clean-up. You will save 30 – 50% on that alone.
This is another big one that most people ignore. Trees services are seasonal. The high season is Spring and summer, and the low or off-season is the colder months.
If you catch a tree service in the off-season that doesn't have much work, you are more likely to get a better price as they are trying to win work. To do so they are more competitive and bid lower prices.
If you can wait, get your quotes in winter.
This is where GoTreeQuotes comes in. This FREE service matches you with the best-priced local tree services as voted by previous users.
Simply scroll to the top of the page and enter your postcode
Answer a few easy questions about your tree job
Three local top-voted tree services will give you an obligation-free quote.
No hard sales, just friendly advice, and great prices.