Free palm tree removal in Melbourne is no myth, it is possible. I will take you through how to get it and a backup plan.
Because certain mature palm trees are in high demand by nurseries and landscapers, there is a good chance you will get paid for your palm tree if it is a desirable species.
If it is a run-of-the-mill cocos palm, there is little chance of you getting it removed for free, and you are best reading below on how to get cheap palm tree removal.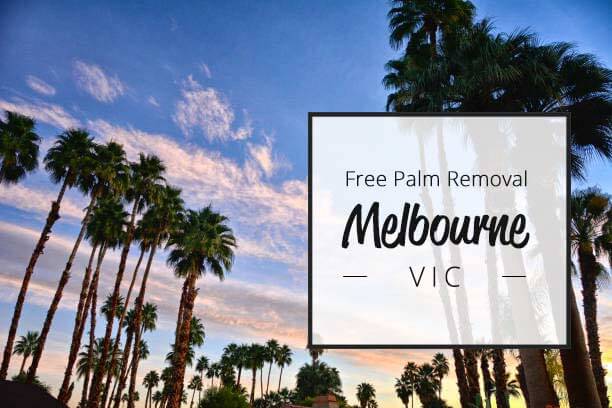 Below is a list of palm tree species that local landscapers and palm specialists are always on the lookout for.
Desirable species include
Bangalow palm
Date palm
Cabbage palm
Washington's palm
Windmill palm
This list is not exhaustive, but it will all depend on the company you contact. Basically, as long as it is not a coco palm, you should have half a chance of getting a buyer.
Companies that buy palm trees
Some companies specialize in palm tree removal and relocation, which are listed below. It's important to remember that these companies do go through periods where they are flush with stock, so you might need to phone around to find a buyer of your palm.
Palm tree relocation in Melbourne
This is not something that most arborists in Melbourne specialize in and is more geared towards landscapers and specialist palm companies as listed above. If you do not wish to sell your palm but rather relocate, these phone one of the above companies for a price.
Can I remove a palm tree without council approval?
Council regulation on palm tree removal depends on the local council district where you live in Melbourne. In most cases, palm trees can be removed without council approval, but some that are over a certain height might need approval first.
Go here to check the local laws in your council district.
How much does palm tree removal normally cost?
If you cannot find a buyer for your palm, you may need to bite the bullet and get a local palm tree removal service in Melbourne to remove it. DIY palm removal is not recommended as using a chainsaw while climbing a ladder is dangerous.
The cost of palm tree removal in Melbourne varies based on the size and species of the tree. Please see the below table for a guide.
The below price list also includes the price for cabbage palms and Washington palms.
| | Height | Price |
| --- | --- | --- |
| Small | 3 - 5m | $150 - $200 |
| Medium | 5 - 8m | $350 - $450 |
| Large | 8 - 12m | $500 - 700 |
Canary Island Date Palm removal cost
These are given a separate price list because they are very different trees. Generally, they have a trunk diameter 3 – 6 times larger than a regular palm tree so they need their own price tag.
| | Height | Price |
| --- | --- | --- |
| Small | 3 - 5m | $750 - $1,200 |
| Medium | 5 - 8m | $1,250 - $2,450 |
| Large | 8 - 12m | $2,400 - $5,300 |
How to save on palm tree removal in Melbourne
One of the largest costs associated with removing a palm tree in Melbourne is dumping fees. Palm trees are not like other trees that can be mulched and spread in gardens. Because of their highly acidic sap, they must be disposed of in a landfill.
Follow the council cleanup
Time your palm removal with the local council cleanup. When getting a price to remove the palm, ask for a price for them to just chop it down and leave it out the front for clean-up and another price for full removal. You'll find the council clean-up option will save you about 50%
This technique is to fill your green bin each week with the waste to save on dumping. Like the above, you ask for a quote to leave the palm tree but up in pieces. You can dispose of it over time, or go out one night and fill all your neighbor's bins after 9 p.m. and before the garbage truck comes.
Go Tree Quotes helps to match you with the best-priced local palm tree specialists, all voted by previous users as being best-priced.
Fill in the form at the top of the page with your Postcode
Give us a few more details about your palm removal job
Three local services contact you with their best price.
This service is obligation-free. You can choose to accept a price or give it a miss. No hard sales, just friendly advice and good prices.