Nearly all councils in Australia require property owners to obtain a permit before removing trees on their property. However, there are a few exemptions here and there based on local council-level or state-level tree protection laws.
You don't need the approval to remove dangerous trees or young trees less than 3 meters high, palm trees and fallen trees. There are many other reasons not to seek council approval which we go through below.
Remember this is a general guide, and there are always exceptions, so be sure to check with your local tree service and or council before proceeding.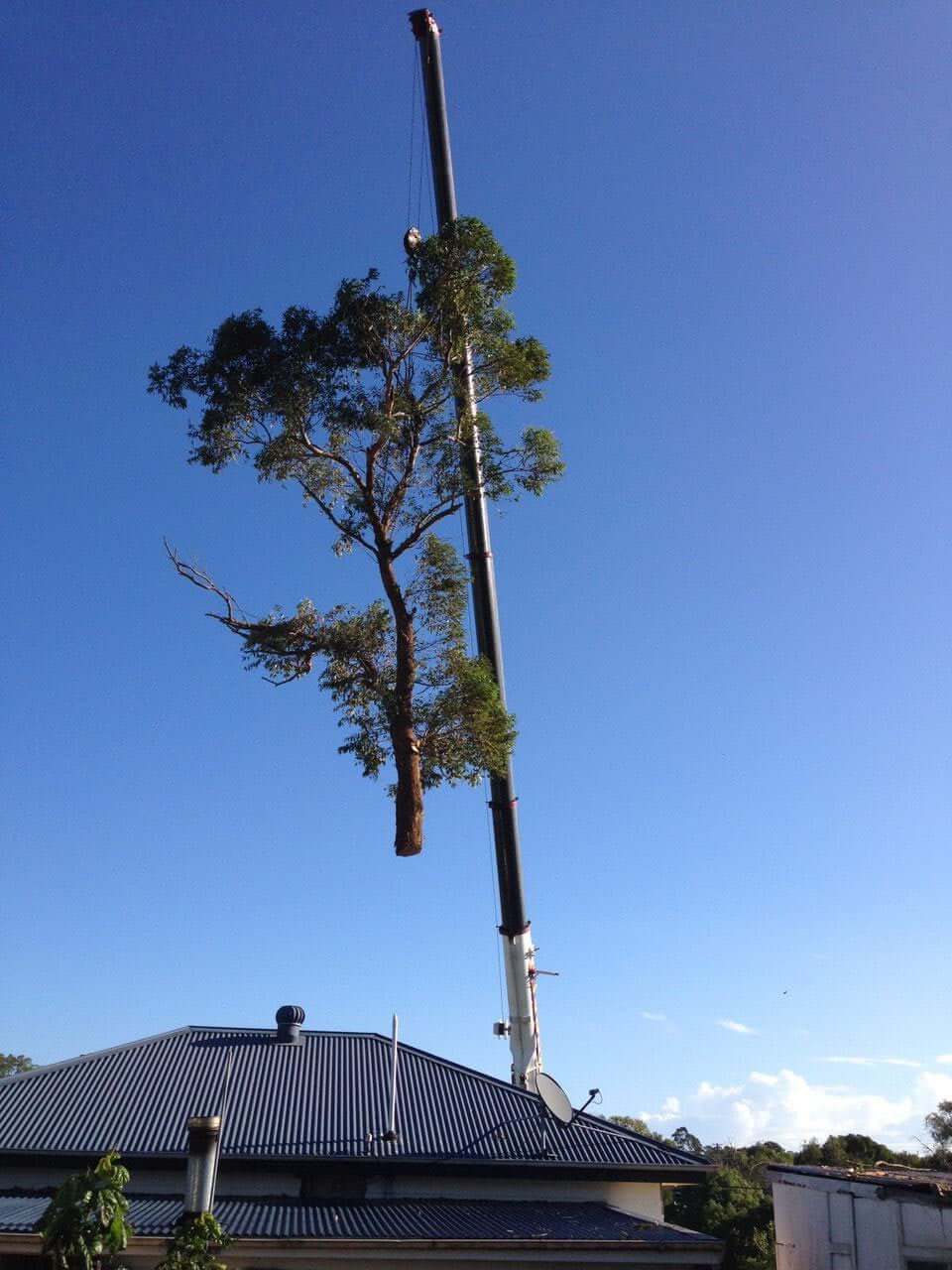 The following is a general guide to some of the trees you can remove without approval in Australia. Please note that tree protection laws and permit requirements vary from one place to another in Australia.
Dead trees
Young or Non-Significant trees
Dangerous trees
Fallen trees
Trees within 10m of your home in fire danger zones
Trees within 3m of your home foundations
Invasive species
Always refer to your local tree protection laws or permit application guidelines, which we summarize on this website.
It's highly unlikely that you will need a permit to remove or uproot a dead tree anywhere in Australia. Dead trees usually add no value and may be dangerous if damaged, have compromised roots/trunks, or attract pests.
That said, you need to be sure the tree is dead or dying to remove it without notifying the authorities. You can tell if a tree is dead or dying if it has brown, brittle, or dry branches, peeling or cracking bark, thin or non-existent foliage, a leaning or dry trunk, etc.
Young Trees or Non-Significant Trees - Less than 3m tall
Most councils in Australia have no problem with property owners cutting down or trimming young trees on their property. The exemption usually covers young trees of all species (except endangered trees) whose trunk circumference at breast height is less than a meter.
Dangerous Trees- Leaning Trunks, Compromised Roots
You can cut down large trees that are deemed dangerous without a permit. A tree must have the following characteristics to be considered dangerous:
A leaning trunk
Included bark on major limb junctions or multi-stemmed trees – can also be solved through cabling or bracing.
Compromised or rotten roots – trees that can tip over at any time due to compromised roots
Trees with invasive or above-ground roots- such trees can destroy house foundations, underground pipes, and pavements.
Trees hanging over electrical lines
Trees that were struck and destroyed by lightning
Trees that release excess debris
Trees hanging over houses and considered a risk
Dry or dead trees that can tip over, catch fire or attract pests
Trees blocking access, pathways, and roads
Tip: While you might be allowed to remove dangerous trees without a permit in most places, you must have compelling reasons in case the council raises questions later. You may also be required to notify the relevant office in your city or town so they can send a public arborist over to check the tree.
You don't need any permit or approval to clear a tree that has already tipped over or fallen. However, document or take pictures of the tree in case the council takes interest later, especially if it is a protected or endangered tree. Also, note that you cannot clear fallen or destroyed council trees without permission.
Trees within 10m of your home in fire danger zones
You are allowed to clear vegetation, including large trees, that are within 10 meters of your home if you live in a bushfire danger zone. Various states and councils in Australia have guidelines on this including detailed maps showing designated fire danger zones.
To be certain, refer to local guidelines if you need to cut trees to protect your property from bushfires. It is, however, likely that you will be receiving regular information from the Fire & Emergency Services department or relevant authorities in your location about vegetation clearance.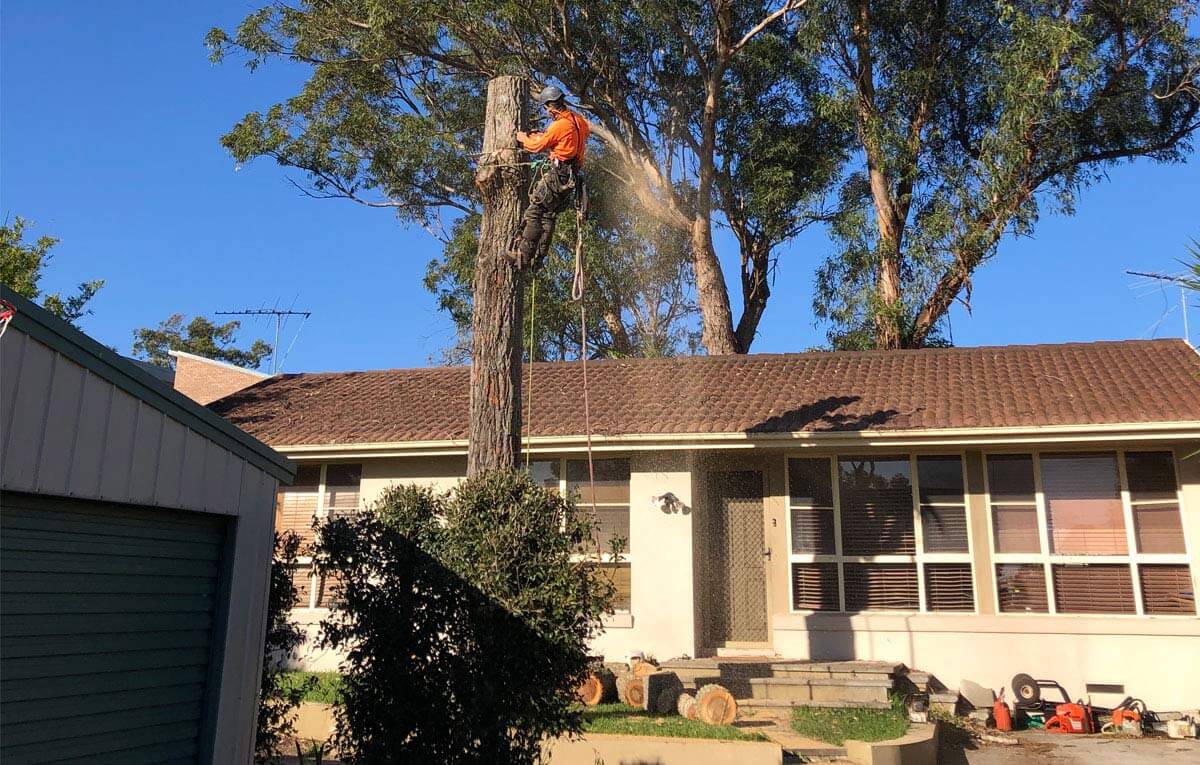 Trees within 3m of your home foundations
Trees within 3 meters of home foundations pose a danger and can, therefore, be removed as a safety measure. In most places in Australia, you are not required to obtain a permit if you need to remove or trim a tree for safety purposes.
Trees near house foundations can tear into the concrete, cause damage to nearby walls, and generally pose a danger to your home as they spread their roots. Three meters is the recommended safety distance for a large tree with invasive roots near a house.
Non-Native/Invasive Trees
Non-native invasive trees are usually not covered under Australian tree protection laws meaning you can cut them without approval. Some states and councils encourage residents to identify and remove invasive non-native vegetation on their property.
Examples of invasive non-native trees and shrubs that you can clear without approval or a permit in Australia include:
Alligator apple- Annona glabra
sweet acacia-Acacia farnesiana,
African Olive
Coral tree- Erythrina sykesii
Brazilian Cherry – Eugenia
Uniflora
Camphor Laurel-
Cinnamomum Camphora
Australia has vast landscapes and endless tree species. Landowners are encouraged to protect native plants by preventing the spread of invasive species. Therefore, you are likely not going to need any permit or approval to cut such trees.
Non-Significant Or Unregulated Trees
In some places, such as South Australia, property owners are only required to apply for a permit if they are removing a significant or regulated tree. Significant trees according to South Australia's tree protection laws for example are those with a trunk circumference above three meters.
Trees You Can Cut Without Approval By State
| State | Trees You can cut without a permit |
| --- | --- |
| New South Wales (NSW) | Trees on the 10/50 vegetation clearing entitlement area/ exemptions vary from council to council |
| South Australia (SA) | Non-significant-unregulated trees |
| Queensland (QLD) | Laws vary from council to council |
| Victoria (VIC) | Refer to local tree protection laws in your city or town. Statewide exemptions exist under special circumstances like when one is clearing land for grazing purposes. |
| Western Australia (WA) | Exemptions exist under specific circumstances like when clearing land for firewood. Local council laws apply |
| Tasmania (TAS) | Exemptions exist at the council level |
Tip: Cutting a tree without a permit can be risky especially if it happens to be a protected or endangered species. Ask a local arborist or talk to your local forestry office before you proceed to avoid fines.
You could receive fines in Australia for cutting down trees without approval. Typical fines for cutting large trees without approval range between $1000 to $50,000 depending on the size of the felled tree, age, and species. Punishment for cutting down endangered trees can be quite hefty.
You can trim or cut overhanging branches from your neighbor's land if local council laws allow you to do so. However, it could help if you talk to your neighbors first to avoid disputes.
It is illegal to cut down trees in Australia's forests without permission. Doing so could land you in serious trouble and you may be forced to pay fines. You can, however, cut trees in some forests after you obtain a logging permit.