Landing a well-priced tree pruning service in Brisbane is easy if you know where to look.
The average cost to prune a tree in Brisbane is $452. Price can range right up to $1,950 depending on the size of the tree and the number of branches being removed.
We will walk you through average prices by tree size as well as local laws for tree pruning and ways to save.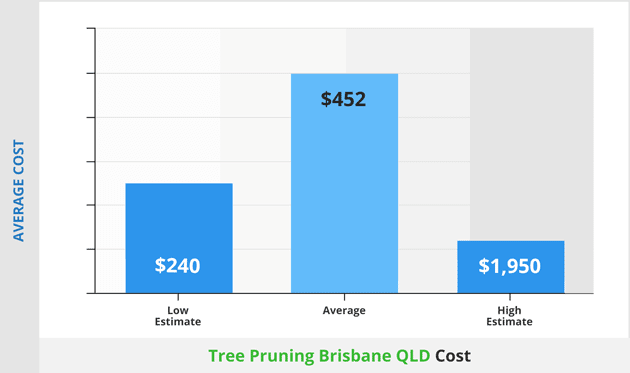 The three biggest factors that make up the cost of tree pruning are the size of the tree, the number of branches being pruned, and the job's difficulty. Trees with branches over power lines or the roof of your home is going to cost more than ones in an open space.
Below is the price range by tree size with a number of branches and difficulty factored in:
Small – 1 – 1.5 Stories
Trimming up to 20% of the foliage of a small tree will cost you $235 – $480. It might cost a little more if the tree is over power lines.
Medium – 2 stories high
Pruning a tree this size will cost $390 – $680 depending on the amount of foliage on the tree. Trimming a palm tree is going to cost less than a gum tree.
Large – 3 + stories high
Large tree pruning can cost quite a lot. Some branches on a large tree can hold more than a tonne of timber and foliage. Expect to pay $750 – $1,950 to trim a big tree.
Cost to deadwood a tree in Brisbane
Like regular tree trimming, the cost of deadwooding a tree will vary depending on the tree's size and the amount of deadwood.
The average cost to deadwood a medium-sized gum tree is $550 – $850.
The other thing that adds to the cost is deadwood is normally throughout the entire tree, which means the arborist needs to access the whole tree. This is time-consuming hence the larger cost.
When should I prune a tree in Brisbane?
As a general rule of thumb, trimming a tree in late winter is always ideal. This is especially true for pruning fruit trees. This is because pests and diseases are less prevalent in winter, giving the tree time to recover before summer hits.
Tree pruning in Brisbane is also cheaper in winter, but we get into that a little more below.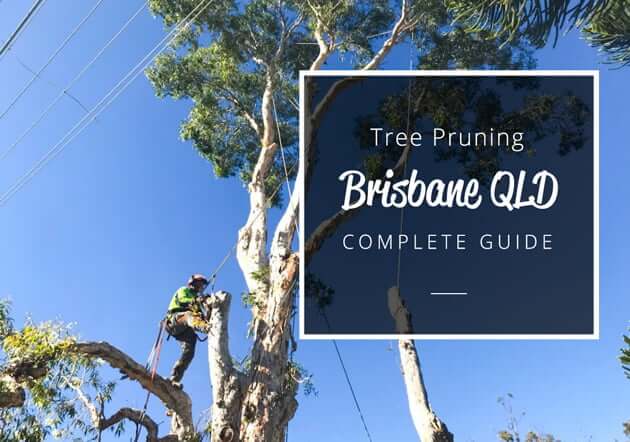 Do I need permission to trim a tree in Brisbane?
Brisbane city council tree trimming laws are very clear, and I have listed them below. Trimming a tree in Brisbane illegally may result in heavy fines.
A permit is not required to trim a tree if:
You trim no more than 20% of foliage in 12 months for purpose of maintenance or hazard reduction. You need to make sure the tree is well balanced and not lob-sided.
If the tree demonstrates obvious signs of an immediate hazard (split tree trunks, leaning tree(s), etc. Get confirmation from an arborist.
The tree is dying or dead
The hazard must be adequately photographed as evidence, and if requested, an arborist report submitted within 10 business days of the threat event.
Protected vegetation that needs a permit first:
Tree is located near or in the Brisbane River or a waterway corridor
Is located in a bushland area or rural area
It contains large significant trees even in an urban area
Has heritage values
You should check with Council if this applies to your property by phoning 07 3403 8888.
Permit applications here: Online application form
Is it cheaper to prune or remove a tree in Brisbane?
Tree pruning will always be cheaper than removal for a single event. But if you need to get an arborist back every 2 – 4 years, over your lifetime, you are going to spend more money on pruning than removal.
The average cost of tree trimming in Brisbane is $452, whereas the average removal cost is $882.
Tree pruning costs Brisbane Northside vs. Southside
The economy of Brisbane's northside is a little more expensive than the southside with property and some services. Their difference is marginal, but there is a difference, and below are our observations of the
Northside – The average cost of tree pruning on the Northside of Brisbane is $487. This is for a medium-sized tree with a few branches being removed.
Southside – For the same-sized tree in Brisbane's southside, you can expect to pay $435. This is about $50 cheaper than the North.
How to save < 43% on tree trimming
This is a big one. Trimming a 10m tree in a front yard with clear access is much cheaper than a 10m tree in a backyard, behind a shed. It takes longer to drag branches from the back to the front, doubling the job's time.
If you can remove a fence panel or give access via a neighbor's yard to get the tree service as close to the tree as possible, you can expect a cheaper price from the tree service.
Tree services are seasonal. There is much more work going around in warmer months than in colder ones. If you can wait, get the trimming done in winter. You will save 10 – 15%.
Use a gardener, not a tree service.
For small trees < 5m in height, I suggest you call a gardener or general handyman. Tree services are expensive because of the specialized equipment and other overheads like insurance and a large support team. Getting a gardener to do the job can save you up to 40%.
Note: Tree trimming in Brisbane is very dangerous. Large trees need to be trimmed by a qualified arborist.
Go Tree Quotes is a free service that matches you with the best-priced local tree service, as voted by previous users.
Scroll to the top of the page and enter your postcode.
Answer a few simple questions about your trimming job.
Three local top-voted pruning services will give you an obligation-free quote.
No hard sales, just friendly advice, and great prices.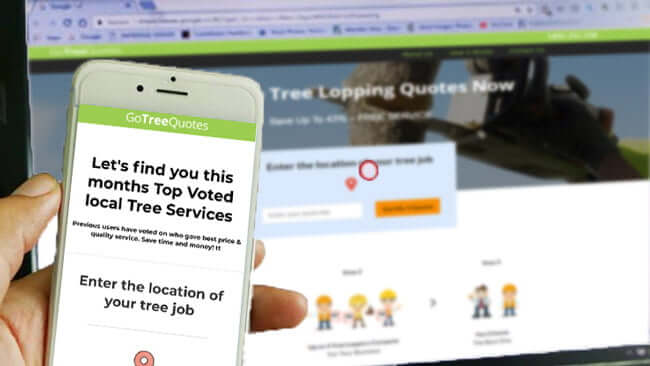 GoTreeQuotes Will have you saying things like:
"Fast, friendly and well priced"
Fantastic service, love it. I will recommend this to my friends.

"A fantastic service, love it"
Fast, friendly and great-priced contractors. What a simple way to get a tree removed in Melbourne at the right price.

"I'm Impressed with my clean yard"
Lovely contractors to deal with. They were fast, reliable, and did a great job. I highly recommend this service for tree lopping in Brisbane!

Results like these aren't accidental. We've spent almost 5 years developing a better review system based on previous users' testimonials. GoTreeQuotes was born out of a passion for helping homeowners like you.