Professional tree removal services are in high demand for identifying and removing trees that have become hazardous to persons or property. Trees in suburbia provide a huge amenity value to the community and wildlife, but they can quickly become a hazard when they reach the end of their useful life expectancy.
Our tree removal Melbourne crews are highly trained, qualified and experienced in a full range of tree care services. They can identify any structurally unsound tree and remove it with ease.
Melbourne tree removal is expensive due to the high overhead costs of specialised equipment and high insurance overheads, but there are some ways to save money we discuss below.
| City Average | $2,320 |
| --- | --- |
| Low Estimate | $950 |
| High Estimate | $4,610 |
| Average range | $870 - $6,800 |
Safety & Quality Vs. Price
Understanding the market and why some tree removal services charge more than others generally comes down to quality, safety and experience.
Some Melbourne crews advertise themselves as professionals, but a lot of the time are not up to the task. We recommend trusted domestic and commercial tree teams renowned in the city for putting safety and quality of service before anything else. 
When you compare quotes from 3 local services, our picks are based on previous votes from users in the community and local neighbourhood.
Local councils govern tree removal laws in Melbourne. Each council has their own set of guidelines on which trees you can prune or remove without prior consent and which ones you will need to apply for a tree removal permit.
Some trees that might not need approval for removal are:
Dead tree
Rotten tree
hazardous tree
Trees in fire zones
Select your local council below to see a summary of local regulations.
Additional tree services offered
Tree removal Melbourne is carried out by professional arborists who also offer other tree services. Below are some of those services and a guide to cost. Be sure to get a free quote from a professional company before giving the go-ahead.
Stump removal – Tree stump removal is generally offered during tree removal. Tree stump removal costs range from $120 right up to $750 for large stumps.
Wood chipping – All tree work is accompanied by a tree chipping service, as this is how tree removal companies manage green waste. They will also return the woodchips to you free of charge if you ask. Leaf litter mulch is great for garden beds to help retain moisture and heat.
Tree lopping – Tree lopping services include tree topping, pollarding, coppicing, and branch removal. Prices vary depending on the size of the tree and number of branches being removed. Prices start at $590.
Arborist reports – Local councils sometimes require Arborist reports before permission is granted to remove or prune a tree in Melbourne. In the tree industry, a consulting arborist does this service as they have a Diploma in Arboriculture, a requirement by local councils. Arborist reports cost $550 on average.
Palm tree trimming – Palm trees need regular maintenance to remove dead fronds and seed pods. Palm trimming in Melbourne costs around $100 per tree.
Tree pruning – The second most requested service other than tree removal Melbourne is tree pruning. This tree care maintenance practice that keeps trees healthy includes canopy lifts, tree thinning, crown reduction, building clearance, and can even include fruit tree pruning. Prices start at $620 and range right up to $2,350.
Hedge trimming – Some professional arborists won't do hedge trimming as their skills and equipment are used for larger jobs. You will likely get a better price from garden maintenance services than an arborist.
Tree felling – Unlike the standard tree removal process, tree felling is where a tree is cut at the base and dropped in one cut. It's done when there is lots of room to work, like on a large property or farm. Prices start at $650 per tree.
Land clearing – Clearing land is done when preparing a lot to build a house or removing undergrowth, which can be a fire hazard. Prices vary depending on how heavily wooded the land is and the size of the tree. Lot clearing prices start at $5,000 per acre, and can range up to $25,000 per acre.
How to save BIG money on tree removal Melbourne​
Several factors contribute to the price of tree lopping Melbourne. Some of the biggest factors that affect price, such as tree size and location on your property, can not be changed. Factors like access, company selection and time of year are in your control and can significantly reduce costs.
Below are a few ways to save big money on tree removals:
If you have a tree in your backyard with no rear access, the tree will need to be dismantled and carried by hand to the front yard for mulching. This will add to time and labour costs. 
Can you grant better access?
Removing a panel of fence to give access to a neighbour's yard, back laneway, or park will help. Pulling a boat from the drive or anything you can do to allow heavy equipment as close to the tree as possible. Tree stump removal prices also increase with poor access.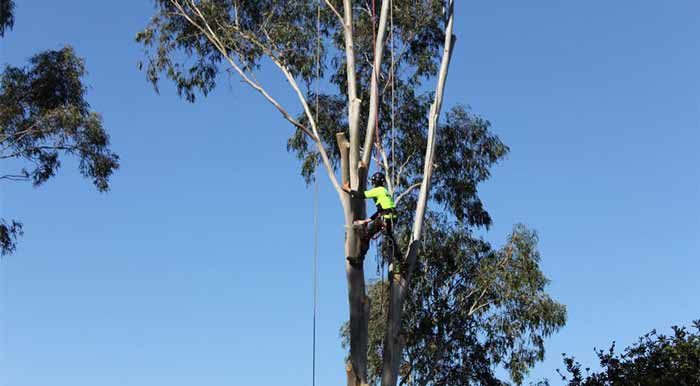 Tree care services in Melbourne are seasonal. People spend more time in their yard in spring and summer and also do more maintenance then. If you can wait until winter to get your tree removed, you will catch a lot of companies with less work on and willing to discount their prices to win your job.

Last month GoTreeQuotes helped 237 homeowners in Melbourne,
save up to 43% on tree removal Melbourne
Small business owners can make a good living removing trees in Melbourne, but not all of them have the same idea on how to get the right balance between money out and money in.
When it comes to marketing, some companies spend a fortune to be on the top of Google results, Yellow Pages, True Local, etc. But that costs big money and the outlay needs to be recouped by charging higher prices.
Pro tip: You don't want to be paying for tree companies' marketing. Skip page one of Google, Yellow Pages and other platforms to find quality local companies are reduced prices.
Finding the right company for the job
So, based on the above, you might be thinking, easy… look for a company on page 2 of Google in winter, and you have a sure thing. Right?
Not so fast.
There are some great tree companies on page 2 of Google and down the bottom on the Yellow Pages. Still, in the tree lopping game, there is also a tonne of fly-by-nighters who have no idea what they are doing and are more likely to damage your property or injure themselves than safely remove your tree.
Not hiring a certified arborist will most likely cost you in the long run.
Registered company – First, search the Australian register to see if they are legitimate. Do an ABN lookup and search for the company you're vetting. You will soon see if they are a registered legitimate company.
Experienced – While in there, check the date they registered their company. If it is less than three years old, keep looking. You don't want a rookie practising on your tree.
Are they insured? – You must ask the prospective tree company if they can provide insurance paperwork. It should include at the very least, public liability insurance, which protects you and your property, and workers' compensation would also be a bonus.
Are they a qualified arborist? – To work on trees, you need to be a qualified arborist. There are cases where some guys have been in the industry longer than there are courses, but in 95% of cases, you need to ask for proof of skills through an arborist certificate.
Is free tree removal possible?
There are some cases where you can get free tree removal, although it is rare. These cases usually involve a landscaping company removing a desirable palm tree species that they can then sell for a profit.
There are also cases where if you have 1 acre or more of wooded land, a lumber company will remove it for the timber. But it is just not feasible for a single residential tree.
Hiring tree removal services
When hiring arborist services for tree removal, stump removal, tree pruning, or any other tree services, it is important you do the right background checks on the companies before you invite them onto your property.
Qualified arborists​ – An arborist is a tree professional who has studied arboriculture and has a minimum of Certificate III. Be sure to as the tree service for proof of credentials before you hire.
Public liability cover – The industry standard is 10 million in public liability insurance coverage. When they provide proof of cover, you will need to ring the insurer to make sure the cover is valid.
Professional arborist – Hiring a tree removal company with the expectations of a fantastic job will only come to fruition if they have a dedicated team of tree specialists who offer full-service solutions. Be sure to quiz the business owner on his team before getting them to work on your tree job.
Punctuality – If they have not bothered to show up when they said they would, then I would not expect them to do an amazing job.
Professionalism – Great business ethics are hard to spot sometimes from initial interaction with an arborist providing you with a free quote. It's the little things that give an indication they will do a magnificent job.