The Gold Coast Council has a Vegetation Management Code which is a set of laws that regulates the pruning and removal of trees on private property.
These regulations outline which trees you will need a permit for before pruning or removal and which are exempt from needing a permit.
A summary of those rules and conditions is outlined below.
Note: The below rules are for residential property and do not apply to units/ apartment complexes.
Most trees will need a council permit before trimming or removal. Check the exemptions below. If your tree is not an exempt species or withing a bushfire zone, within a certain distance to your home or on the fence line you will need approval. This includes dead trees.
What trees can be removed without a permit?
You can remove trees on the Gold Coast without council approval for the following reasons:
If a vacant lot has had a development application previously approved by Council and the trees are on the pad where the proposed house is to be built.
Removal or pruning of vegetation along an existing property boundary fence line or proposed fence line (… if the new fence is constructed within 21 days of tree removal).
– Lots < 4000m2 may remove trees within 1.5 metres of the boundary line
– Lots between 4000m2 to 7999m2 Within 3 metres of the boundary line
– Lots 8000m2 and greater Within 6 metres of the boundary line
Removal or pruning of vegetation that is close to a building
– Lots < 8,000 m2 Within 3 metres of the building
– Lots > 8,000 m2 Within 10 metres of the building
Removal or pruning of vegetation that is close to my pool fence
– Within 1.5 metres of the pool fence
Removal/damage of vegetation within 10 metres of a dwelling that is located within a Bushfire Hazard Map Overlay and/or vegetation that forms part of an approved Bushfire Management Plan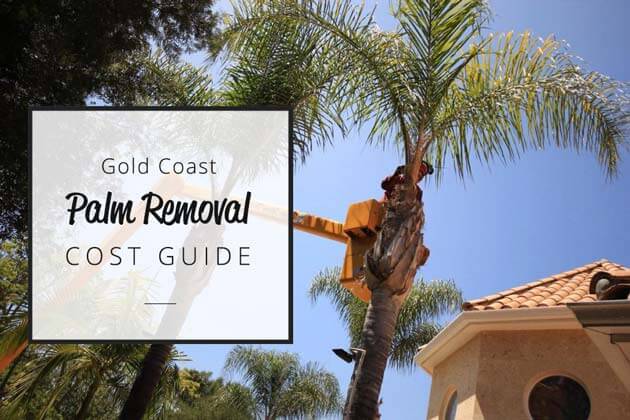 Does Gold Coast Council have exempt trees?
Yes, see the table below. These trees can be removed without a permit and void all the above rules.
They are seen as a pest locally, so you will have no issue removing them.
Note: Not all palm trees are exempt. If you don't have a Cocos Palm, you will need to apply for a permit for removal.
Common name
Cocos Palm
Coral Tree
Cadaghi
Slash Pine
Umbrella Tree
Botanical name
Syagrus romanzofffiana
Erythrina x sykesii
Corymbia torelliana
Pinus elliotii
Schefflera actinophylla
Gold Coast City Vegetation Management Plan
Tree removal application for Gold Coast Council
How long does approval take?
It depends on how busy they are with applications, but it should not take any longer than 2 – 3 weeks to have an answer after application.
If they are unsure of whether to give you approval based on your reasoning, they may get you to procure an arborist report as a supporting document.
This would happen if you claim the tree is dangerous or has white ants etc.
Gold Coast City Council contact & lodgement details