This is a bit like asking "How long is the price of string?" The answer is it depends! The cost to cut down a tree depends on the tree's height and breadth and more importantly the access to the tree, plus obstacles around the tree such as fences, houses, branches near power lines, garden beds, etc. makes it extra hard to answer.
It costs between $650 and $3,620 to cut down a tree, with the average price for tree cutting being $1,630 so far this year.
To be more accurate, we would need to look at the small, medium, large and extra-large trees and their cost to cut.
| National Average | $1,630 |
| --- | --- |
| Low Estimate | $650 |
| High Estimate | $3,620 |
| Real average range | $425 - $7,900 |
We actually have pages dedicated to prices for tree removal, palm removal, tree pruning and the cost of Arborists.
Select the cost guide that best suits your needs.
Tree removal cost guide
Tree pruning cost guide
Palm tree removal cost guide
Arborist cost guide
The important thing to remember is that just because a 6m tree will cost $700 to cut down, doesn't mean a 12m tree is going to cost $2300. It doesn't work that way.
Let's take a look at the examples below.
As you can see with these 2 trees, although they are the same height, they are very different in the volume of the tree that needs to be removed as well as the difficulty to remove.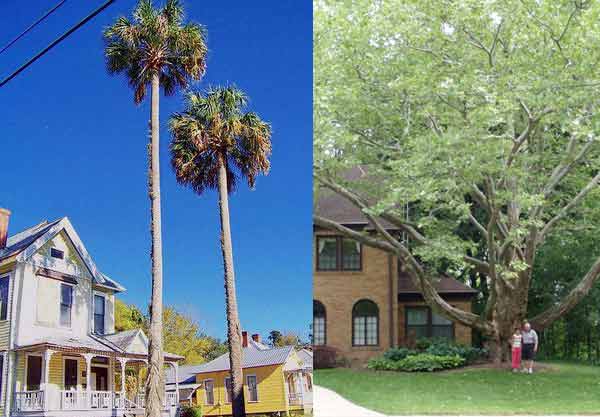 Cost to cut down trees by tree type
The cost to cut down a pine tree will depend on the type of pine. There are 3 x popular types of pine trees. Cypress/Conifer will cost $250 – $850, and a Norfolk Island pine will cost more to remove because of its size, so $2,200 – $4500. And a Radiata pine will cost $1,700 – $3120 to cut down.
Palm trees cost to remove also varies in size. You have the biggest of the lot a Canary Island Date palm which will cost an average of $2500 to remove, but a standard Cocos palm will cost $250 – $300 to cut down and take away.
As you know gum trees come in all shapes and sizes and because of their erratic growth it can be difficult to price, but you can expect to pay $900 – $4500 depending on its size and difficulty of access.
An Oaktree can grow enormous and are a lot more prevalent in the United States. They will range from $1,200 to $5,000 on average to cut down and take away.
So how large is large? I consider a large tree anything over 3 stories high so 15m (45ft) plus. Any type of tree that is large to extra-large will have a cost starting at $1,350 and go right up to $3,100 depending on access and difficulty to remove.
To be considered a tree and not a bush, I think it should be at least 5m (15ft) high. So starting from that minimal point you will pay $200 – $350 to have a small tree cut down and taken away.
Dead trees are a different animal to work with because dead trees are a lot more difficult and dangerous to cut down than a regular live tree. The reason is the timber is a lot harder to cut through and it is a lot less stable to work with. That being said you can expect to pay $500 – $5000 for the removal of a dead tree. Generally, you can add 20% to the cost to cut down any live tree o the same height.
A tree 30 feet high will cost an average of $2,450 to cut down and completely remove including the stump. This price may vary depending on the access to the tree, obstacles around it and the number of branches.
Evergreen trees normally cost about the same price to remove as a deciduous tree to remove. A lot of arborist websites report that it is cheaper to get a tree cut down after it has lost all of its leaves, but you will find the cheaper price normally comes because trees lose their leaves in autumn and winter and there is a lot less work on in winter for tree cutting services. They will hand out cheaper prices in winter. So for prices on evergreen trees, please refer to general prices for tree removal.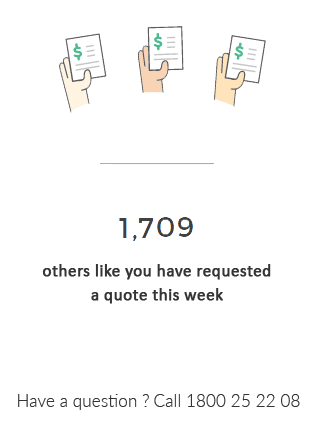 | Tree Size | Low | High |
| --- | --- | --- |
| Small | $250 | $350 |
| Large | $1,350 | $3,100 |
| Dead | $500 | $5,000 |
| Pine trees | $250 | $350 |
| Palm trees | $350 | $550 |
| Gum trees | $600 | $1,000 |
| Oak trees | $900 | $1,800 |
How much does it cost to remove a fallen tree?
A fallen tree is a different animal. It is really easy to work on and probably halve the price from when it was standing.
Why is there such a large price difference?
When taking down a tree while it is standing, the tree must be climbed by a highly trained tree surgeon and taken down piece by piece.
When it's already on the ground, however, it's all hands on deck to simply cut it up and remove it.
How much does it cost to get rid of a tree once cut down?
In most cases, you will find that this cost is included in the quoted price for "tree removal". So cutting the tree down and taking it away. That being said, the most work in tree removal is not just cutting it down, but the actual removal of the waste.
As a general rule of thumb, the removal of tree waste makes up about half the cost.
Is it worth removing the waste yourself?
Sometimes it can be beneficial. If the tree is in a particularly hard to get to the spot, imagine a tree in a backyard, with a steep slope, with no access for heavy equipment, it might be worth not paying a tree company to remove the waste.
If you can sell the timber online for firewood, let the buyer do the grunt work, or if you are feeling generous, give the firewood away for free to whoever removes the timber.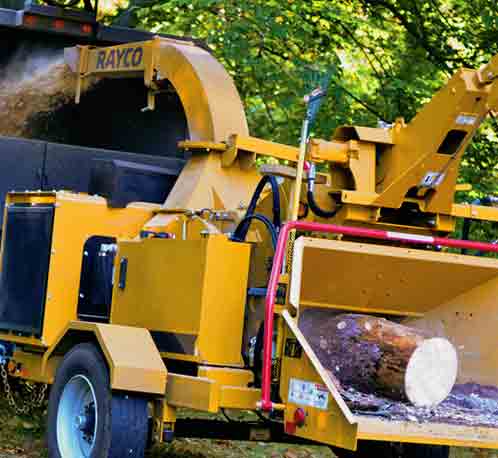 Free tree removal for firewood
We get a lot of requests for free tree removal, but in general, it is not worth it for the tree professional.
Firewood can be sold for about $120 per cubic meter. In a large tree (7-15m high) you might expect to get about 3-6 cubic meters of firewood.
That's after the tree has been removed, timber dried for 2 years, and then split and delivered.
It's just not worth it for the tree companies. They see the firewood as a bonus for themselves which pays for space they own or rent to store, dry, split, and sell the timber.
You won't find any tree services too keen to give concessions because of the amount of firewood.
Cheap tree cutting service
Finding a cheap tree removal service can be a moving target. This is because you are dealing with small businesses that fluctuate their prices depending on how much work they have at any given time.
So how do you find a tree service that is cheap NOW?
That's where we come in. Go Tree Quotes is a free service that matches you with the best price local contractor based on a vote from previous users in your city.
You could go in alone and read the reviews of companies that are months and even years old. The issue a company will change its prices 3 or 4 times during the year, depending on their workload, so your chance of catching them at the right time is largely reduced just shooting from the hip.
Go here and fill in our 2-minute form with a few details about your tree job. We forward the quote request to the closest 3 contractors who are currently giving out dirt cheap prices.
They compete with each other to give you the best quote for your tree removal or pruning job.