Finding reliable and affordable tree trimming is not a walk in the park, especially if you have zero experience with tree companies.
This article takes you through the steps to find, choose and hire the best tree trimming pruning contractors. You will also find a cost guide to give you an idea of how much tree or shrub trimming costs.
| Service | Average Cost |
| --- | --- |
| National average cost | $423 |
| Average range | $75 - $1,200 |
| Small trees: 1 – 1.5 stories high | $250 – $350 |
| Medium trees: 2 stories high | $350 – $550 |
| Large trees: 3 Stories high | $600 – $1,000 |
| Extra Large trees: 6 Stories high | $900 – $1,800 |
How to find cheap tree service
Different tree pruning companies offer different rates, but finding a cheap service can be quite a hassle. Here are a few tips to help you find affordable certified arborists.
The dormant season is usually winter, and most companies tend to close due to little or no work. So, the companies that are still operational offer lower rates to win clients. If your tree job is not urgent, you can wait until winter to get lower rates. Winter is also the best time to trim trees as they heal faster.
Consider the company's workload
Most people think that companies with a lot of work will offer cheaper and better trimming services. This is not always the case because such companies may charge higher rates to regulate and discourage new clients. More so, a company with lots of engagements may not offer your job the attention it needs.
Google search- ignore page 1 of google results
The easiest way to find local tree-cutting experts is through Google. All you need to do is enter the keyword "tree care service + [your town]," and many companies will pop up. You will also get several referrals from YELP and Yellow Pages.
Once you get the results, do not just rush to hire the top-ranking companies. Here is the trick. Most companies that appear on the first page of Google spend a lot of money on marketing. So, they tend to offer higher rates to get back the money they spend on marketing and a profit on top.
To find cheaper tree maintenance with the right equipment, skip the first page on Google, the Yellow Pages, YELP, etc., and focus on pages 2 and 3 results.
Choosing a good trimming pro
Looking for a reputable and genuine qualified arborist is quite challenging. There are hundreds of companies in the industry, but crooks and con artists are also many. Below are a few steps to help you choose the best tree care service and avoid scams.
Once you find several certified arborists either from the web or through referrals, make sure they have appropriate insurance. Every local service should have workers' compensation and public liability insurance. Besides, the insurance certificates should be directly sent to you through the insurance agency.
Check BBB and local council accreditation
Any reliable pruning service should be accredited by the Better Business Bureau and be a member of the local council. BBB accreditation shows that the business is reputable, and you can find out whether there are any complaints from former clients against the company.
To find the best tree trimming and pruning near you, you must be resourceful. Below are important questions to ask your tree company to determine whether they are experienced and knowledgeable.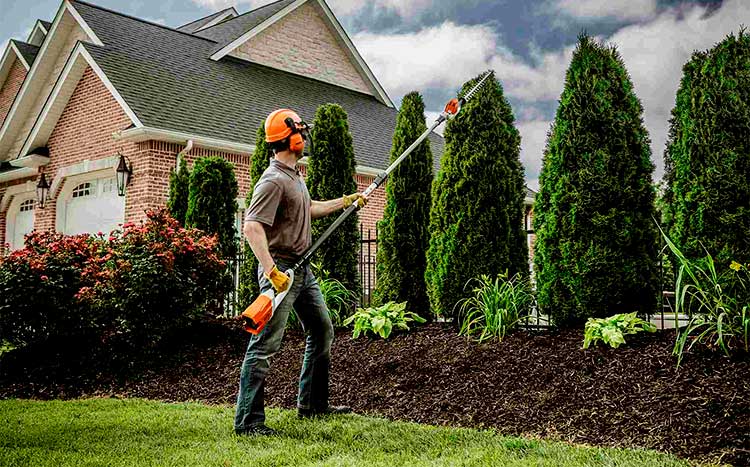 Are you a certified arborist?
The International Society of Arboriculture requires all arborists to be specially trained and certified. Therefore, you must ensure the professional you hire has an ISA certification. The expert should be trained and experienced to care for your tree or shrub, and they should undergo ongoing training to better their skills.
Insurance is a must for every tree service. Tree work is risky, and injuries and property damage may occur so safety is paramount. If you hire uninsured professionals, you may spend lots of money on medical bills and property repairs.
It is also essential to check whether the professionals have a license to operate in your state. Different states have different rules and regulations, so find out if the expert meets the regulations set by your state. A professional with a proper license shows that they are serious and dedicated to their work.
Hiring tree service companies in my area
With so many landscapes and proper tree services in the industry, you may think that hiring the right one is easy. On the contrary, it may take you several days to find the perfect fit for your tree work. The tips below will guide you when hiring tree maintenance services.
You should hire a tree pruning trimming service without researching them first. Be sure to look into the reputation of the company, its reviews, the equipment they use, and whether they have structural pruning experience and ratings before hiring them.
The qualifications of the tree trimming service you are looking to hire are also essential. You need to know whether the professionals have a proper license, insurance, and ISA certification. More so, you should determine the experience and knowledge of all potential hires.
Once you are satisfied with the educational background and experience of the tree service, you should ask them for estimates. Get at least three to five estimates and compare them closely. You may notice slight differences in the estimates depending on how a company operates and how much they charge.
4. Agree on the start and finish date
Before you hire any tree trimming service, you should agree on the start and finish date of the project. Ask the experts when they are ready to start and determine whether they will meet your needs.
If your work is urgent, you may need a company that is ready to start immediately.
Whether you are doing structural pruning, removing dead branches, or trying to mitigate the risk of falling branches, health and safety is always the objective for not only the tree but residents living close to the trees.
Removal of live branches as well as dead ones will not only help the tree grow faster and stronger, but it will also reduce risk and improve the health of your lawn by allowing more light to penetrate.
Storm damage can compromise the health of trees in a big way if left unattended. There are a lot of benefits to giving them a prune where the damage occurred to specific branches, but in some cases, they are beyond repair and the tree needs complete removal by a tree care or landscape company.
Using the American standards code of practice when practicing the removal of large branches or new growth is paramount in tree care.