Yes, but under certain conditions
The tree can be removed without council approval if;
Tree height less than 3.5 metres; or
Tree canopy spread greater than 4.0 metres; or
Trees primary trunk diameter greater than 400 millimetres when measured 1.0 metre above existing ground level of the tree.
The removal of domestic fruit trees grown specifically for their edible fruit;
The removal of any tree on private property where the main supporting trunk or stem is within three metres of an approved dwelling, garage or in-ground swimming pool;
The removal or pruning of trees permitted to be removed or pruned under the Rural Fire Service 10/50 Code of Practice for NSW.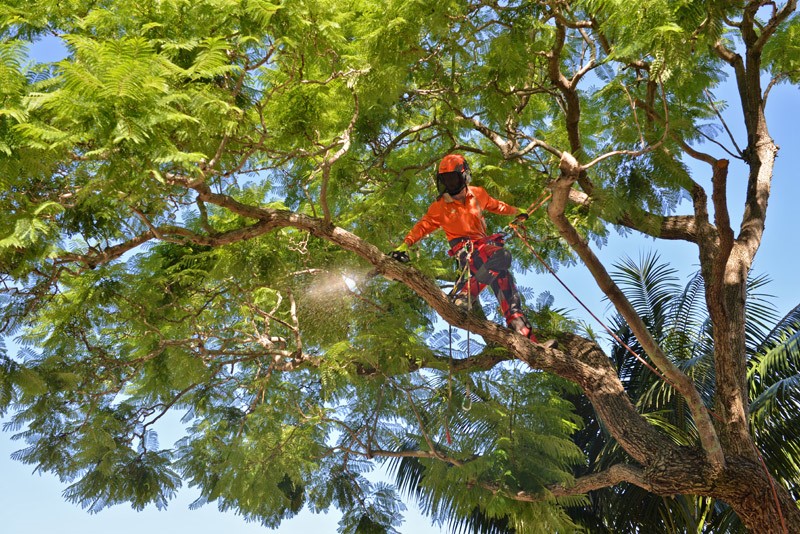 There are trees that can be removed no matter what their size or condition as they are considered a pest by your local council.
The above-listed conditions do not apply.
See table below
Does my council have an exempt tree list?
Common Name
Willow
Poplar
Rubber
Cootamundra wattle
Coral Tree
Umbrella
Sumac
Golden Cypress
Large Leafed Privot
Cocos Palm
Small Leaved Privet
African olive
Norfolk Island Hibiscus
Camphor Laurel
Honey Locust
Settling Neighbour Disputes
The council recommends that the first approach to a tree dispute between neighbours is to talk through it and find a solution.
However, in cases where you cannot agree, you should seek assistance from the Land and Environment Court to help you settle the dispute.

Dealing with trees on Council's property
Trees that are on reserves, parks, and street footpaths belong to the council. Such trees are managed by the council when seen fit to do so.
As a result, the council allows you to make a request for pruning or removal of such trees by sending them an email.
Reasons for the management work should be included and the location of the trees.
Tree work application fees
Illegal destruction or removal of tree
According to the Environmental Planning and Assessment Act 1979, you should expect to pay a penalty of up to $1.1 million in case you are found guilty of breaching the Act.
How to apply for a tree removal permit
Liverpool City Council contact details
Liverpool City Tree Preservation order - TPO
The above is a summary of your local Councils tree preservation order. Please follow the link for the full document.