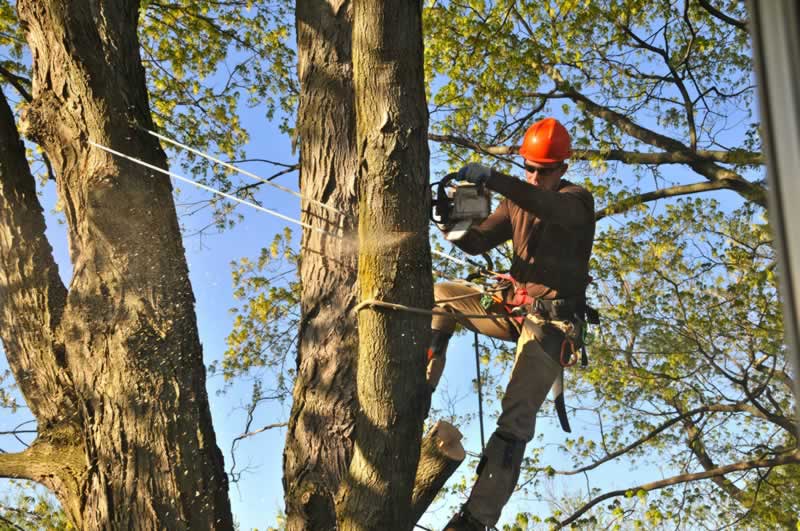 So I think it's high time we all get up to speed with the difference between a tree lopper and an arborist in Brisbane.
According to Google Trends, more people refer to tree experts as "tree loppers" in Brisbane than arborists.
But who cares right?… Well, they do I've been told.
You see tree lopper, like lumberjack is an outdated term and is actually used to refer to relatively unskilled tree workers who used to fell trees in the forest when logging.
An arborist is the correct job title for a tree specialist who manages and cares for trees in an urban landscape. The term comes from Arboriculture which is the course taken over a 3-year period to become a certified arborist aka tree doctor.
Arboriculture is not too far removed from Horticulture courses, but it specializes in tree management.
Because tree trimming and removal in Brisbane is seemingly an 'unskilled' profession when compared to electrical and plumbing, the industry is full of handymen trying to pass themselves off as tree experts and advertising their services all over Brisbane.
The first issue is these guys have no idea what they are doing and keep adding to the death toll in the urban tree management game. Currently, per capita, urban tree care is more deadly than the construction and mining industries combined.
The reason is these guys have no idea how to operate a chainsaw properly or they think it's safe to scale trees with an extension ladder.
Certified arborists on the other hand have been trained to Australian standards in the correct technique and safety to prune and remove trees in Brisbane using ropes and harnesses in a safe and efficient manner.
If something else is overlooked by most residents in Brisbane when they are searching for tree services, it is insurance. "Tree loppers" known as cowboys in the industry, are incapable of holding public liability insurance for tree services. This is reserved only for qualified arborists.
If you invite any tradesmen onto your property and they have an accident resulting in damage to your home, you better hope they are insured or you will be left holding the bill. There are plenty of horror stories of trees being felled onto homes or through power lines and the perpetrators just packing up their tools and taking off.
What tasks can a Brisbane arborist perform?
A real certified arborist in Brisbane can perform several tasks such as tree removal, pruning, arborist reports, safety inspections, stump removal, and pest control.
The range of tasks performed by local arborists will depend on the depth of their training. There are generally two types of arborists;
Practising arborist – Cert. III in Arboriculture
Consulting arborist – Cert V or Diploma in Arboriculture
A practicing arborist will generally do all the physical work, such as tree removal and pruning around Brisbane. On the other hand, a consulting arborist is dedicated to doing risk assessments and writing arborist reports to be submitted to the council.
When would I need an Arborist report in Brisbane?
Because most of Brisbane's trees are protected you will need council approval to remove any that are considered significant. In a lot of cases, as a part of the review process by the council, you will need to get an independent arborist report on the health and safe life expectancy of the tree.
Council uses the consulting arborists' recommendations as a guide to whether to give you approval or not.
At the end of the day the term tree loppers are used by most when referring to tree specialists, but it's important to remember that not all of them are qualified arborists and actually capable of doing a doing job in a safe manner.
Whether it be for pruning or removing your tree I highly suggest you be sure you get their credentials before engaging their services, because in some cases, THEIR life depends on it.