When do you need an arborist report in Sydney?
Published 10 December 2019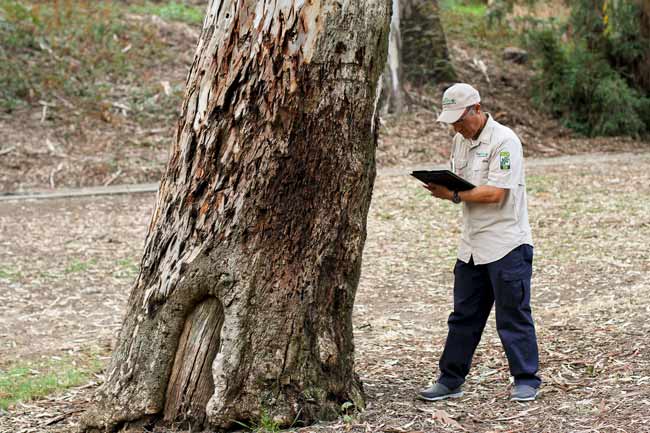 There are very tight tree protection laws in Sydney that have been outlined by individual councils. This protects significant trees from being removed and allows Sydney to preserve its lush green canopy cover.
There are however reasons why trees in Sydney do need to be removed. Sometimes the reasons are obvious such as a fallen tree over or being in the way of new construction.
How do I know if I need an arborist report to remove my tree on private property in Sydney? Where do I get one and how much do they cost? Let's take a closer look now.
What is an arborist report?
An arborist report is a document prepared by a Certificate 5 arborist relating to the tree's overall health, vigour, significance in the area, as well as some advice from the arborist on the best course of action.
Not all certified arborists have a level 5 diploma, so not all arborists can write reports to be submitted to the council. Level 5 certification (diploma in arboriculture) is something being requested more and more by councils these days.
When do I need one?
You will only really need an arborist report in Sydney if a council has requested you get one.
Imagine you want to remove a tree in your yard that is protected by your local council's Tree Preservation Order (TPO). If the council is not too sure that to do about it, i.e. there are no obvious signs that the tree is dying or that it should be removed, the council will ask an independent arborist to write a report on the condition of the tree.
This report is an in-depth look at the tree to give the council a better insight on the medium to long term viability of preserving the tree.
When there are legitimate safety concerns, councils will normally give the approval to remove the tree. If the tree is in good health however, they will demand that it stays.
Arborist reports are also included in Development Applications (DA) to the council before development can be approved or begin. Council will need to see details on trees to be retained, removed and planting blueprint.
Who writes arborist reports in Sydney?
In most cases, you will need a level 5 certified arborist which is an arborist with a Diploma in Arboriculture. You can easily find them by searching "consulting arborist Sydney" or "consulting arborist + [your suburb]".
All tree services business owners in Sydney are arborists, but very few are capable of writing an arborist report.
The industry split into practicing arborists and consulting arborists. Practicing arborist carry out tree pruning and removals where consulting arborists focus full time on writing reports.
What if the report is not favourable?
It is important to remember that an arborist report is an unbiased and objective view on the health of the tree. At the end of the report though, there will normally be recommendations to council by the arborist. These can either be in your favour for removal or against you advising the council the tree should stay.
The problem is the report will cost you about $450, so if it is not in your favour, it is a bit of a pain as you just forked out $450 for nothing. It is always a good idea to phone around and feel-out a few arborists before engaging one. The idea would be to let them know your concerns and get their initial thoughts. You should be able to get a better idea of where they stand before they even see the job.
If your ultimate goal is to get a tree in Sydney removed, and you do not have a favourable report, then you have little to no chance.
I suggest you read our article on How to Apply for Council Approval and Win for more details on getting a favourable result to remove your tree.
Can I get a second opinion?
Just because you got an unfavourable report, doesn't mean you have to submit it to the council. You can always get another opinion and report and hope that the arborist has a different professional opinion on your particular tree or case.