Councils are responsible for trees that are planted on public land. These trees can sometimes be a nuisance or a danger, especially when they overhang your property. The question is can you ask the council to cut back these trees?
Yes, you can ask the Council to cut back trees that are growing on public land if they are overhanging your property. You can also ask them to cut back any trees that are next to a public street. And also, any other tree that may pose a danger to the public, even if the tree is growing on private property.
Here is what you should know about your rights and Council trees.
The following are the circumstances under which you can ask a Council to cut back trees.
Property next to public land
You can ask a council to cut back trees if the trees are on public land and they are:
Producing excess shading that is interfering with the enjoyment of your property. For example, if the shade from the trees is covering your solar panels.
Are being a perennial nuisance in that they are dropping an excessive amount of berries and leaves on your property
Are blocking drains or damaging your plumbing system
Are creating a dangerous environment especially when it is leaning, has an unbalanced canopy, or has large dead or dying branches
Are interfering with the power lines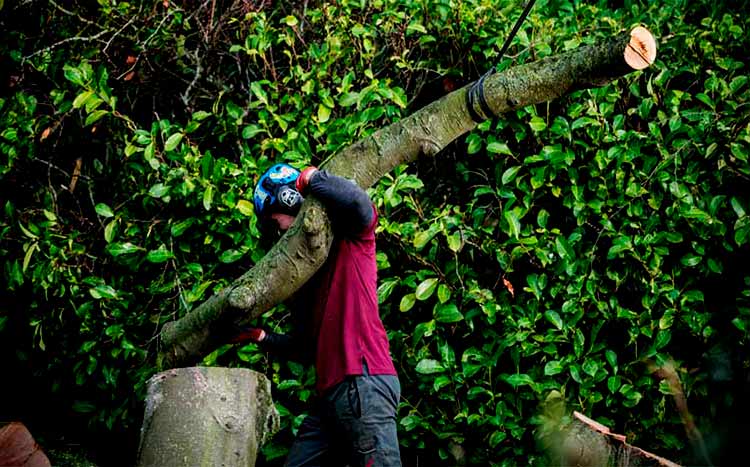 Street trees and trees near public spaces
Even if you don't own property that is neighboring public land, you can still ask the Council to cut back trees if they pose a serious risk to the public. The following are some of the circumstances under which you can make a request to your council.
The tree's branches have a high risk of breaking off and falling on members of the public.
It is diseased and carries the risk of spreading the disease to nearby trees and the owner of the trees is reluctant to remove them.
It is near an intersection, and it is creating a dangerous situation for both passengers and drivers.
Why do councils cut back trees?
Councils generally cut back trees in order to protect the public. This happens in cases where the tree is dangerous or hazardous.
They also tend to cut back trees to avoid lawsuits. As a result, they will cut back a tree on public land if it is causing extensive damage to a neighboring property. This is especially if the owner of the property threatens to sue them.
Cost Calculator for Tree Lopping
Can you ask the council to remove a tree?
Yes, you can ask a council to remove a tree.
If a tree is dead, or dangerous, or if it interferes with the use of utilities, the Council can grant your request. This applies to trees that are growing on public land. It includes trees that are growing on the side of the streets in your area. And it also includes trees that are on private property, but which are poisonous or pose any other danger to the public.
How do you ask a council to cut back a tree?
Asking a council to cut back a tree involves contacting the Council, informing them why they need to cut back the tree, and explaining to them the consequences of not granting your request.
Here are the steps that you should follow.
Step 1: Visit the Council's website
The first step you should take is to visit the official website of your local council. A simple search online should be able to get you all the contact details that you need. This includes details relating to the location of their offices, the address of their website, email addresses, and the phone number that you need to call.
After getting your Council's contact details, the first thing that you should do is to call them. Use the telephone number that you have gotten from the Council's official website to inform them of the overhanging branches and the need to cut them back.
Explain the danger or the nuisance that the trees are causing. And then request them to cut it back.
Step 3: Write to the Council
It is always important to leave a paperwork trail of your requests, and the best way to do this is to put your request in writing.
Using the email address that you got from the website, send an email to the Council detailing your request and the consequences of denying the request. You can also print out a letter, and deliver it to them physically. And you can also fill out the contact form available on their website.
When making a formal request, it is always advisable that you accompany your request with photographs or video recordings of the trees. Make sure that you take the recordings or photographs in such a way that they illustrate the danger or the nuisance that the trees have become.
When it comes to dealing with Councils, it is never enough to just make the initial request. In most cases, you will need to do multiple follow-ups before they can respond to your request.
As a result, you may have to make several calls a day. And in some cases, showing up physically to their offices may be necessary, especially if you want your request to be addressed urgently.
Can you trim street or council trees without permission?
If the trees are overhanging your property, you have the right to cut back the trees' branches right up to your property line. Essentially, you have the same rights as if you were dealing with any other neighbor's trees.
However, it is important to note that your right to cut back the trees' branches extends as far as your property line. You can't enter into the Council's property in order to trim them, And you can't also trim the branches past your property line.
Another thing that you should keep in mind is that the law allows for cutting back overhanging branches, but only for as long as it does not harm or kill the tree. As a result, if your pruning ends up killing the tree, you will be held liable for the loss of the tree.
No, you cannot trim a street tree without permission. It is illegal to do as the trees belong to the Council and the community at large.
If there is a street tree near your property and you need it trimmed, the best thing to do is to contact the Council. Inform them of the tree's location and the reasons why they need to trim it. Alternatively, you can ask for permission to trim it yourself and it is only after they grant it are you allowed to do the trimming.
Trees that are protected under your local authority's Tree Preservation Order cannot be cut without the approval of the government.
In most areas, you aren't even allowed to cut down trees that are growing on your property without the government's permission. This is because trees are typically viewed as belonging to the community. The only time that you are allowed to cut down trees without a permit is when the tree is dead, diseased, or dangerous.
If your neighbor's tree is overhanging your property, then you have the right to trim back its branches right up to your property line. And if you choose to do so, you are the one who is expected to shoulder the cost of this trimming. Furthermore, any branches that you cut off still belong to your neighbor, and you will be expected to give them back.