This is a common problem, so there are rules in place for cutting neighbor's trees overhanging your property.
The simple answer is yes! You are within your rights to trim any branches overhanging your property.
But the real question is, what are your local tree-trimming laws?
Let's forget it's your neighbor's tree for a second. Can you trim any tree without a permit from the council?
Rules differ from state to state, so please read for more answers.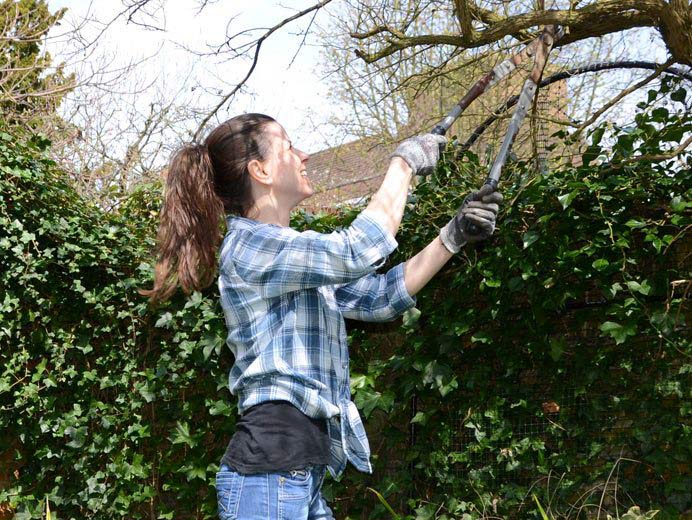 It will all depend on the arrangement you come to with your neighbor, but the most civil way to go about it is to pay for what you want to be done, whether the trees are on your property or not.
But as discussed above, you can force your neighbor to pay for the tree pruning, but seriously, don't.
Who is responsible for the waste
Technically your neighbor is responsible, and you will be able to just throw the waste over their side of the fence.
In reality, we all live in a society that functions on people getting along, so do your best to dispose of the waste yourself.
Neighbours trees and the law
Laws on trimming your neighbor's trees will vary depending on the state or city you are in. The laws we are referring to are the actual legality of trimming any tree, not just because it's in your neighbor's yard.
So first, you will need to look up your local tree trimming laws. If your city or local council says it's okay to trim a tree, you are within your rights to remove branches from a tree encroaching on your property.
The only catch is you will need to ensure you are not upsetting the tree's stability by, for example, removing all the branches on your side.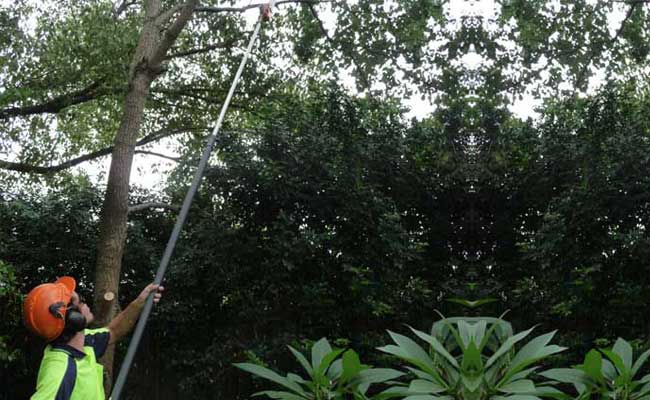 A local tree surgeon will be able to tell you what branches can go and which must stay.
Go here to view the specific laws for your local city or council.
Tree disputes between neighbours
What I always suggest is to speak to your neighbour first before seeking permission from your city or getting quotes.
Most of the time, your neighbour won't mind and give you their blessing.
This is simply a courtesy to keep things civil as you are well within your rights to remove branches encroaching on your property.
There are cases, however, where a neighbour won't want you to touch the tree. As long as you don't need to access their property to prune the tree, then just go ahead and do it. You technically don't need their permission. If it is lawful to trim the tree, then go for it.
If you do need to access their yard to trim the tree though, you will need to lodge a dispute with your local city or council.
Here are links to dispute centres for your state
Settling disputes with neighbours over trees
Hopefully, it doesn't come to this but if your neighbour does not agree or wants their tree pruning you will need to file a complaint with your local council disputes tribunal.
In most cases, the council informs your neighbour that you will be carrying out the work on X date ad you just go ahead and do the work yourself and get a professional in.
There have been some cases where the neighbour won't allow access to climb the tree for pruning purposes.
This is easily overcome with cherry pickers and other climbing tools.
Land and environment court
I can't imagine it not being settled there unless your neighbor has lawyered up, in which case you could find yourself in the land and environments court where a ruling (most likely in your favor) will be made.
I have never heard of it getting this far though.
Whose responsibility is it to cut overhanging tree branches?
Technically it's your neighbour's problem because it's their tree. And because it's their tree and they should really pay to have the branches removed.
That being said, if you don't want to wake up to 4 flat tyres on your car each morning, I suggest either paying for the job yourself or striking a deal with them where you pay half each.
Most people have a good relationship with their neighbours so my advice is to maintain that relationship and just pay for the job yourself.
What if it's a council tree overhanging my property?
How do I settle a dispute?
I have never heard of it coming to this, but I guess there is always a first. The dispute process is handled internally by the council with a reasonable outcome for both parties.
If you feel you have been hard done by and would like to escalate the dispute, you can take it before a judge in court. At this point, you can seek legal representation to increase your chances of a favorable outcome.
My neighbour cut my tree without permission, what do I do?
If the shoe is on the other foot and you have arrived home one day to find your tree has been hacked at and you suspect it was your neighbor then depending on the outcome you seek, maybe a couple of different things you can do.
If you feel they have acted outside the law, you will need to refer to your local council's tree preservation order to see if they trimmed the tree without a permit.
If they have, you can report them and they will most likely be fined.
But if it were me, I would probably have a word with them first and find out the reason for them trimming the tree without informing you and go from there.
The council will give them a pretty large fine ranging from $2,000 – $10,000 which is pretty harsh.
Can my neighbour forced me to cut my trees down?
If you are on the receiving end and the trees are on your property, then yes, your neighbor does have a case to remove any part of the tree overhanging their property.
If a majority of the tree is overhanging their property and the council says it's okay to remove the tree, then there is a good chance the disputes council with side with them.
And unfortunately, it will be at your expense.
Neighbours trees blocking sunlight
If you have solar panels on your roof or your lawn is suffering because of your neighbor's trees, then you can ask them to have them pruned or removed.
They can say no though. In which case you will need to go to the council disputes centre to plead your case. Most of the time a council will want to keep a tree if possible, so if it is just to do with sunlight, then you don't really have much of a case.
If the tree is unstable or unsafe, then you might have a fighting chance.
Go to your page on getting council approval to remove a tree for some good ideas on excuses to remove a tree.
How to get cheap prices on tree pruning
This is easier said than done in most large cities as it really is hit-and-miss finding a quality tradesman that charges fair prices.
GoTreeQuotes is a FREE service that does just that.
We solve the critical problem of getting your trees pruned on the cheap by getting the 3 closest tree service companies voted as "best price and quality of service" by previous users to price your job.
Since 2012, Go Tree Quotes has helped over 74,516 homeowners
find the best deal on tree pruning in their local area.