Tree removal in Glen Eira council areas is regulated to maintain and increase the current canopy cover in the area which benefits all residents. Because of this, you may need a permit before removing a tree.
Read on for more info about which trees need a permit and which are on to remove.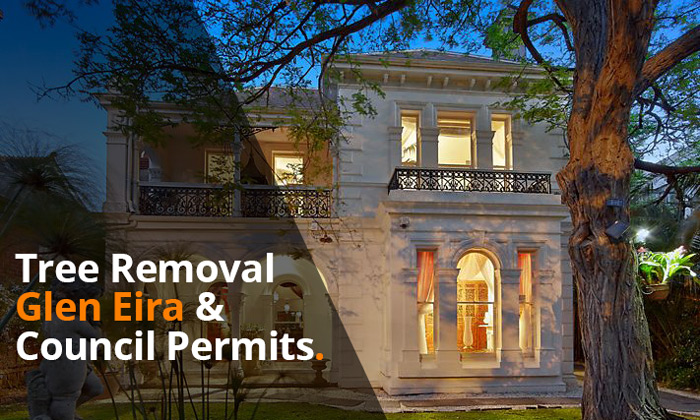 A Local Law permit is required to remove or prune a tree in Glen Eira Council area if:
Your site has an area greater than 0.4 hectares, then a planning permit may be required to remove, destroy or lop native vegetation.
Your property is affected by the Heritage Overlay tree control.
Where the Significant Landscape Overlay applies.
Where Vegetation Protection Overlay applies.
Exemptions:
If the tree is dead.
If the tree poses an immediate threat to persons or property.
A tree has fallen in a storm or by natural causes.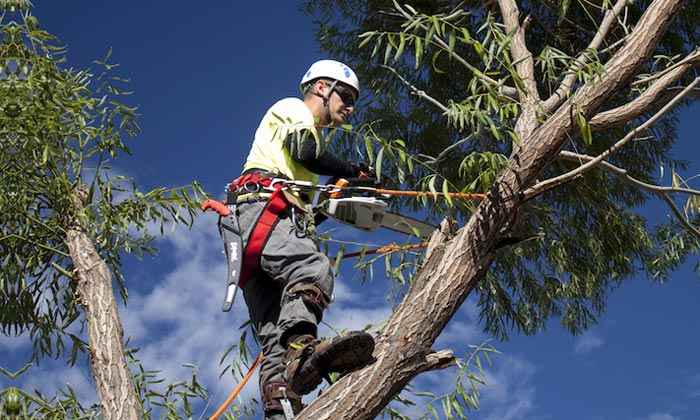 You can search your address here in the Glen Eira heritage overlay, but using the council site is a little tricky. Have a to go to see if your tree is included in the overlay.
If you are still unsure after reading the following information, your local tree removal service will know all the details of the overlay and tree protection like the back of their hand.
Just phone some local tree services and ask them if you need a permit.
If you scroll to the top of the page, we can put you in touch with top-voted local tree removal service in Glen Eira. These are all qualified arborists that are experienced, insured, and best of all, voted by previous users as the cream of the crop for price and quality of service.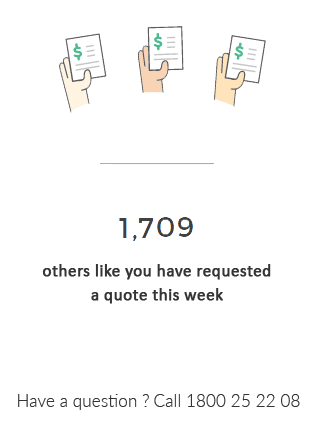 Handling of neighbour's trees overhanging your property
In cases where you have your neighbour's tree branches or roots overhanging your property, the first thing you have to do is check whether the trees are within environmental overlay or are protected.
Once you are sure of this, you can choose to exercise the right of abatement. This is a right that allows to trim the branches or roots. You have to make sure you obtain a permit before trimming protected trees. If they are not protected, you can proceed.
Once you are done with trimming or pruning of branches or leaves, you have to return all the waste to the neighbour since they are still his/her property.
However, it is recommended that you talk to your neighbour prior to doing this. Make sure that you explain the law to them if they do not understand.
You will, however, bear all the cost of trimming the trees.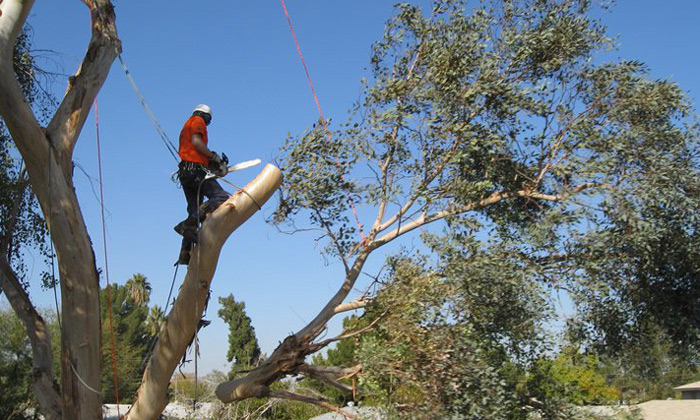 Removal of a neighbour's tree
You are not allowed to cut or remove your neighbour's tree unless it has become a private nuisance. However, in cases where you feel a neighbour's tree has become a private nuisance, the first thing to do is to talk to your neighbour about the matter and request them to cut or remove.
In case your neighbour refuses to comply, then you can file a legal claim through a court of law.
In filing such a claim, you have to give all the details that show beyond no doubt, the need to have the tree removed.
The following are some of the things that the court must consider.
The cause of the nuisance
Impact it has on you
The general environment in your neighbourhood
The nature of interferences taking place
The period of time the nuisance has been in effect
Is the activity resulting in a nuisance necessary or useful in any way? And by how much?
Was the interference there the time you more in the neighbourhood?
Once the court makes a decision, you and your neighbour will be informed.
Street Trees in Glen Eira Council
The council of Glen Eira has more than 50,000 street trees. As a result, the protection of these trees is crucial. This is because they contribute to improving the environment in the region.
Can I street tree be removed?
Yes.
Under the following conditions.
A street tree will only be removed upon assessment by a certified arborist from the government who will ascertain its healthy and general conditions. Street trees can only be removed under the following conditions.
Has failed to survive or thrive in the area
Has become a hazard posing risk and danger to public safety and other property. This is by being of unsound structure or dead.
When a necessary work project has been approved, requires the removal of a tree and there is no other affordable or practical solution available at the time.
In case there is a need for accommodating new crossover for vehicle and there is no other alternative solution available.
In case the removal of street trees is approved, then it will follow two stages. Where stage one is to remove the tree and the second stage is removing the stump within 20 days.
Rules on overhanging trees in Glen Eira Council
Glen Eira council has very specific laws on any property hazards or overhanging trees as they can cause serious problems to people and even make properties look unsightly.
As a result, as a property owner, it is your responsibility to make sure that shrubs and trees are kept under control to give drivers and pedestrians good visibility and safety.
Trimming to a height of 3 meters from the road, or property boundary should be done. Shrubs should not be allowed to encroach a footpath by going past the fence.
Overhanging Vegetation should also be pruned and you can request for bundled branches collection services.
Residents can also request an authorized contractor to remove or prune the vegetation. Here is a way to obtain a quote from the council. https://www.gleneira.vic.gov.au/media/3453/overhanging-vegetation-request-for-quote.pdf
Upon non-compliance, you will be served with a notice to comply in 14 days.
Failure to this, you will get a $250 Infringement Notice. A contractor will do the work and you will pay the contractor fees.
How to apply for a tree removal permit
Glen Eira Council Tree Preservation order – TPO
The above is a summary of your local Councils tree preservation order. Please follow the link for the full document.
Glen Eira City Council contact details
Tree removal in nearby areas