Around 50 species of palm trees are native to Australia. The most common palm trees found in Australia are:
The Australian Arenga palm
Lawyer Cane
Australian Fishtail
Curly Palm
Coconut palm
Palm trees tower over other trees. However, there are some short palm trees. Thanks to their height, palm trees are good windbreakers and help prevent soil erosion with their deep roots.
The Australian Arenga Palm can be found on the Queensland north coast and in different areas in the North Territory. It is also found in the coastal rainforest.
This palm tree grows up to 20 meters. Its branches grow up to 15 meters and 30 cm in diameter. It also produces reddish or dark fruits.
The Arenga palm has sharp pin-like fronds that are green on the top and pale on the bottom. It also produces yellow flowers and purple fruits.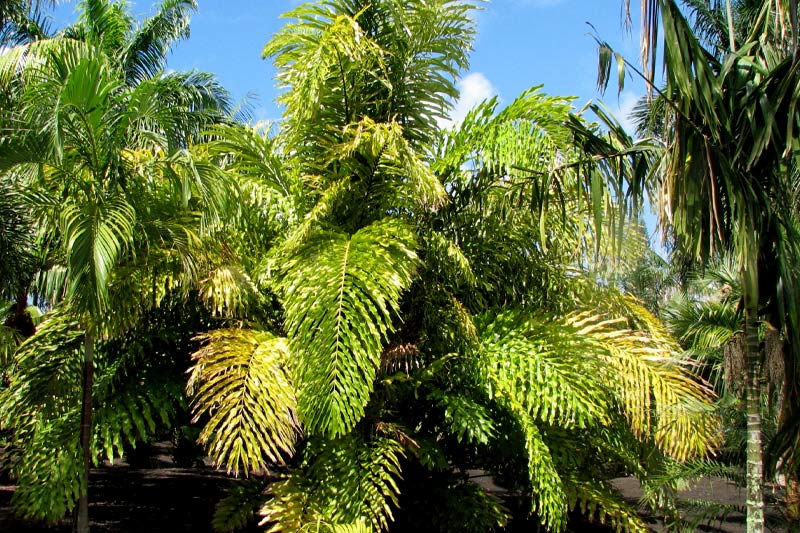 The Lawyer Cane palm is a common Australian palm. Its scientific name is Calamus Australis. It is a climbing palm that grows as a vine. It has a prickly stem that grows up to a meter long. It produces whitish flowers that may grow up to 1cm.
You will find it in Queensland and the Cape York Peninsula.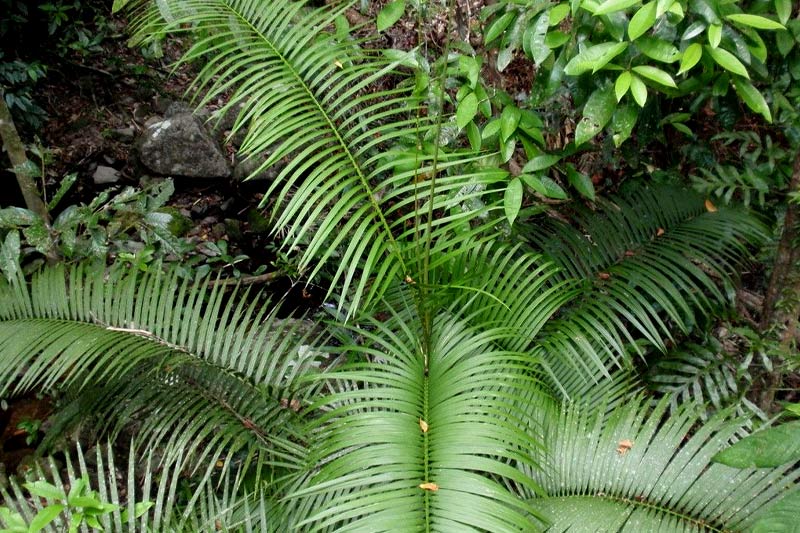 Calamus Caryotoides is a climbing palm that grows as a vine. It grows to a height of up to 15 meters. It grows in tropical rainforests and climbs onto other trees. It is common in North Queensland.
It produces white flowers and orange-brownish fruits.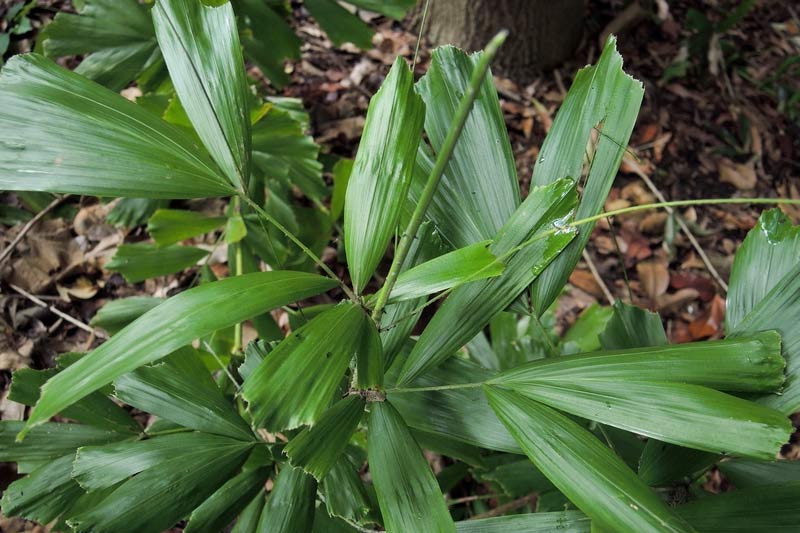 The Alexandra Palm is an imposing and beautiful tree. It grows up to 25m. It has a grey-ringed trunk that rises high above many other trees. At the top of the trunk is a crown-like cluster of green fronds that grow up to 2 meters long.
It is a common palm in northern and central Queensland.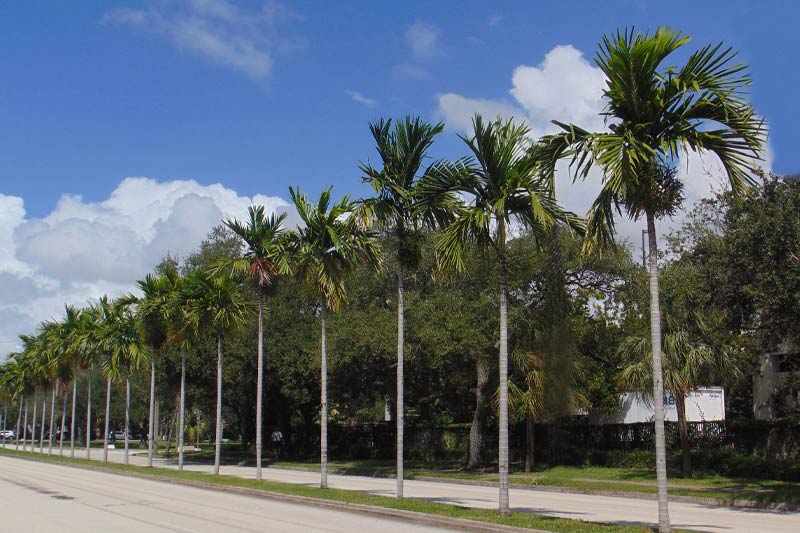 It is one of the most common palm trees in Australia. Its photos are on tourist promotional materials. It is shrub-sized when young and most photos of the tree are when it is a young shrub. It matures to grow up to 6 meters in trunk.
It grows along streams and in swamps. The fan palm grows slowly. So, if you see a mature tree, it is significantly old.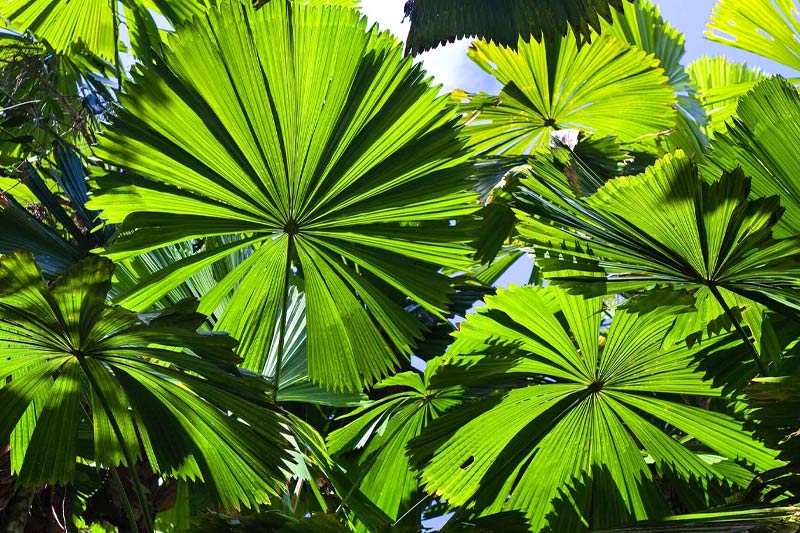 The Carpentaria Palm grows 10 to 20m tall. Its fronds grow 2 to 4m. It grows in swamps and rainforests. It is a self-cleaning palm tree that stands tall and elegant. It produces red fruits that attract both birds and insects to the tree.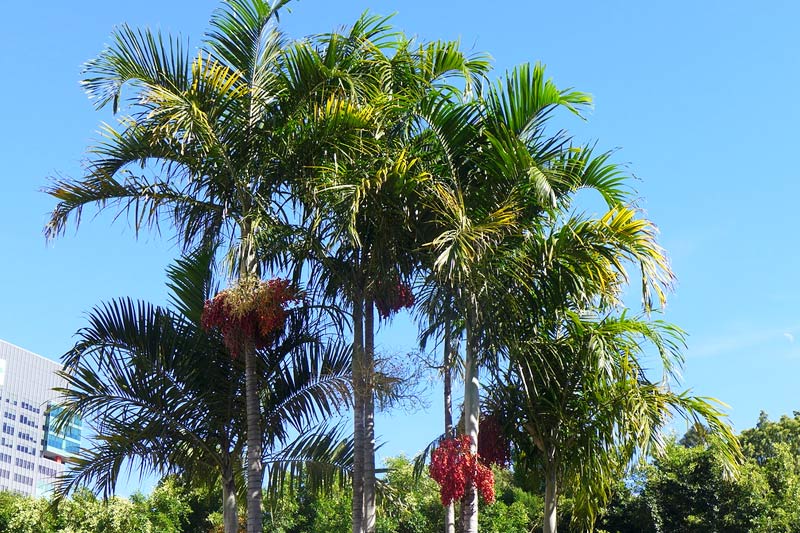 The coconut palm tree is one of the most common palm trees around the world. It grows to a height of about 30m. It grows on sandy shores, islands, and swamps. It produces coconut fruit and white flowers.
How To Identify A Palm Tree
Fronds. There are feather and fan-shaped fronds on palm trees. Palm trees with feather-shaped fronds are the most common. There are a few palm trees whose leaves are not fan or feather-shaped. You can confirm whether they are palm trees by checking that they fold to form a V-shape.
Trunk. The trunk of the palm tree extends to a high height without branches. The trunk is also thicker at the bottom and a bit thinner at the top. The fronds grow at the top of the trunk as a crown.
Flowers. The flowers of palm trees grow in clusters at the bottom and along the stem of the palm tree.
Height of the tree. Palm trees grow up to 30m in height. There are some dwarf species that you can identify through the other traits.