Compare Palm Removal Quotes in Melbourne
Save Up To 43% – FREE SERVICE


Enter the location of your tree job

Step 1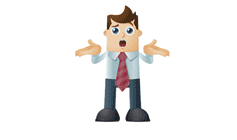 Tell Us About
Your Tree Job
Step 2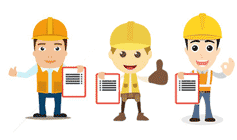 Up to 4 Tree Loppers Compete
For Your Business
Step 3
You Choose
The Best One
Get palm tree removal in Melbourne on a serious budget
Let's cut right to it (pun clearly intended). You live in Melbourne, and need some palm trees removed at a reasonable price.
There are some sharks out there who will try and take you for as much as they can, but there are a few ways you can go about it that will save you a packet.
I also have some sneaky tricks you can use to drastically reduce the cost of palm removal Melbourne.
Let's take a look.
Palm tree specialist in Melbourne
These are basically your everyday tree service companies. Tree surgeons are trained in the removal of palm trees, but they can be expensive if you ring the wrong companies. (More on that below….)
In a lot of cases there is no avoiding getting in a full blown tree service. Basically if the palm is larger than 3 or 4 meters, then you are risking damage to your property getting anybody else.
This is because your local gardener won't have the equipment to remove the tree i.e. chainsaw and stump grinding machine, nor will they have the skills to fell the tree in the right direction.
But if the palm is under 3-4m it should not be too much of a problem for them to handle.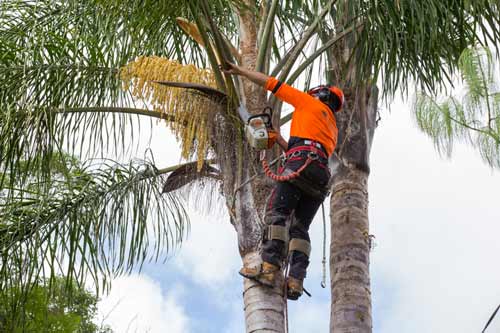 Free palm tree removal Melbourne
There are palm tree buyers in Melbourne who can find a buyer for your palm tree. But it's rare that your palm be sold and transplanted, why?
Because everyone is trying to sell palm trees.
Just look on gumtree under palm trees. Yes I have heard stories on some people getting lucky, but in most cases you will be waiting a while.
Who are the best local companies to call to get budget palm tree removal?
The best tree companies are ones that are qualified to remove trees, are insured and will give you a high quality service, BUT also ones that don't have a lot of work on at the moment.
Why does that make a difference? Because all small businesses quote work depending on how much work they have on.
If they are booked out for a month or more in advance, small businesses raise their prices to slow down the flow of work a little. They still get work, but a little less of it, so they can catch up.
When they only have a week in advance, they will drop them to make sure the businesses is still ticking over.
So how exactly do I find a business handing out cheaper prices?
Getting all of the above in one tree service can be a challenge in itself. The industry is also a minefield of unskilled hacks who don't mind charging a premium price for substandard work.
Go Tree Quotes is a free service that matches you with the best priced local tree service in your city.
How does it work?
As tree removal and pruning requests come in, we send them out to tree services in each city around Australia. Customers vote on who was cheapest and who wasn't.
When you request a quote, we forward your request onto the 3 closest tree services voted best priced and quality service by previous users.
We are able to see in real time, who local to you are quoting cheaper prices now, and ask them to quote your job.
You then have 3 qualified, insured and well-priced contractors competing for your business.
There is obviously no obligation to hire, just friendly advice and great prices from local contractors.
Give it a try no here.




Cost calculator for tree lopping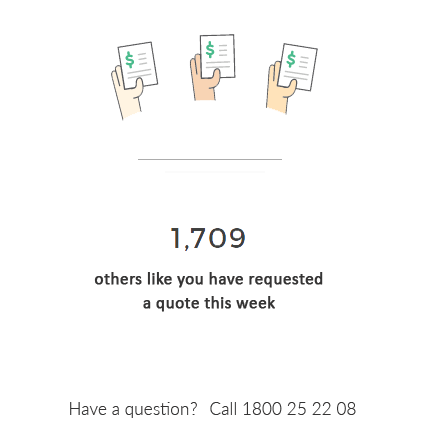 Safety standards for certified arborist in Melbourne
Certified arborist in the Melbourne, Victoria areas need to all abide by the Australian standards when carrying out tree management work.
These standards include:
AS 4373:2007 – Pruning of amenity trees
AS 4970-2009 – Protection of trees on development sites
AS 4970-2009- AMDT 1 Protection of trees on development sites
As all tree contractors that quote your job through our service are trained and competent in the above Australia standards we 100% guarantee your satisfaction.
Our commitment to you
Go Tree Quotes is a free service for you to get 3 quotes from top voted local tree lopping experts.
You can call us on 1800 252 208, or fill in a 2 minute for here to request a quote.
Not happy with any of the quotes? There is no obligation to hire. Sometimes customers are not ready to pull the trigger on tree removal just yet. That is fine, there is no obligation to hire and you are fine to keep looking.
Go Tree Quotes – Company Philosophy
We are a small growing company that aims to provide a quality service that is personal, fair and over-delivers on value and satisfaction.
We want our clients to be completely satisfied, from a small pruning jobs to a large tree removals. Our aim is to build a repeat and referral business with an impeccable reputation.
Go Tree Quotes – Best Practices
We are committed to arborists using the method of 'BEST PRACTICE'. This is a technique or methodology that is accepted as superior to any alternatives for commercial or professional procedures that are accepted and perceived as being the most correct for results that are superior to those achieved by other means.
Our expectation of a tree contractors we work with as such are to do everything in their power, using their knowledge and experience to uphold these values.
GoTreeQuotes Will have you saying things like:
"Fast, friendly and well priced"
Fast, friendly and great priced contractors. What a simple way to get a palm tree removed in Melbourne at the right price.

"A fantastic service, love it"
Very happy with what the contractors recommended for tree lopping in Perth. Great prices, great quality of work.

"I'm Impressed with my clean yard"
Lovely contractors to deal with. They were fast, reliable and did a great job. I highly recommend this service for tree lopping in Brisbane!

Results like these aren't accidental. We've spent almost 5 year developing a better review system based on previous users testimonials. GoTreeQuotes was born out of passion for helping home owners like you.