Palm tree removal in Melbourne is a standard service provided by an arborist tree service.
On average, you will pay $450 to $2,500 to remove a palm tree in VIC. The cost varies depending on the type of palm. Cocos palms cost $250 – $450 to remove, while Canary Island Date palms cost $1,800 – $2,500 for complete removal.
Some factors contribute to prices, such as type, species and the company you hire.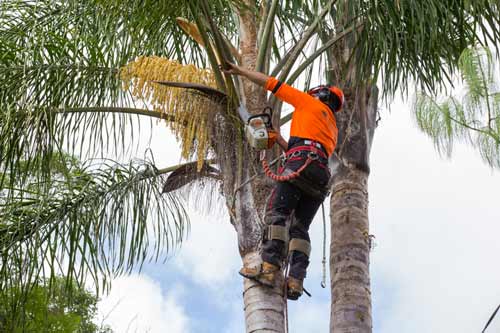 Free palm tree removal Melbourne
There are palm tree buyers in Melbourne such as landscapers and nurseries who can come and remove a palm tree free of charge and sell it on as an established tree for a profit.
It's rare to find a company willing to do it, unless you have desirable species or the company has a project ready to go and your tree is perfect.
There is some more information here about selling palm trees in Melbourne.
Who are the best local companies to call to get budget palm tree removal?
The best tree companies are ones that are qualified to remove trees in Melbourne, are insured, and will give you a high-quality service, BUT also ones that don't have a lot of work on at the moment.
Why does that make a difference? Because all small businesses quote work depending on how much work they have on.
If they are booked out for a month or more in advance, small businesses raise their prices to slow down the flow of work a little. They still get work, but a little less of it, so they can catch up.
When they only have a week in advance, they will drop them to make sure the businesses are still ticking over.
So how exactly do I find a business handing out cheaper prices?
Getting all of the above in one tree service can be a challenge. The industry is also a minefield of unskilled hacks who don't mind charging a premium price for substandard work.
Go Tree Quotes is a free service that matches you with your city's best-priced local tree service.
Scroll to the top and enter your Postcode
Then answer some simple questions about your palm tree removal job.
Three top-voted local tree services will price your job with an obligation-free quote.
No hard pressure sales, just friendly advice and great-priced tree services.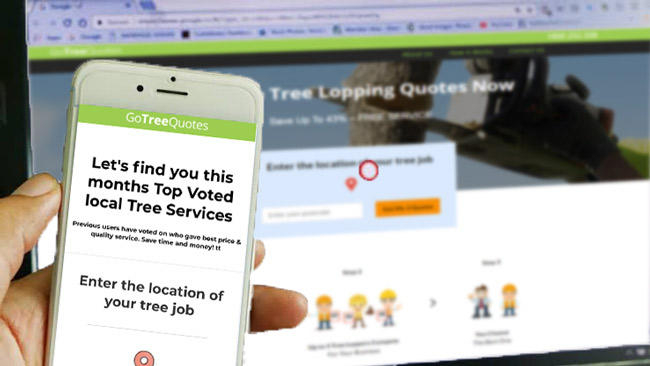 Safety standards for certified arborist in Melbourne
Certified arborist in the Melbourne, Victoria areas need to all abide by the Australian standards when carrying out tree management work.
These standards include:
AS 4373:2007 – Pruning of amenity trees
AS 4970-2009 – Protection of trees on development sites
AS 4970-2009 – AMDT 1 Protection of trees on development sites
As all tree contractors that quote your job through our service are trained and competent in the above Australia standards we 100% guarantee your satisfaction.
Go Tree Quotes is a free service for you to get 3 quotes from the top voted local tree lopping experts.
You can call us on 1800 252 208, or fill in a 2 minute for here to request a quote.
Not happy with any of the quotes? There is no obligation to hire. Sometimes customers are not ready to pull the trigger on tree removal just yet. That is fine, there is no obligation to hire, and you are fine to keep looking.
Go Tree Quotes – Company Philosophy
We are a small growing company that aims to provide a quality service that is personal, fair, and over-delivers on value and satisfaction.
We want our clients to be completely satisfied, from a small tree pruning job to large tree removal. Our aim is to build a repeat and referral business with an impeccable reputation.
Go Tree Quotes – Best Practices
We are committed to arborists using the method of 'BEST PRACTICE'. This is a technique or methodology that is accepted as superior to any alternatives for commercial or professional procedures that are accepted and perceived as being the most correct for results that are superior to those achieved by other means.
Our expectation of tree contractors we work with as such is to do everything in their power, using their knowledge and experience to uphold these values.