Tree Protection Zones or TPZs are set up around trees during construction in nearby or adjacent areas.
It is sectioning off space around the tree to protect the ground from being compacted or any potential mechanical damage to the tree by heavy machinery.
We look at the minimum distances needed, best practices, and local construction laws.
When to consider tree protection?
The best time to consider tree protection is during the initial planning stages before construction begins. A lot of the time this will need to be signed off on by the local council before construction can begin.
In most cases, even minor details in the placement of your construction project may be crucial in ensuring your trees survive.
In most cases, the distance of TPZs will be indicated in the Development Plan.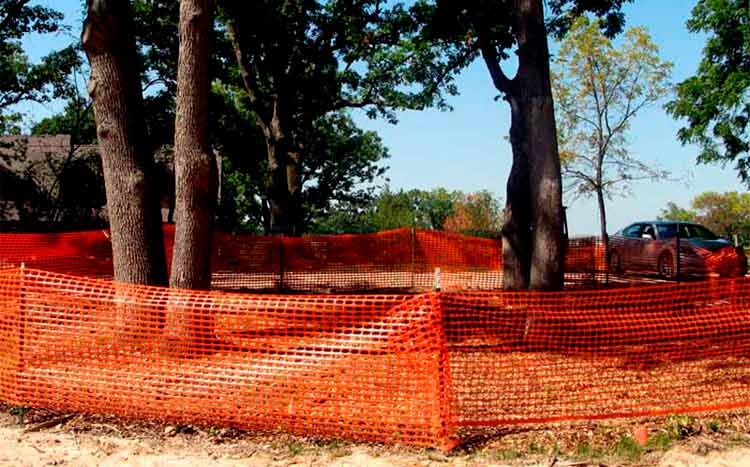 Tree protection requirements
The size of the TPZ and requirements will entirely depend on local council laws. Every council has different rules when it comes to tree removal, trimming and protection zones for development.
You need to visit your local council website and look for the Tree Preservation Order to get more information. You can get a link directly to your local council TPOs here.
The Australian standard, Protection of the tree on development sites (AS4970 2009) defines a TPZ as:
The Australian standard for TPZ (AS4970 2009) is a combination of the root area and crown area requiring protection. It is an area isolated from construction disturbance so that the tree remains viable.
The TPZ incorporates the structural root zone (SRZ). The radius of the TPZ is calculated for each tree by multiplying the diameter of the tree at breast height DBH x 12.
Components of a tree needing protection
Among the most relevant components of a tree when it comes to measuring the required size of the protection zone include:
The dripline refers to the circular area that lies directly under the outer branches of a tree. It's within this zone that the Critical Root Zone (CRZ) or Root Protection Zone (RPZ) is located.
However, the root systems of trees may extend past this dripline or canopy and only occur about 600mm within the topsoil.
This exposes the tree to more damage-causing factors such as construction developments and vehicles which may cause its compaction.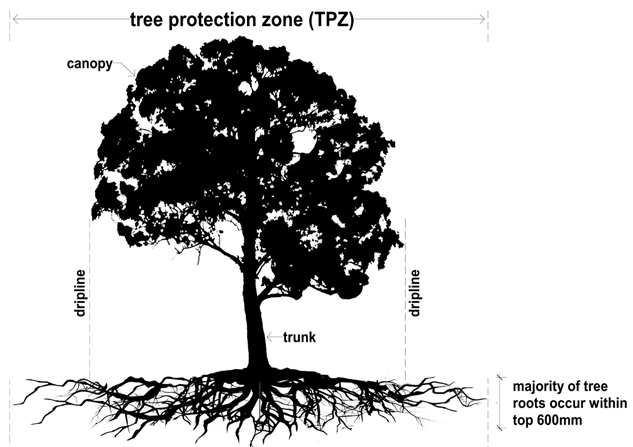 Preliminary tree assessment report
This report deals with survey data and information about trees in a given area. It covers important information such as tree species, health, structure, dimensions, and origin.
For every individual tree, this report provides key details such as its tree protection zone, structural root zone, canopy spread, trunk diameter, height, age class, and retention values.
All this information is required by the project's architect or planner to help them customize an effective design and landscape layout. The data including the retention values and TPZs, assist in determining which trees will be retained and how they'll be protected.
Tree management protection plan
The Tree Protection Management Plan (TPMP) is a document that outlines the protection measures and techniques to be followed step by step from demolition to the construction to the final landscape stage.
It's usually a requirement when obtaining a planning permit, and may include critical project details such as the arborist's inspection timeframe, construction staging, and the compliance checklist.
As part of your pre-construction plans, you'll need to restrict access to the TPZ on your property through fencing.
This should happen before any other materials and machinery are brought onsite. Once the fence is built up, that fence shouldn't be removed or altered without the consent of the project's arborist.
If tree protection fencing is to be constructed for a home project that does not require a planning permit, a suitable area to fence around a tree can be determined using the Tree Protection Zone calculation in this fact sheet. That is:
A radius of 12 times the diameter of the tree trunk at a height of 1.4 meters to a maximum of 15 meters but no less than 2 meters from the base of the trunk of the tree.
Tree protection fencing should comply with the following requirements:
Fence post supports (e.g. star pickets) should have a diameter greater than 20 mm and should not impact surface tree roots;
Fencing height minimum of 1.8 m;
Shade cloth, para web, wire mesh panels, or similar should be attached to the fencing posts;
Signage should be installed stating "Vegetation Protection Zone – No Entry;
The tree protection fencing must remain in place until construction is completed;
No vehicular or pedestrian access, trenching or soil excavation is to occur within the Tree Protection Zone;
No storage or dumping of tools, equipment, or waste is to occur within the Tree Protection Zone.
Approved tree protection techniques
Since you're looking to preserve your trees in the best health, you'll have to be extremely picky with the protection techniques to employ.
To be sure that you're making the right choice, always discuss these options with a qualified arborist. A few of the approved techniques you can consider include: