If you want to remove a tree on a private property on Mornington Peninsula you may need a planning permit before removing the tree.
There are certain trees that can be removed without permits like pest species, dead trees and if you are clearing trees away from your home in bush fire zones.
Below we give you a quick run-through of what trees to can and can't remove as well as how much you can expect to pay for removal.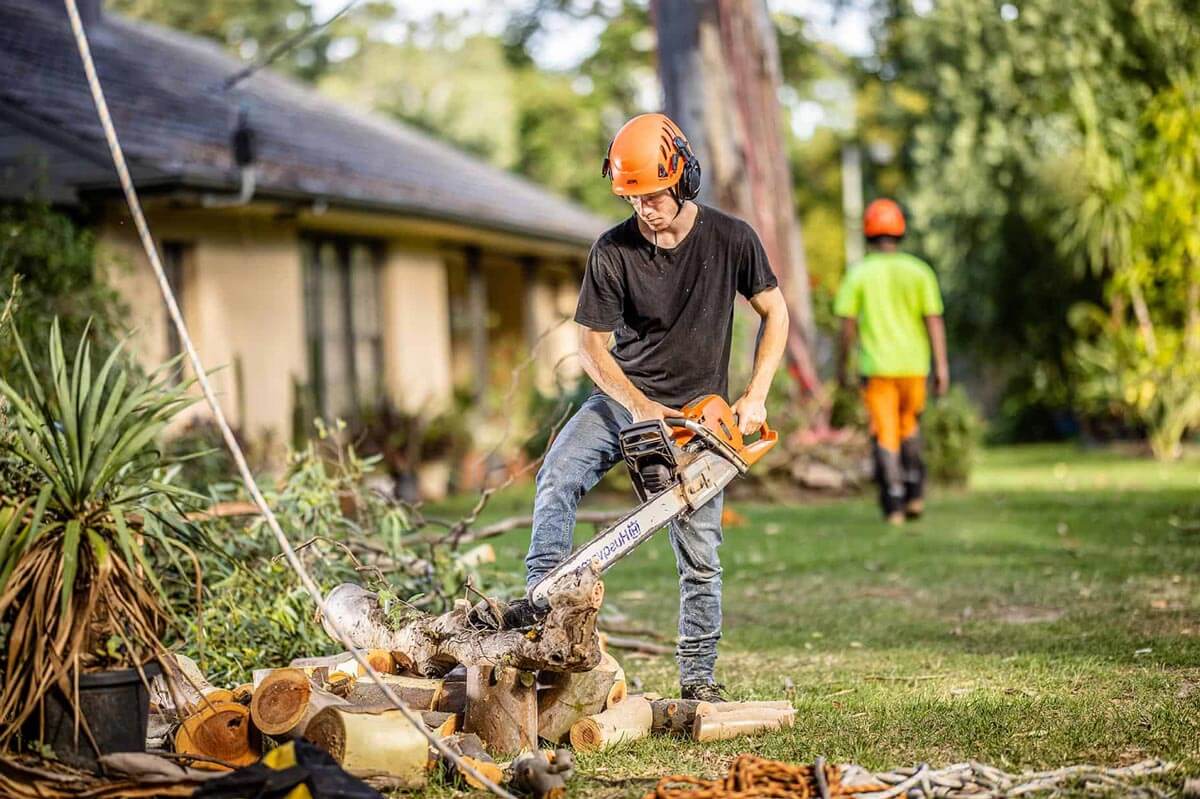 | Local Average | $1,520 |
| --- | --- |
| Low-end cost | $750 |
| High-end cost | $4,250 |
| Real average range | $670 - $7,800 |
Tree removal costs in Mornington Peninsula can vary significantly depending on the size of the tree. While small trees are generally less expensive to remove, costs increase as the tree size grows. Additionally, extra services such as pruning and stump removal may be required, adding to the overall cost.
It is also essential to consider safety measures when removing trees, especially with indigenous plants in the area. Also, the application fee for permits needed to remove the tree on residential property will affect the total cost of the project.
Do I Need Council Approval to Remove a Tree?
Yes, you will need a permit to cut down a tree on your property in Victoria. The original Tree Protection Bylaw was established in 1999 and requires that permission be obtained from your local council before removing a tree.
Permits are required for any tree that is greater than 10cm in diameter at breast height (DBH). The permit application must include a detailed description of the tree.
For all necessary information for planning permits for tree removal on private property follow this link.
Fines for illegal removal on Mornington Peninsula
If you remove the tree from your property illegally you are facing the penalties of 1200 penalty units, or approximately $140,000.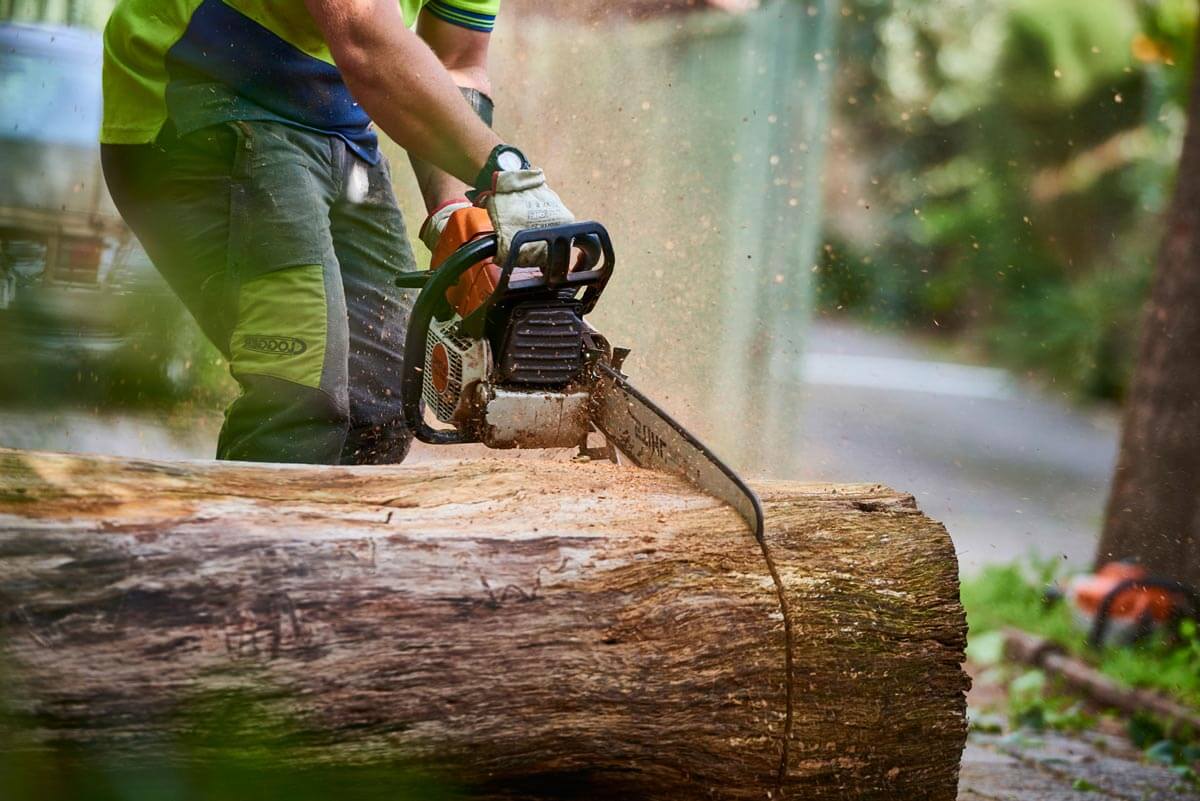 Determining Permit Requirements
Determining permit requirements involves researching local planning schemes and consulting with local councils to ensure that you are aware of any necessary permits for tree removal. Consult the Mornington Peninsula Planning Scheme on this link.
It is essential to contact the Planning Services team on 5950 1010 to ascertain if a planning permit is required for the removal of vegetation from your land. Doing so will help you avoid any potential fines or penalties associated with unauthorised tree removal.
When do I need a planning permit?
A planning permit for tree removal on private property is required if you are going to:
Clear land;
Remove a tree or destroy any vegetation through dumping or removing soil, poisoning, changing drainage, cutting major tree roots, burning, relocating buildings or like.
Build a house, house extension, or other works such as the installation of a driveway, gas, water, electricity, swimming pool or tennis court that involves removal of trees or vegetation.
Lop overhanging trees to improve your access or view.
Additionally, vegetation controls over your land will be conducted if your land is over 0.4 ha (4,000 sqm). Your property will be also under vegetation control if it is affected by any of the following overlays or zones under the Mornington Peninsula planning scheme:
| Environmental Significance Overlay | Vegetation Protection Overlay |
| --- | --- |
| Significant Landscape Overlay | Heritage Overlay |
| Erosion Management Plan Overlay | Public Acquisition Overlay |
| Special Use Zone Schedule 1 | |
Protected tree on Mornington Peninsula
One of the important components of the Mornington Peninsula's landscape is Eucalypt Trees. These trees are indigenous species. The health of Eucalypt trees in some parts of Mornington has declined. The Shire undertook a study that identified the over-browsing of leaves by possums, protected wildlife, as one of the main reasons for this decline.
How to protect eucalypt trees on our property?
Tree banding is a simple and effective way to protect these trees. However, if you decide to use this way of banding trees on your property consider the following things:
Use plastic, flexible, clear tree bands since they are easier to install and you can buy these by length at your local hardware store.
The tree band should be placed at least 60 cm above ground level and should be a minimum of 60 cm wide.
If possible install tree bands above the first fork of a tree to ensure refuge for possums.
Banding won't work if the possums have access to other surroundings trees or buildings. Ensure a minimum distance of two meters between the banded tree and nearby structures.
You must adjust bands as the tree grows.
My recommendation is to hire a qualified arborist to help you with these tasks.
Tree Removal in Bushfire Zones
If you live in a bushfire zone you may not need a permit to clear trees, branches, and scrub from around your property. Removing or reducing the vegetation around your home is very important because it will keep your home safe from a bushfire.
Check with your local council to be sure if the 10/30 or 10/50 rule might apply.
The 10/30 rule means that you may not need a permit to remove:
All trees within 10 meters of your home, and
All other vegetation (except trees) within 30 meters of your home.
Remember that the 10/30 rule only applies to vegetation on your land.
If the 10/50 rule applies to your property you may not need a permit to remove:
All trees, within 10 meters of your home, and
All vegetation (except trees) within 50 metres of your home.
As with the 10/30 rule, the 10/50 rule only applies to vegetation on your land.
Bushfire protection exemption
Starting from 5 August 2020 the Bushfire Examption changed. Before this date, these exemptions applied to all Victorian land and now the exemption only applies to land that is within a designated bushfire-prone area.
You may benefit from the exemptions in Clause 52:12 – Bushfire Protection: Exemptions if your property is located within a Bushfire Prone Area (BPA).
You can get more information on how to make your home safer on the following links:
Permits may not be required to remove, destroy or lop any vegetation for a combined width of 4 meters on either side of a fence between your property and a neighbouring property.
This rule applies only if your fence was constructed before 10 September 2009 and if you have your neighbour's permission before you undertake any work on their land.
Tree Removal Cost by Tree Size
The size of the tree plays a significant role in determining the cost of removal. Smaller trees are typically less expensive to remove than larger ones, as they require less time, equipment, and manpower.
However, it's important to remember that tree removal is a specialized service and should be performed by professional tree services to ensure safety and efficiency. Let's take a closer look at the costs associated with different tree sizes.
| Tree size | Tree height | Average cost ranges |
| --- | --- | --- |
| Small trees | Up to 10 metres | $450 - $3,000 |
| Medium trees | 10 - 20 meters | $1,500 - $4,500 |
| Large trees | 20+ meters | $3,200 - $15,000 |
The prices expressed in the table are approximate. You will know the exact price when all the circumstances are taken into account.
When it comes to small trees, those up to 10 meters are generally considered small and can be removed for a few hundred dollars. The cost may vary depending on factors such as the tree's location and the complexity of the job. Additionally, supplementary services such as tree pruning, stump removal, and mulching may be offered at an extra cost.
It is essential to ensure adherence to safe tree removal practices and have insurance coverage when removing small trees.
Medium-sized trees, generally between 10-20 meters tall, can cost between $1,500 and $4,500 to remove. As with small trees, the cost depends on the size and complexity of the job, as well as any additional services required.
Hiring a professional tree removal service is highly recommended for medium trees, as they have the necessary expertise and equipment to ensure a safe and efficient removal process.
Large trees, those exceeding 20 metres in height, can cost upwards of $3,200 to remove. Factors such as the type of tree, difficulty of the task, and accessibility of the tree can affect the cost of large tree removal.
Engaging a professional for large tree removal is crucial, as they possess the expertise and know-how to safely remove large trees without damaging property or causing harm to individuals.
In some cases, tree removal may require additional services, such as pruning, stump removal, and mulching. These services can add to the overall cost of having a tree removed but are often necessary to ensure a complete and thorough job.
Tree pruning costs in Mornington Peninsula are approximately $430, although this may vary depending on the size of the tree and the number of branches being pruned. Factors such as the tree's size and the complexity of the job can affect the cost of tree pruning.
Hiring a professional tree pruning service ensures a safe and accurate job, with experts possessing the expertise and understanding to properly prune trees and prevent potential harm to the tree and any adjacent property.
Depending on the area, stump removal services typically cost between $75 and $450. Also, factors such as the stump's size, location, and complexity of the job can influence the cost of stump removal services.
Engaging a professional for stump removal services ensures the job is completed safely and accurately, with the necessary expertise and tools to effectively and securely remove stumps.
These services involve mulch to enhance the health and aesthetic of a tree or garden. The cost of mulching services in Mornington Peninsula typically ranges from $25 to $45 per hour or $30 per cubic meter for bush/budget mulch. However, prices may vary depending on the provider and the specific services required.
Factors affecting the cost of mulching services include the size of the area to be mulched, the type of mulch used, labour requirements, and the distance the mulch needs to be transported.
Tree Removal in Mornington Peninsula Summary
For most of the trees in the Mornington Peninsula region, you may need a permit to remove them since there are protected trees.
Permit and the council's application evaluation will depend on the relevant planning schemes.
The type of the tree and the potential impact on the surrounding environment that will occur as a result of its absence are significant factors to be considered.
The tree removal work is considered to be valid if the trees have become dangerous, and are damaging infrastructure or impacting powerlines.
Reasons that it does not consider to be sufficient for removal include improving the view for private property, overhanging branches from neighbours, falling leaves, lack of grass growth under trees, and minor damage to infrastructure.
Yes, special considerations need to be considered when removing trees in bushfire-prone areas. It is essential to check with local council regulations and consider the possibility of fuel reduction measures such as cutting, pruning, or thinning the trees.
These measures can help reduce the risk of bushfires and protect the environment. It is also essential to consider the impact of removing trees on the local wildlife and the surrounding landscape. Carefully.
If you believe that the tree has been removed without permission or has been deliberately or accidentally damaged follow these:
For trees on private property call the Statutory Planning team on (03) 9278 4888
For trees on public land call the Local Laws team on (03) 9278 4444
When you call the report, expect to be asked the following question:
Have you spoken to the owner or person doing this work?
Have you known the name of the company doing the work?
Do you have photos of the work being carried out?