Our aim is to connect Sydney residents with quality tree services. When it comes to getting cheap tree removals in Sydney, it's pretty easy to miss your target and get ripped off.
Based on my 20 + years of experience as a certified Sydney arborist, I'm here to give you the inside tips and tricks to save on tree removal. Having personally encountered some pretty dodgy outfits right across Sydney, I can also show what to look for when hiring a tree removal service.
Before we get into how to hire a tree removal service in Sydney, you really need to know the average prices for Sydney tree removal. This, in my opinion, gives you the most leverage when negotiating a good deal.
Every tree is different, and the way a tree company will price tree removal is also different.
The average price of tree cutting in Sydney is $1,350 – $3,490. There are various factors that can contribute to price including tree size and access which we cover a little later.
There are cases where a single tree or multiple trees can cost north of $10,000, but the above is an average range.
There are many factors that contribute to the cost of removal such as;
location on property
Number of branches
Dead or alive?
Obstacles such as fences and sheds
For more information, I suggest you read our comprehensive tree removal price guide here.
| National Average | $1,520 |
| --- | --- |
| Sydney Average Tree Removal | $1,840 |
| Small trees | $620 |
| Medium trees | $1,690 |
| Large trees | $3,150 |
| X-Large trees | $5,490 |
Sydney tree removal cost factors
This is the most obvious one. A big tree, with a large trunk and numerous branches, is going to cost you more than a small tree will few tree limbs are going to be cheaper than a large tree.
The species of tree will also have an impact on price. Gum trees have a lot harder timber than pine trees. Thye takes twice as long to cut through a log of the same size. This slows work down and adds to the cost.
When getting a tree removed, the tree's location on your property and how good the access is will have a large bearing on the price. A large tree in your front yard will normally cost the same as a larger tree in your backyard. Time is money, so the longer it takes the tree service to get the tree cut down and dragged out the front, the more it will cost you.
Emergency tree removal Sydney
24/7 emergency tree services in Sydney will cost more than a regular tree removal or pruning job. This is because most of the time you are asking the service to drop everything they are doing to come to your job. Normally you will pay 2 – 3 x the normal price.
When you have a dangerous tree, job safety is a high priority. Tree cutting with a very professional and reliable team will take on this job, but it will cost more as they are time-consuming. A dead tree is considered dangerous for example as well as trees near power lines.
As mentioned above, trees near power lines come with an extra danger factor. In many cases, the tree pruning or removal services will need to get another service to come out before and insulate the power lines with "tiger tale" covers. Traffic control may also be required.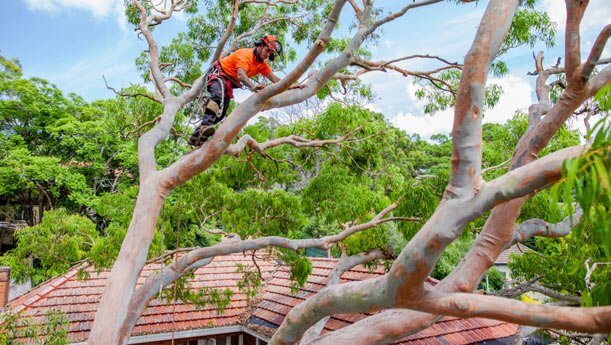 Most tree-cutting services in Sydney offer a plethora of other services listed below. We have also given a ballpark price of what to expect.
Sydney tree stump grinding services are pretty common and, a lot of the time, are included in the price for prompt and reliable tree removal services. If charged separately, you will pay between $150 to $500 on top of tree-cutting costs.
When you remove a tree, you might have a few other trees that need a light prune. All tree companies are capable of tree pruning services as well. You can expect to pay from $225 right up to $1,500 for pruning services. It will depend again on the tree size, access and obstacles around the tree.
This is a tree maintenance obligation to remove dead branches which accumulate on a tree over time. Sydney tree companies normally charge $650 to $950 to deadwood a medium to large gum tree. Prices do vary depending on the amount of deadwood and the size of the tree.
Tree felling is the act of cutting a tree from the base and leaving it where it lay. A Sydney tree company will also go to properties to help customers get trees down on the ground, but the customer cuts up and disposes of the tree. Tree felling normally costs 1/3 the price of cutting down a tree, so $400 – $900 per tree.
Land clearing or lot clearing services in Sydney is normally to prepare a site for building a pre-approved structure. This will cost from $3,500 to $10,000 per acre, depending on how densely forested the land is. Lightly wooded properties can cost as little as $2,500 per acre.
A tree company in Sydney will cut up and remove fallen trees from your property. It will normally cost about half the price to cut down a tree to do so because the hard part is cutting the tree down. Once on the ground, cutting it up and disposing of the tree is pretty straightforward.
This is not a service all local arborists provide. In most cases, you will need to see a consulting arborist to carry out a health assessment. There are a few different levels to this. Suppose you want a full written report. Also known as an arborist report, you can expect to pay $550. But if you want a verbal assessment, the cost will be $150 – $250.
Pro tip: If you plan to trim a tree as a part of regular maintenance, most tree companies in Sydney would be happy to give you a verbal assessment free of charge. The registered practicing arborist will inspect the tree as they trim it and let you know if they see anything of concern.
Do you need approval to have a tree removal Sydney?
Tree removal laws are based on local Councils' Tree Preservation Orders. These are a set of rules that govern which trees can be removed without approval and which need prior consent from the Council. 
Some examples of trees that most councils allow to be removed without approval are:
Dead trees
Fallen trees
Hazardous trees
Trees on the local TOP "exemption list."
You will need to check your local Council's TPO here. Select your city, then your local council to be taken to the summary page.
What is the fine for illegal tree removal in NSW?
The fine for illegal tree removal in NSW will depend on the level of the offence. I have spoken to residents who have had $1,000 for a minor infringement and heard stories of property developers being charged up to $100,000.
Don't risk it, be sure you comply with local tree removal laws.
What is the 10 50 tree rule?
The 10/50 rule refers to tree management in fire hazard zones in NSW. This rule allows residents to remove:
Large trees within 10 meters of their home
Smaller trees and shrubs within 50 meters of their home
This is for the purpose of protecting their home and property in case of a fire.
Use this online tool to check if your property falls within the fire hazard zone where this rule applies.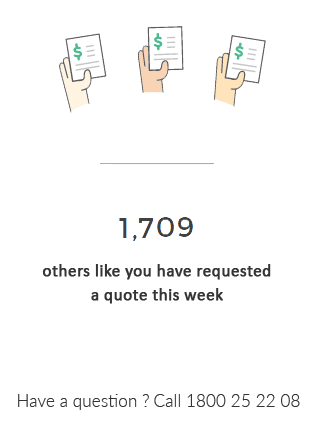 How to save money on tree removal
This one little trick is going to save you at least 20% off tree cutting in Sydney.
Tree cutting is seasonal, when the weather is warm, people are out in their gardens and tend to get things done like landscaping, lawn mowing and tree work.
When it's cold out, not much goes on in people's gardens.
By getting your tree trimmed or removed in the winter, you are going to catch tree loppers when they don't have a lot of work on it.

When they are busy and booked out for weeks in advance, they can really just name their price, but by mid-winter and things are a little bleaker and tree arborists in Sydney tend to get a little more competitive on price.
You will save 20 – 30% without breaking a sweat!
Council approval for Sydney tree removal
For big trees, you will need to seek a council permit before proceeding. It does all depend on the council regulations for tree removal in your particular area.
There are exceptions for most councils that are pretty universal.
They include:
Dead trees
A tree within 3m of the foundations of your home
National pests such as Willows or camphor Laurels
Hazardous trees that pose a danger to persons or property
Your local tree service in Sydney who comes out to quote your job will soon tell you if you need approval, but it is always a good idea to get a second opinion and do your homework and check the councils' Tree Preservation Order (TPO). Fines for removing trees in Sydney without a permit when required exceed $5000.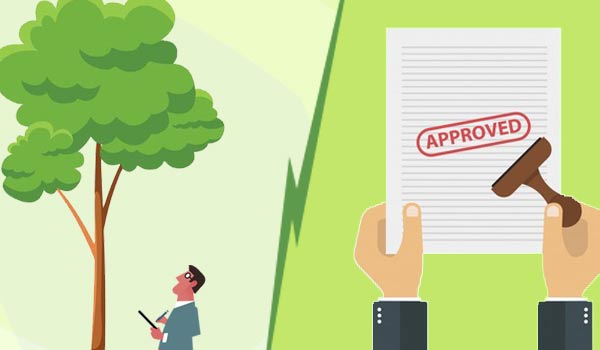 Finding cheap tree services in Sydney
1. Google search (Skip page 1)
Most people pull up a search engine like Google and type tree removal in Sydney, and with the results, they call the first 3 companies they see, get prices and pick on.
The problem with that strategy is companies pay quite a lot of money each month to be in the top spots of Google, Yellow Pages, and Yelp…. and guess who picks up the marketing bill?…You!
Skip page one and find quality companies that will do a great job for less.

Through GoTreeQuotes, you have an obligation-free quote for tree removal in Sydney from fully qualified and insured arborists in the Sydney area just simply do the following;
Fill out the form at the top of the page.
Give us a few details about the size and location of your tree.
We then forward your tree removal details to the closest and best-priced tree-cutting services for quoting.
Call us toll-free on 1800 252 208 if it is easier for your free quote for tree cutting and stump grinding services.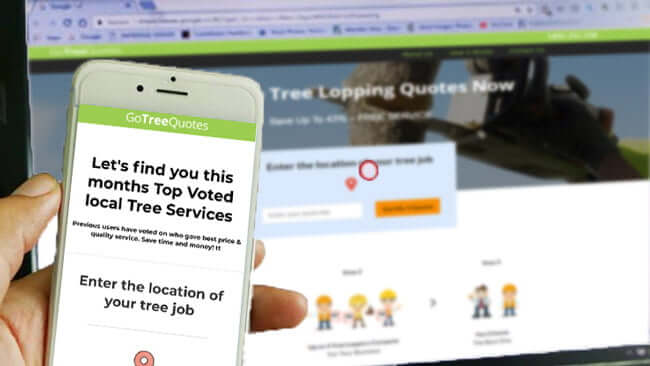 Is tree removal in Western Sydney cheaper?
In a previous article, we have established that some contractors do charge more in upmarket areas. Because those areas are normally to the east, western Sydney does enjoy slightly better prices than their eastern neighbors.
This is a lot more evident when it comes to palm tree removal.
As palm trees cannot be mulched and must be dumped as general waste in recycling facilities, tree contractors pay about half the price in places like Campbelltown, Penrith, and some parts of Sydney's inner west, than they do in the eastern suburbs.
Hiring a tree removal service
Expert tree services is a bit of a grey industry. It's not like plumbing or electrical trades. Any local handyman can buy a chainsaw and call themselves a "tree lopper". The industry is totally unregulated.
To make sure you are getting the real deal, there are a few things you need to look for.
Certificate III in Arboriculture
Sydney tree-cutting services need a highly qualified arborist on-site to have any chance of doing a professional job. They will need to have studied arboriculture and have completed a minimum of Certificate III.
Don't be shy in asking for their arborist certificate. Anyone legitimate will be happy to show you they are fully licensed and insured and in most cases will offer it with their quote. Hiring a safe and effective professional service should be your top priority.
Public Liability insurance
Tree cutting or removal of a tree in a confined space such as backyards and trees near houses is a dangerous business. A lot can go wrong and sometimes it does. Public liability insurance protects you in case something does go wrong.
Be sure to ask for their cover letter and I implore you to phone the insurer to make sure they are still covered. Property damage is a real possibility even with an extremely professional outfit, as accidents do happen.
Australian standards for tree pruning
Professionals in Sydney who carry out tree removal will be experienced in this technique as well as various other Australian standards such as AS4373 – 2007 pruning of amenity trees.
Remember, you are well within your rights to ask your prospective tree lopper for proof of arboriculture credentials and insurance papers.