There are trees that are protected across Australia as well as trees protected at the state level. As such, the NSW government has implemented several laws and regulations to protect trees from unnecessary removal and destruction.
Various tree species are protected under different laws and regulations in New South Wales (NSW), including Blue Gum High Forest, Coastal Cypress Pine Forest, Turpentine-Ironbark Forest, etc.
However, with so many different species of trees in the region, it can be difficult to determine which ones are protected and which ones are not. In this article, we will take a closer look at the different tree species that are protected in NSW.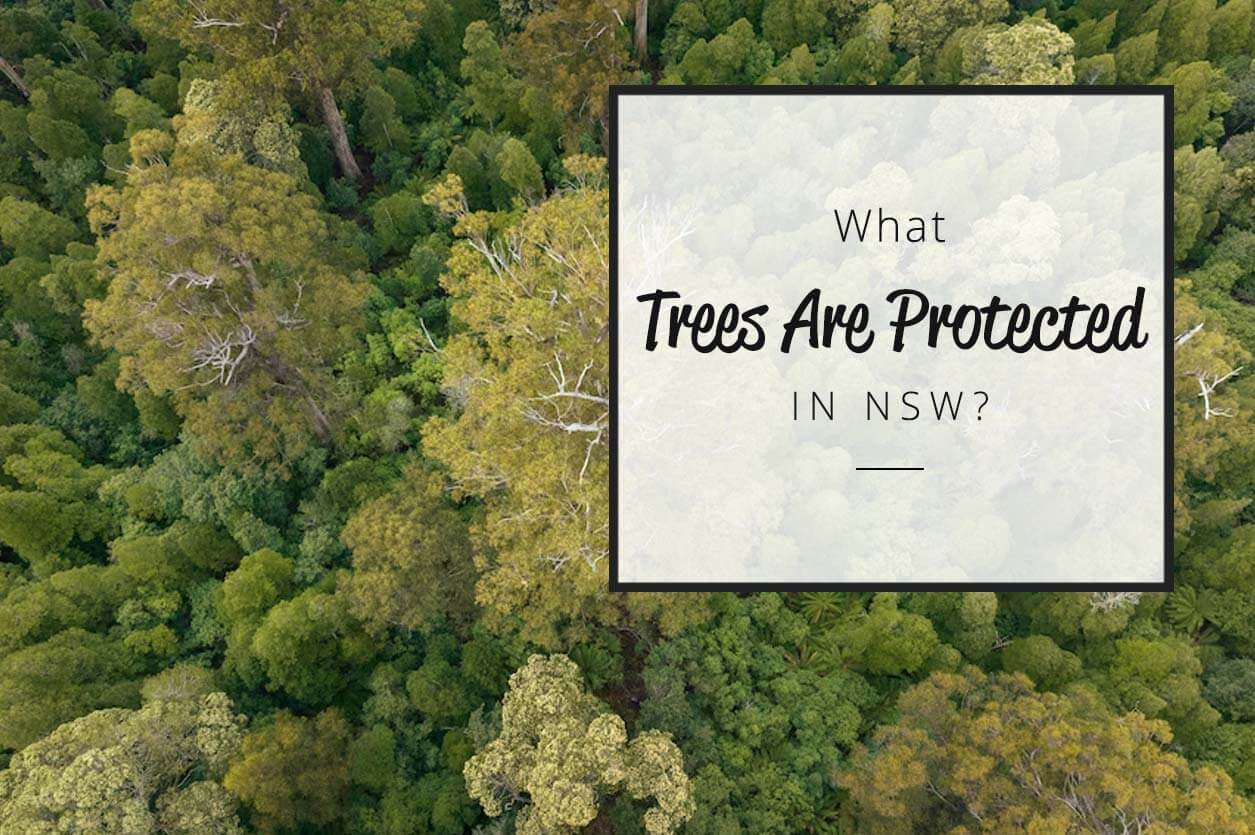 Whether you are a homeowner or a developer in NSW, it is important to know what trees are protected by the government. This is to ensure that any tree maintenance such as pruning or removal is done within the bounds of the law.
Various tree species are protected under different laws and regulations in New South Wales (NSW). Some of the tree species protected in NSW are:
Coastal Cypress Pine (Callitris columellaris)
Blue Gum High Forest
Sydney Turpentine-Ironbark Forest
Spotted Gum (Corymbia maculata)
Blackthorn (Bursaria spinosa)
Caley's Ironbark (Eucalyptus caleyi)
Eumungerie Ironbark (Eucalyptus multicaulis)
Grey Myrtle (Backhousia myrtifolia)
Red Bloodwood (Corymbia gummifera)
Smooth-barked Apple (Angophora costata)
River Oak (Casuarina cunninghamiana)
Grey Box (Eucalyptus moluccana)
White Mahogany (Eucalyptus acmenoides)
Forest Red Gum (Eucalyptus tereticornis)
Swamp Oak (Casuarina glauca)
Australian Red Cedar (Toona ciliata)
It is important to note that this is not an exhaustive list, and there may be additional tree species protected in NSW. However, A comprehensive list of all protected tree species in NSW can be found on the website of the NSW government's Department of Planning, Industry and Environment.
The Significant Tree Register NSW
The Significant Tree Register is a database of important trees in New South Wales, Australia that is maintained by the Office of Environment and Heritage, NSW Government. The Significant Tree Register is to raise awareness of the value and importance of trees and to ensure that significant trees are protected.
The Significant Trees Register is not a static list of trees or specimens. The list constantly evolves because some trees may die or require removal. Hence, new trees may need to be registered. Trees can be nominated for inclusion on the register by anyone. Once a tree is nominated, it is assessed by a team of experts to determine its significance.
If the tree is deemed to be significant, it is added to the register and given legal protection under the NSW Heritage Act 1977. The register currently contains over 5,000 trees, including some of the oldest and largest trees in NSW.
Penalties for removing significant trees in NSW
If you remove a significant tree without the approval of your local tree council, you may be charged a fine of up to $110,000 by the local court. You may also need to pay a maximum of $1.1 million to the Land and Environment Court.
To avoid these fines and charges, it is best to seek approval from the local council before you remove any trees or vegetation on or around your property.
What trees can be cut down without permission in NSW?
In New South Wales, cutting down trees without permission is generally not allowed, and permission must be obtained from the local council or relevant authorities before any tree is removed or pruned.
However, there are some exceptions to this rule. Some examples of trees that can be cut down without permission in NSW are:
Dead trees can be removed without permission in NSW. This is because dead trees are no longer viable and have no ecological, aesthetic or environmental importance. Property owners can therefore remove them without any permission from the local council.
2. Trees that pose risk to public safety or property
If a tree poses any sort of immediate threat to the public or property, it can be removed without permission. As much as trees are valued in New South Wales, public safety is more important. Also, trees that can damage property can be removed without permission.
If a tree is causing damage to any essential services such as powerlines or sewerage pipes, it can be removed without permission. This is because such a tree is interfering with important facilities that are essential to public health and safety so they can be removed without permission.
4. Trees within 3 metres of a house or structure
Trees within 3 meters of a house or structure that are declared to be a fire hazard by the local council can be removed without permission. Due to the hot, dry weather in NSW, forest fires are very prevalent so any tree that can be a fire hazard can be removed without permission.
If a tree species has been classified as a noxious weed under the Noxious Weeds Act 1993, it can be removed without permission. This is because weed species are invasive and have little to no biological importance to the NSW ecosystem.
Can I cut down trees on my property in NSW?
Cutting down trees without permission can result in significant fines and legal action. So it is essential to seek advice and obtain the necessary approvals from your local council before undertaking any tree work.
Tree removal rules differ from council to council, but most of the decisions made in these councils are guided by Tree Preservation Orders (TPOs) and Local Environment Plans (LEPs).
The 10/50 Vegetation Clearing Scheme is designed to protect NSW residents living near bushland to prepare their homes in case of bushfires. Therefore, if you live in a bushfire-prone area, you can clear certain vegetation within 10 to 50 meters of your property's outermost wall. You can do so without seeking approval from your local tree council or land service office.
However, before you clear any vegetation, you must follow these conditions:
You should not alter the soil's profile while clearing vegetation.
No bulldozing, plowing, or burning
Sloping land is not covered by the 10/50 vegetation rule.
Are Norfolk pines protected in NSW?
The population of the Norfolk Island Pine is currently being sustained through conservation action and is protected in the Norfolk Island National Park. The largest population of the species is on Mt. Pitt.