Home > Tree Removal > NSW > Linley Point - 2066
Get Cheaper Tree Removal in Linley Point, 2066
Updated: 21 October 2021
The cost of tree removal in Linley Point, 2066 varies depending on a number of factors including tree size and location.
The average tree removal cost in Linley Point, NSW is $1,254 which is 9.06% expensive than the national average of $1,150.
GoTreeQuotes has matched 21 users with local tree services for quoting their job so far this month
What we cover:
Why some tree loppers 300% more?
Stay smart, save money on tree removal
Trees exempt from needing approval
How to apply for council approval
How to win council approval. (Tips & Tricks)
Do I need council approval for tree removal Linley Point?
Lane Cove council does allow for the removal of trees in Linley Point, NSW without council consent.
Trees can be removed without council permit if;

1) Tree having a height not exceeding 4 metres and a trunk diameter not
greater than 150mm (measured at 1 metre above the ground.

2) Pruning of dead branches. Council encourages that such pruning works
are undertaken by a qualified Arborist necessary and in accordance with Australian Standards.

3) Pruning of tree branches that are within 2 metres of electric powerlines as required
by State Legislation (Cundertaken by a qualified Arborist)

4) Pruning or removal of fruit trees and flowering fruit trees.

5) Pruning and reshaping of Cypress Pines, but not greater than 10 % of whole canopy

6) Pruning or removal of Crepe Myrtle (Lagerstroemia sp) with a height less than 6 metres

7) Pruning or removal of any tree of a tree species that has been declared a noxious plant
in the Lane Cove local government area under the Noxious Weeds Act 1993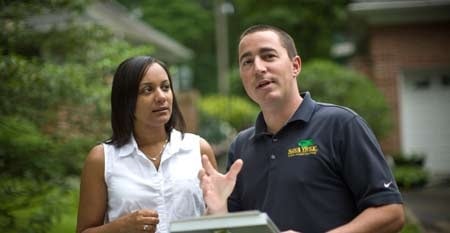 You can download an application form by going here
Are there certain trees exempt from above rules?
Some local councils have a list of tree species that are exempt from any limitations on removal as they are considered a pest. In Linley Point, NSW under the local Lane Cove Council umbrella there are trees exempt from needing council approval before removal.
Tree of Heaven Cotoneaster Camphor Laurel (less than 6 metres in height only) Rubber Tree Crepe Myrtle (less than 6 metres in height only) Umbrella Tree Cocos Palm African Olive
Do I need a permit to prune a tree in Linley Point, 2066 NSW?
Pruning can be carried out on trees in Linley Point, NSW. They types of pruning allowed are as follows:
Tree removal is possible without council approval if;

1) Any vegetation more than 5m tall on the site of a heritage item.
2) Any other tree with: a height of 10m, or a crown width of 10m, or a trunk circumference of 1.5m
measured at 1m above ground level (existing).
3) Trees that are declared to be dead or dying as confirmed by an appropriately qualified arborist.
4) Pruning of deadwood from a tree.
5) Noxious weeds as prescribed by the Noxious Weeds Act, 1993.
Compare tree removal prices of 3 local tree companies, all voted as "best price to quality balance". Fill out a 1 minute form and received 3 rock bottom quotes within hours.