Home > Tree Removal > NSW > Spring Farm - 2570
Get Cheaper Tree Removal in Spring Farm, 2570
Updated: 21 October 2021
The cost of tree removal in Spring Farm, 2570 varies depending on a number of factors including tree size and location.
The average tree removal cost in Spring Farm, NSW is $1,254 which is 9.06% expensive than the national average of $1,150.
GoTreeQuotes has matched 12 users with local tree services for quoting their job so far this month
What we cover:
Why some tree loppers 300% more?
Stay smart, save money on tree removal
Trees exempt from needing approval
How to apply for council approval
How to win council approval. (Tips & Tricks)
Do I need council approval for tree removal Spring Farm?
Camden council does allow for the removal of trees in Spring Farm, NSW without council consent.
(a) It is 3 metres or less in height;
(b) Has a circumference of 300mm (100mm diameter) or less at a height of 1 metre above natural ground surface; or
(c) has a branch span of 3 metres or less.

The laws allow people in a designated 10/50 Vegetation Clearing Entitlement Area to:

Clear trees on their property within 10 metres of a home without seeking approval, and

Clear underlying vegetation such as shrubs (but not trees) on their property within 50 metres of a home, without approval.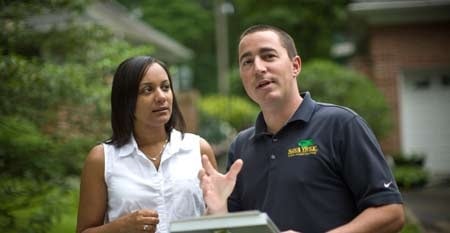 You can download an application form by going here
Are there certain trees exempt from above rules?
Some local councils have a list of tree species that are exempt from any limitations on removal as they are considered a pest. In Spring Farm, NSW under the local Camden Council umbrella there are trees exempt from needing council approval before removal.
NA
Do I need a permit to prune a tree in Spring Farm, 2570 NSW?
Pruning can be carried out on trees in Spring Farm, NSW. They types of pruning allowed are as follows:
Please refer to the above rules for tree removal as they also apply to pruning.
Compare tree removal prices of 3 local tree companies, all voted as "best price to quality balance". Fill out a 1 minute form and received 3 rock bottom quotes within hours.