Trees growing near power lines are a potential hazard. Such trees need to be trimmed or removed for the safety of the people near them and to protect the power line.
Homeowners are responsible for trimming trees near power lines on their property according to the Electricity Industry Safety Steering Committee Guidelines. Any tree on public land is the responsibility of the local power company or council.
Only licensed tree services in NSW are allowed to trim trees near power lines. If you have a tree that needs trimming, use this FREE service to get 3 x quotes from local experts.
Council trees belong to the local government and should be trimmed by the council or utility company when necessary. Your responsibility is to notify the utility company or local council when you notice a tree that is a potential hazard to the power line. In most cases, the council and utility company will coordinate and have the tree removed or trimmed as soon as they are notified.
Trees in Private Property
Responsibility to trim trees growing near a power line on private property lies on the property owner according to the Electricity Industry Safety Steering Committee Guidelines. However, most utility companies have year-round vegetation management programs aimed at keeping their power lines safe. They will usually come and trim the trees on your property at their cost depending on their schedule.
If you have a tree growing on your property that is interfering with power lines or could be a problem in the future, you should hire a licensed tree trimming service to trim it as soon as possible. Also, make a point of notifying the utility company and inquiring if they can trim it or plan to.
How Do You Report Trees Touching Power Lines?
Utility companies encourage NSW residents to report trees touching power lines at the earliest opportunity. You can do this through email, calling, or visiting their offices. Some of them have online forms you can fill out to alert them when necessary, especially before cyclone season. For example, Essential Energy has an online form you can use to report trees touching power lines in NSW.
Is It Safe to Cut A Tree Limb Touching Power Lines?
Climbing a tree limb touching power lines is unsafe and should not be attempted according to electrical safety guidelines. You risk electrocution or injury by breaching the safety distance to a live power line or through accidental contact. Only trained and licensed professionals with the required PPEs are allowed to climb and trim trees near power lines.
Can I Touch A Power Line Going from The Street to My House?
It is illegal and risky to get close to or touch the power line going to your house. You will either get electrocuted or injured in the process. Only authorized or trained personnel are allowed to work close to or touch power lines while observing safety guidelines.
What Do You Do When A Tree Limb Falls on A Power Line?
You should notify the utility company if a tree limb falls on a power line in NSW. Data shows that a bulk of power outages (two-thirds) in NSW are a result of trees so early reporting is encouraged. At the same time, it is unsafe when a tree limb falls on power lines because it could cause electrocution or fires. Always stay away from destroyed power lines, especially in bad weather.
How Do I Find Qualified Contractors?
Finding a qualified and licensed contractor in NSW is important especially with trees growing near power lines. Make sure you choose a contractor that has qualified trimmers who are trained in electrical safety. You can use our free contractor search tool to locate qualified and top-rated contractors in your area by falling these steps:
Scroll to the top of the page and enter your Postcode
Answer questions about the services you are looking for
The information you enter will be forwarded to three local contractors. They will send you a price estimate for the job and some friendly advice
IMPORTANT: There is no obligation to hire. This is a free tool and service to be used at your pleasure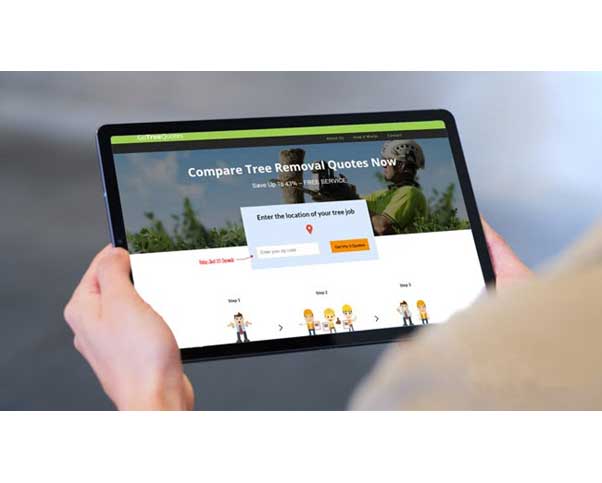 Trees should be planted at least 15 meters from power lines according to Electricity Industry Safety Steering Committee Guidelines. This way they will not interfere with the power line when they have grown tall and spread their limbs.
You should inform your neighbor about the risks of having a tree touching the power line and what they need to do. Also, notify the utility company about the tree just in case they have a program in place for tree trimming in your area.


The average cost for tree trimming in NSW is $438. However, you could pay between $190- $1,190 depending on the size of the tree and other factors.