Safety standards for accredited tree arborists in Glen Huntly
Certified arborist in the Glen Huntly and surrounding areas need to all abide by the Australian standards when carrying out tree management work.
These standards include:
AS 4373:2007 – Pruning of amenity trees
AS 4970-2009 – Protection of trees on development sites
AS 2303 – 2015 Tree Stock for landscape use
AS 2727 – 1997 – Chainsaws Guide to safe working practices
TRC2005A – Fell Small Trees
AS 2726.1 – 2004 Chainsaws – Safety requirements – Chainsaws for general use
AS/NZS 1337:1992 Eye protectors for industrial applications
AS/NZS 2210. 1:1994 Occupational protective footwear – Guide to selection, care and use
AS/NZS 4453.3: 1997 Protective clothing for users of hand-held chainsaws – Protective
How do I apply for council approval?
Normally there will be a small fee you will need to pay upon application.
Within 7 - 14 days you will have an arborist from council come out to inspect your tree. They will then give their recommendation on whether the tree should stay or be removed.
Compare tree removal prices of 3 local tree companies, all voted as "best price to quality balance". Fill out a 1 minute form and received 3 rock bottom quotes within hours.
You can download an application form here
How to win council approval. (Tips & Tricks)
Depending on your council, it can be tough to get approved to remove a tree in Glen Huntly. If it's a healthy specimen and not causing any damage to your home, then it makes it even harder.
When applying for removal you need to give a reason. Saying something like "it keeps filling the gutters with leaves" is not convincing enough argument and your application will most likely be denied.
There are however some tips and tricks to applying for council approval and winning.
In some cases your council will ask for an independent arborist report if they are undecided. This can give you the upper hand as it allows you to select which arborist you choose to assess your tree.
What does tree lopping Glen Huntly cost?
There are many factors that make up cost of tree lopping Glen Huntly. Not only the height and spread of the tree, but also its location on the property, access, surrounding buildings or fences, type of tree/ timber etc.
To get a price on what tree removal might cost you, you can view out tree removal cost guide or you can use our quick tree lopping cost calculator below.
Our commitment to you
Once you call us on 1800 252 208 or fill in the 2 minute form, we forward your details directly onto the best local tree surgeons for quoting.
In most cases they will need to get in touch with you to arrange a time to view the job before giving a firm price. Trees are tricky to price over the phone or from a photo as there are so many factors that contribute to how much the tree removal will cost.
Not happy with any of the quotes? There is no obligation to hire.
Although rare, there are times when people just aren't ready pull the trigger and go ahead with the job, which is fine. There is no obligation to hire and you are right to keep looking or book in at a later date.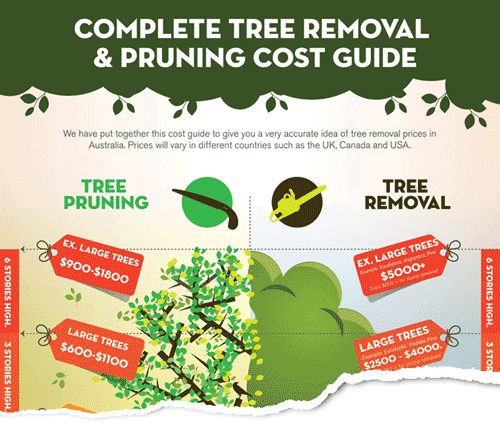 Go Tree Quotes – Company Philosophy
We are a growing company that aims to provide a quality service that is personal, fair and over-delivers on value and satisfaction.
We want our clients to be completely satisfied, from a small pruning jobs to a large tree removals. Our aim is to build a repeat and referral business with an impeccable reputation.
Go Tree Quotes – Best Practices
We are committed to certified arborists using the method of 'BEST PRACTICE'. This is a technique or methodology that is accepted as superior to any alternatives for commercial or professional tree removal procedures for results that are superior to those achieved by other means.
Our expectation of a tree contractors we work with as such are to do everything in their power, using their knowledge and experience to uphold these values.